British Supermum, Sue Radford Welcomes Her 22nd Child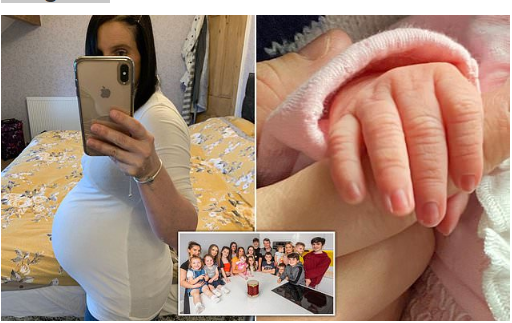 Britain's biggest family have welcomed their newest addition amid the Coronavirus pandemic. Sue Radford, 45, and husband, Noel, 49, announced the birth of their 22nd child, a baby girl weighing 7lb after ten-hour labour at the Royal Lancaster Infirmary in the city of Lancaster, England.
The child becomes their 11th daughter.
Sue had her first child, Christopher in 1989, when she was barely fourteen years old but she and her husband, Noel got married on September 26, 1991.
Proud mother, Sue told the Sun:
'I was more scared than I had ever been going into hospital with everything going on with the virus.

'I was so worried that Noel wouldn't be allowed to stay with me.

'It was the strangest birth yet but by the end of it I would say it was actually one of the best experiences I have had.

'We can't settle on a name we all like but we can't register her now anyway because of corona.'

READ ALSO:How Spanish Couple, Irene and Cebrian, Their Eleven Children Are Keeping Their Spirits Up Despite All Testing Positive For COVID-19
Sue and husband Noel had said in 2018 there would be no more children after the arrival of Bonnie. Even at the time, their eldest children doubted them and suggested they would make it an even number. Last year, Sue announced to the family's 134,000 YouTube subscribers that she was expecting.
The couple's other children are Christopher, 30, Sophie, 26, Chloe, 24, Jack, 22, Daniel, 21, Luke, 19, Millie, 18, Katie, 17, James, 16, Ellie, 15, Aimee, 14, Josh, 12, Max, 11, Tillie,9, Oscar, 8, Casper, 7, Alfie, 5, Hallie, 4, Phoebe, 3, Archie, 2, and Bonnie, 17 months.
The large family live in a ten-bedroom former care home in Morecambe, Lancashire.