Couple Earn Goodwill Of Online Users After They Found A Clever Way To Hold Their Social Distancing Compliant Wedding Amid COVID-19 Restrictions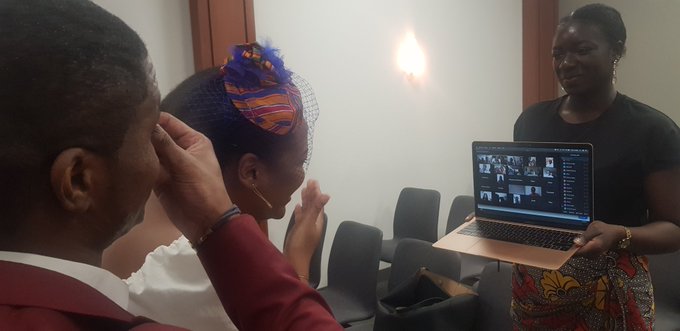 A couple who went ahead with their wedding despite the global pandemic brought about by COVID-19 has gone viral. The couple who were obviously determined to get married did not let the social distancing disrupt their plans, instead, they found an ingenious way to hold a very private wedding with 45 online attendees.
The story was shared by the sister of the groom. @KiyaniBba shared via her Twitter handle that when her big brother and his groom decided they would get married despite the restrictions, she suggested they could gather their friends and families and have them attend the ceremony online.
READ ALSO: See Why Former 'Okrika' Seller, Eghosa Agbonifo Has Rewarded His Wife Of 10 Years With A Destination Wedding
The wedding was probably just as normal as any other because the groom's sister shared that the attendees got emotional and cried as the couple exchanged their vows.
Below is what she shared:
Today was my big bro's wedding. Because of the virus, only the bride, groom and their witnesses were allowed in the room.
As the official CTO of my family, I suggested that we set up a Zoom so that our relatives and friends could join us. I present you the first Zoom Wedding

We had more than 45 people from France, CIV, Netherlands, SA, Calgary, etc. I muted everyone during the ceremony and recorded everything using zoom.

People cried during the vows, at the end I unmuted them and all at the same time they applauded and congratulated the newlyweds

.
See her original post:
We had more than 45 people from France, CIV, Netherlands, SA, Calgary, etc. I muted everyone during the ceremony and recorded everything using zoom. People cried during the vows, at the end I unmuted them and all at the same time they applauded and congratulated the newlyweds

— Ki (@KiyaniBba) April 12, 2020