Alaafin Of Oyo's Wife, Queen Olaitan Finally Reacts To Allegations Of Cheating On Her Octogenarian Husband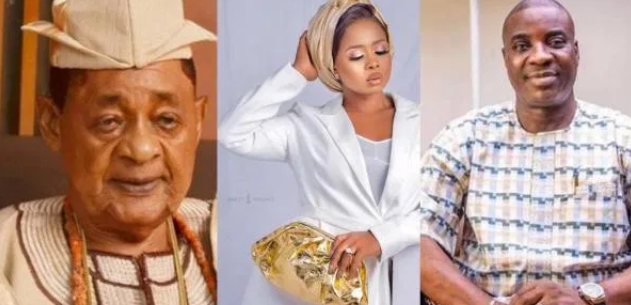 The youngest wife of Yoruba monarch, Alaafin of Oyo, Queen Badirat Olaitan has reacted to damaging allegations against her person, accusing her of being unfaithful in her marriage to her octogenarian husband, Oba Lamidi Adeyemi.
The rumors went wild since yesterday alleging that the mum-of-two has been thrown out of the palace after she was found to be having an affair with Fuji Maestro, King Wasiu Ayinde Marshall 'KWAM 1'.
In an interview with the President of Egbe Omo Oyo Alaafin, Aare Alamoroof, Queen Ola as she is fondly called invoked the oracles of Oyo palace and spiritual mothers to punish her if she had an adulterous affair with the Fuji singer.
READ ALSO: A Week After, 80-Year-Old Alaafin of Oyo Welcomes Another Set of Twins With Youngest Wife
She said;
"Someone from United Kingdom sent me a video of allegations that were made by a popular blogger, Esther Aboderin aka Esabod, in the video she claims she warned the king before making KWAM1 Mayegun of Yoruba Land but he refused to listen and now he is sleeping with his wife.

"That was the first time I will hear about Esabod, so I decided to check further and I saw more on the infidelity allegations and other bad things she has said about me.

"I don't know why people are continuing to say bad things about me.

"If it is true that I'm having an affair with Wasiu, let all oracles of the Oyo Palace punish me, the spirits of 'Ayaba' and fore kings of the land should punish me. If otherwise, all these curses goes to Esabod and her children."
Prior to the interview, Queen Ola had also shared screenshots of chats with some people she helped in the past, praying for her to be vindicated.
See the chats below;