40-Year-Old Courtney Smith Who Lost 105 Pounds Shares Great Keto-friendly Recipes You Should Try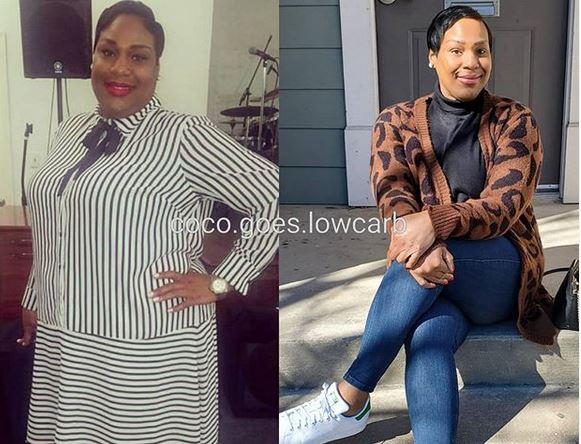 Courtney Smith, 40, credits a diagnosis of pre-diabetes with changing the course of her life.
Smith of Houston, was motivated by the diagnosis two years ago to overhaul her lifestyle. She has since lost 105 pounds. Smith told "Good Morning America" of how she started her weight loss journey:
"I went into my kitchen and threw away all of the things that were bad for meI hit the ground running."
Smith credits the ketogenic, or keto, diet, which calls for cutting carbohydrates and eating more fat and protein, with spurring her weight loss. She said:
"Within three to four weeks, I noticed that I was losing weight and I felt motivated to keep going. I thought to myself, this is something that could work. This is something I can see myself doing long term."
Smith, who works in the insurance industry, travels frequently for work and would rely on quick foods like pizza, burgers, potato chips and French fries to fuel her.
Now she focuses on eating healthy fats, proteins and vegetables, limiting her carbohydrates and listening intuitively to her body. She shared further:
"I'll have Bulletproof coffee in the morning and lunch is a protein like a chicken breast and some broccoli and cheese and a deviled egg. Dinner would be like a rib-eye and a big salad. I focus on what I can have instead of what I can't have."
Smith turned to Instagram for motivation as she was trying to lose weight. She now has her own Instagram following of more than 3,000 who turn to her for motivation and recipe ideas. She said of sharing her weight loss on Instagram:
"I thought not only will it hold me accountable but it will inspire other people to get motivated and want to lose weight. I get so many wonderful notes and messages from people."
SEE ALSO: Former Actress, Dolly Unachukwu Shares Weight Loss Tips As She Makes The Big Reveal
Now at age 40, Smith says she has more energy and is in better health, including no longer being pre-diabetic.
Of all the things she has learned in her two-year weight loss journey, Smith boiled them down to these nine things she wants other people hoping to change their lives to know.
1. "Everybody's journey is their own and no two journeys will be their own."
2. "You have to make your mind up to be ready."
3. "Just start one day at a time. Each day is a new day."
4. "Do your research and find out what lifestyle or diet works for you."
5. "Be mindful and intentional with the way that you're shopping and the food that you're bringing home. Make a list and stick to the list."
6. "Plan and prep your meals."
7. "Drink water like it's your job."
8. "Don't starve yourself. If you're hungry, eat. When I started, I wasn't eating enough. When I realized that I don't have to do this, I can eat and enjoy food, that's when it started to click for me."
9. "Don't beat yourself up if you do fall off the wagon. Tomorrow is a new day, give yourself some grace."
Smith's weight loss has changed her cooking, too. Coming from a tradition of Southern cooking, Smith focuses on finding ways to make the meals she grew up with low carb.
Here are two of her favorite recipes she has made keto-friendly.
READ ALSO: See Lepacious Bose's Self-Motivation for Weight Loss Journey
Maple bacon doughnuts
Ingredients:
Swerve vanilla cake mix
1 stick butter
5 T Swerve (or another low-sugar brand) powdered sugar
5 T Swerve (or another low-sugar brand) brown sugar
1 T vanilla extract
1 T heavy cream
Crumbled bacon for topping
Icing directions
Melt one stick of butter.
Add five tablespoons of Swerve powdered sugar and five tablespoons of Swerve brown sugar.
Mix well and stir in one tablespoon of heavy cream and one tablespoon vanilla extract.
Add one tablespoon of sugar-free maple syrup.
Doughnut directions:
Prepare Swerve vanilla cake mix per instructions on packaging (I substituted almond milk for water and butter for oil).
Grease doughnut molds with cooking spray.
Bake at 350 degrees for 15 to 20 minutes. Timing may be different depending on your oven.
Let cool and then add icing and crumbled bacon. (Pre-bake bacon in 375 degree oven for 22 minutes).
Taco stuffed peppers
Ingredients:
Bell peppers
Ground turkey or beef
Taco seasoning
Garlic powder
Himalayan pink salt
1 can tomatoes
1/2 block cream cheese
Shredded cheese for topping
Directions:
Season ground turkey or beef with onion powder, garlic powder, Himalayan pink salt, pepper and taco seasoning.
Sauté/brown the meat for 15 to 20 minutes.
Add a can of tomatoes and a let simmer.
Add half a block of cream cheese.
Stir mixture until combined.
Scoop mixture into bell pepper halves. Top with shredded cheese.
Bake at 350 degrees for 25 minutes.