Story Of Kundulum Community Where Pregnant Women Dread To Be In Labour At Night Throws Another Spotlight On The Country's Poor Health System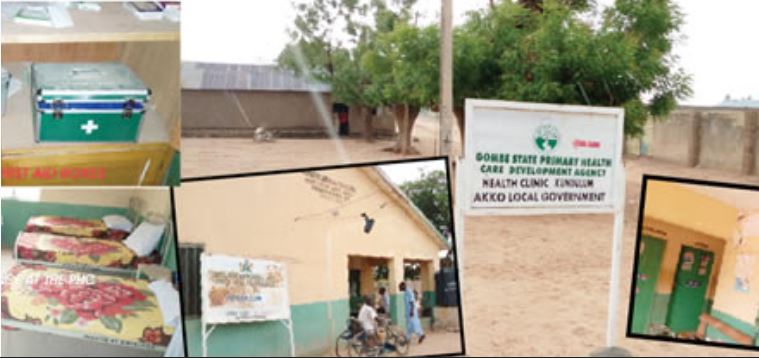 Kundulum community is located in the Akko Local Government Area of Gombe State. In the community, according to reports, accessing medical care and health workers is a major problem for residents, especially women who are sometimes forced to deliver babies in the open.
For the people of Kundulum community with a population of about 20,000, there are many things that frustrate their existence but the one that causes them the most pain is lack of adequate health care, especially for their pregnant women.
Though Kundulum has a health centre known as community primary health care development agency; according to residents, the link the centre has to health is only found in its name. It is the only health centre serving Kundulum's estimated 20,000 people spread across over 30 villages.
The villages include Girigam, Foli, Taliyaje, Rijiyan Maje, Anguwan Gada, Wuro Modibo, Gada Barwal, Euro Yerima, Feshare, Dakkel, Wuro Yolde, Zagaina, Sudaniya, Wuro Bogga, Alkahira, Arawa A, Arawa B, Beto, Wuro Kesa, and Wuro Gallo.
Interestingly, Kundulum is geographically close to Gombe city and its many hospitals as Akko Local Government Area adjoins the capital city, but a river separating it from the rural community makes the journey complex and difficult, especially when it rains and the river is flooded.
So oftentimes when all hope to access medical care in the community is lost, seeking it outside can become a risky venture for the residents, who are predominantly Fulani and Kanuri. This is because movement within and around the community is usually hindered by flood and the only available passage to take a commuter from the community to Gombe metropolis is across a river.
Kundulum's District Head is known as Hakimi, with all the over 32 villages under his watch. His secretary, Abubakar Adamu Kundulum, described the plight of the people of the community as a major concern for all residents, including the Hakimi. He told newsmen:
"We have a primary health care development agency that operates like a small dispensary. Provision of medicine is irregular, and we heard that some of the workers tamper with the drugs, by either selling them or taking them to their various shops.

We observed that they don't keep to time; they open at 9am and close any time they want. Kundulum has managed to build two bridges for it to connect to the metropolis but they are inadequate as there is still one bridge left to build to fully connect us to Gombe metropolis. But we cannot afford to construct another bridge due to paucity of funds.

Women in labour are usually trapped at the bank of the river and some have been delivered of their babies there. After the rain, the river is flooded and no one can cross it. So most often, women in labour are delivered their babies at the bank of the river.

That is, when the woman can no longer endure it or wait for the rain and flood to subside, local midwives will deliver the women of baby by the roadside as there might not be enough time to return home."
Mallam Anas Adamu Usman, who is popularly known as Small doctor in the community because he owns a chemist, while painting a grim picture of what some women have gone through in the community, said,
"Those working in the health facility open and close at their own time. If a woman goes into labour late in the night, then she is in trouble. Many of them would call me but since I'm not experienced in such, I'm unable to be of help. One example I can never forget occurred about three years ago.

There was a woman from Wuro Yerima, who had some complications while she was being delivered of her baby at home. And because of the lack of access road to Gombe and unavailability of health workers at the community clinic, she lost her baby due to prolonged labour. Eventually, the woman also passed on as she was later being taken to a specialist hospital in Gombe the following day."
Hajiya Asabe Baba Jubril is a 51-year-old widow and local midwife with several years of experience. Narrating her experience as a local midwife in the community, Jubril sadly noted that it had been plagued by deaths, which she felt were avoidable. She disclosed:
SEE ALSO: Read The Story Of Igbologun Community Where Pregnant Women Must Not Go Into Labour At Midnight
"There was a day my sister-in-law was in labour and I took her to the maternity centre to assist in delivering her of a baby, but unfortunately no one was around and we could not cross the river.

"What we did was to take my sister- in -law back home. She was delivered of the baby at home but we noticed that there was continuous flow of blood and it didn't clot even after the placenta had been cut off. It was not until the following day when we arrived at the Tudunwada hospital that the blood was stopped from flowing.

"As for the second scenario, a woman from Jauro Kwuwa was taken to the maternity centre but they had closed and there was no way to convey her to the state capital, so she was delivered her baby at home but it died and unfortunately, the woman has yet to have another baby since that loss.

"Similarly, there was a woman from Girigam, one of the villages using this facility, that had a baby in the night during the rainy season and there was no medical support for her. Her placenta was not cut off till 9am the following day when I arrived and took the woman to the hospital as she had lost so much blood.

"Now I help women to delivered of their babies without any charges. I don't collect money but usually after this, I always ensure that they visit the hospital. I'm only trying to be there for them in the absence of the health workers here and to ensure safe delivery. I want to plead with the government to employ people like us to boost service delivery in the maternity centre.

"They used to involve us in the state's immunisation programme but recently dropped us because we cannot speak nor write in English. What they don't understand is that people of Kundulum are basically Hausa speakers but people in management prefer to give their relations the work that people like me can efficiently do. Government should employ qualified health workers and ensure that those deployed to work in this facility work in accordance with laid down rules."
A 24-year-old mother of two, Hajiya Hafsat Yahaya, who recounted her experience, described herself as a victim during the times she was in labour. According to Yahaya, while she was in labour, she couldn't go across the river and the unavailability of health workers at the community health centre almost cost her her life and that of the baby. She shared:
"When we got to their premises in company with other women, we noticed that they had closed, so there was no other choice but to have my baby delivered at home by local midwives. However, my blood did not clot and instead continued to flow till the following day. I fainted and was taken to hospital in Gombe the following day due to the loss of blood.

It was at the hospital that they revived me and handled the complications. I want to beg the governor-elect, Alhaji Inuwa Yahaya Muhammad, to ensure that this primary health centre is equipped to cater for the needs of women and children.

He should ensure that qualified workers are brought to tend to our cases and that the rest of Kundulum is connected to the capital city and the rest of the world with bridges and good roads just like he promised us during his campaign."
In the meantime, the people of the community have been doing what they can to alleviate their suffering by contributing money to build bridges.
Every adult member of the community was asked to pay N1,000 to meet up with 10 per cent counterpart funding to access N10m World Bank grant. The community needs three bridges and has been able to build two with the grant and contributions.
The community development association's treasurer, Babangida Yahaya said,
"Since the job has yet to be done, we have to continue to plead with residents to give donations as the funds are inadequate. People that had donated before, gave more and those that had yet to contribute anything were mandated to donate for us to finish the work. We sourced labour locally as we were tired of the nightmare associated with no bridge but it is not enough as there is still a need for another bridge for our woes to be over."
During a recent visit at around 4pm to the health centre, which was opened by Alhaji Dahiru Mohammed on February 13, 1992 for the old Bauchi State before Gombe was carved out in 1996, two workers were on duty.
One of them who identified himself as Community Health Extension Worker and Abubakar A. Aliyu, denied some of the allegations made by members of the community, but admitted that they don't run a 24-hour service.
"Our service includes antenatal care, immunisation, labour and delivery, and prevention of mother-to-child transmission programmes. It is not true that we divert drugs meant for the community. There are about 32 settlements that use this facility and on a daily basis, we see 30- 50 patients.

But we don't offer the services of medical practitioners. Although I don't deliver mothers of babies, my female colleagues do. We run two shifts here – 8am to 2pm and 3pm to 8pm.

We don't have enough workers; that is why we are not running a 24-hour service. We want to urge the government to employ more workers, build a laboratory and perimeter fencing to secure the property within the building. We have about nine people deployed here but two persons, namely Aishatu Abubakar and Amina Adamu, have never reported since their deployment," he said.
The facility has six beds, a maternity ward, an isolation room, a delivery room, a store and a consulting room, which is being used by the health extension workers as the facility does not have visiting or resident doctors. A patient is required to pay N200 to be attended to at the health centre.
According to Aliyu, the store has vitamin C syrup which is given freely to children from six months to five years. It also has four packets of artemisinin-based combination therapy injection, 50 insecticide-treated mosquito nets, and two packets of paracetamol.
He blamed the irritable conduct of health workers on pressure of work, adding that they receive 90 per cent of their salary without basic allowances.
The delivery bed looked dusty and rusty, and a foul smell oozed from the room with dirty patches on the floor. When our correspondent asked about the state of the bed and the last time it was put to use, Aliyu said a baby was delivered there five days before then.
"We need the bed to be replaced," he noted.
Source: PUNCH