Adulterated Hand Sanitisers Can Damage Important Organs In The Body –Expert, Dr. Temilola Oluseyi Warns With Explanation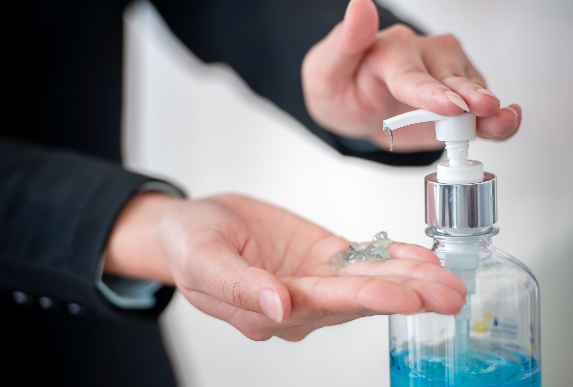 Dr. Temilola Oluseyi, Senior Lecturer in the Department of Chemistry, University of Lagos has warned that adulterated hand sanitisers can cause harm to important organs in the body.
Speaking in an interview on Wednesday with PUNCH HealthWise, Doctor Oluseyi, whose expertise is in Analytical Chemistry and Environmental Health urged buyers of sanitisers to be wary of the quality of hand sanitisers they buy.
She urged Nigerians to always read labels of sanitisers to know the ingredients in them as well as the percentages of the ingredients in the sanitisers they buy.
The expert explained that Chemicals in sanitisers can cause damage to organs in the body or even the endocrine system. According to the medical practitioner;
"Chemicals absorbed into the body via the skin can cause damage to a specific organ such as the liver, kidney or bladder, or even the endocrine system.

The major constituent of sanitiser is an alcohol of at least 60 – 70 per cent. If it is below this percentage, it won't be effective against the viruses and micro-organisms.

Hydrogen peroxide is also used as a disinfectant and it must be in the right proportion as it is acidic. If it is too high or out of proportion it can be corrosive to the surface of the skin and cause skin burns, itches or other skin problems.
READ ALSO: Coronavirus Outbreak: IG User Alerts The Public About The Mass Production Of Hand Sanitizers By Unapproved Business Owners
If the proportion is too low, it won't work as a disinfectant to remove the spores of the micro-organisms.  To reduce the effect of the harshness of the sanitiser, glycerin is added as a moisturiser to make it mild and gentle on the skin when applied.

Essential oils, e.g. Lavender, jasmine e.t.c. are also added to improve fragrance and also to act as a therapeutic agent to boost antimicrobial action. 

If all these components are not in the right proportions the effect on the skin is high, such as drying/peeling of skin, irritation, chloracne, and may also cause cancer of the skin in extreme cases."
She added that it may be difficult to identify an adulterated sanitiser, noting that consumers and recipients must be on the look-out. Dr. Oluseyi added:
"Buyers must check for NAFDAC number and other patent codes. The best bet is to check for the formulation on the container Alcohol content of at least 60 per cent, pH should be close to neutral between 6.5 and 7.5 and microbial efficacy of 99.9 per cent."