'It almost made me go mad' -Nigerian Mom-Of-4, Benita Nwachukwu Details Her Battle With Depression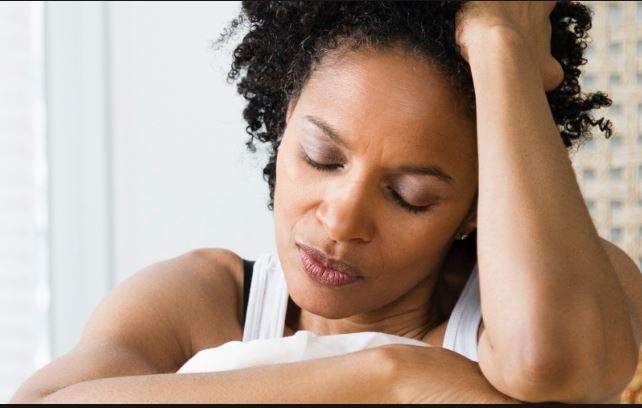 Depression/anxiety have plagued many of recent due to the lockdown caused by the deadly coronavirus pandemic. Most people have spoken about battling it and how they overcame it.
For Mrs. Benita Nwachukwu, falling into depression is not a thing she would wish even for an enemy.
The retired civil servant in a parastatal of the Federal Ministry of Works and Housing fell into depression owing to inability to cope with numerous pressures such as practically singlehandedly paying school fees of three of her four children already studying in higher institutions, paying rent and supporting the home generally on her meagre salary as a level 08 officer, after her husband, running away from the harsh economic situation in Nigeria, relocated to North America.
Narrating her ordeal to DailySun, she said she and her children were not getting regular remittances from him, as he was reportedly still looking for employment and processing his immigration papers for the family to move over to Canada. And even after he secured a job, he had to pay for the processing.
Worse still, the paltry salary hardly sufficient to make ends meet, was irregular, as the then Minister of Works and Housing, the late Major General Abdulkareem Adisa, was notorious for owing workers up to four -month arrears, only to pay just one month by which time bills/expenses would have piled up.
Mrs Nwachukwu became depressed due to excessive thinking and worries about her plight and challenges, worsened by her husband's request after a while, that she should arrange divorce papers, ostensibly to enable him contract an "arrangee wedding" with a white lady to facilitate his securing the Canadian citizenship.
That demand devastated the woman who suspected foul play and attempt to jilt her. She became withdrawn and lonely. It did not take long for her family members, colleagues and friends to notice this sudden change in the behavior of the otherwise cheerful, generous and go lucky mother of four, more so as in their opinion, she started exhibiting strange behavior.
Luckily for Mrs. Nwachukwu, she was able to pull through with the support of family, friends, prayer, her faith in God and diligent adherence to her medication- the essentials factors, doctors themselves advise are crucial to recovering from the illness. She told DailySun:
"God's mercy and favour saw me through and I have friends and family whom God used to strengthen and encourage me."
Also, she said it is helpful to confide in close relations and friends about one's problems and worries, although, she remarked that these could aggravate the problem, as some may not believe or share the patient's views on what could be worrying her. According to her,
READ ALSO: COVID-19 Crisis: Healthcare Expert Lists 11 Ways To Combat Depression, Sadness
"I had my mother with me then. I also shared what I was going through with her, she would encouraged me and pray over the problems with me. She is my major encourager. Like I said earlier, my mother was with me so I used to confide in her.

Secondly, I'm surrounded by godly friends, prayer partners in the church and in my office and after sharing what I was going through with them, they would tell me that it was because of this and that. They all strengthened me with the Word of God and prayer. My Reverend and his wife  encouraged and prayed with me too.

I used to get to the office early and whenever I was less busy in the office, I would read my Bible, devotional books and other inspirational articles that would build up my faith in the Lord Jesus Christ.

Thirdly, I had a boss who who used to come around my table to cheer me up… All these people and my own faith in the Lord helped me get out of it. Again, during my break time in the office then, I used to attend a one-hour Christian fellowship around my office.

The interactions I had with other christians, coupled with the Word of God and the soul lifting praise I had at that fellowship helped me a lot.  Some of my friends in the office who were concerned about my well being and with whom I prayed came around to help me because some of them were afraid that I might commit suicide.

There was a day after I came back from the Christian fellowship that one of my colleagues thought I had mental disorder because of my looks and the way I dressed then. She called others and they took me to our liaison office and arranged for a cab to take me to a specialist hospital. Meanwhile my sister and my son had already come to check on me again.

So people were asking them questions, but I kept telling them that I was okay and that there was nothing wrong with me. They also called one of my cousins who is a nurse and her office was close by. All of them took me to the hospital. I was admitted at the hospital and I thank God for the life of the doctor God used.

Mrs Ojo. She told me what she was passing through, that every human being has challenges he/she is facing in life. She gave her own example concerning her children and people in her community in her home town.

Though the bill (consultation fee and medication) was much, I thank God that I survived it. She used to asked me then if I was the only one passing through difficulties that time, she told me that people like me a lot because my colleagues in the office, family members kept close watch on me throughout my stay in the hospital. I spent just one week there.

The drugs were powerful and for the first two/three days I was just feeling drowsy all through. Dr. Ojo also encouraged me and counselled me that I should put on a new attitude, positive one, especially that one that made me loved. In fact, it was the medical fee that made me made up my mind that I must get over depression.

You know before you can see the doctor, you will have to pay consultation fee which was a huge amount of money then N5,000 that was about two decades ago, if you pay the money your card would be brought out and then you would be allowed to see the doctor. She would prescribe drugs that I had to buy at the hospital and if they don't have it she would ask me to buy it in a very good pharmacy.

Initially, it was twice in a week later she reduced it to once in a week, later she reduced it to twice in a month when she noticed that I had improved. But l made up my mind one day after I thought about the amount of money I spent on consultation fee and drugs that I called on God to heal me.

I told God that I don't want to take drugs again, I had no money and the children's school fees, house rent and other bills need to be paid. I don't know how He was going to do it but enough is enough! I don't have money that I will be giving doctor(s) every month.

I took the drugs for complete four months. God answered my prayers. I thank God for using the doctor to help me recover quick. You know, during our discussion she mentioned her own challenges that one of her children was having a health challenges and every year she would take the child overseas for medical treatment. And her second born too was having another challenge."
But  just like doctors, Nwachukwu would not advocate that patients default in taking their prescriptions regularly and consistently, as doing so could worsen the case.
A patient may be tempted to go off the antidepressants recommended for him, once he begins to feel some relief.
But, according to doctors and Mrs. Nwachukwu , this is dangerous, as it could create further problems that would be more severe to manage. She said:
"I took my drugs faithfully & consistently because there was a day my doctor commended me and thanked me and I told her not to do so but she should thank God. She said that there are some patients they wont take it and that will create problems for them;instead of their condition to subside it would get worse and some have died as a result of this. There is a tendency for patients on antidepressants to gain weight.
Dr. Idowu Oladunjoye Malomo, former Chief Medical Director, Federal Neuro–psychiatry Hospital, Yaba, Lagos advised regular exercise, such as jogging or aerobic walk, or even spending some time in the gym.
Mrs. Nwachukwu described depression as "a terrible experience. Its not a good  experience at all, anyone experiencing it cannot concentrate properly.
It could even affect one's plan for his life and that of his family. It can truncate your career. Thank God it didn't affect my Job. I had even overcome it before my next Job promotion interview. But it can affect one's progress while planning for his/her life. But the truth is that depression is not a good experience at all and I don't pray for anybody to experience it.
SEE ALSO: Clinical Psychologist, Oladotun Adeyemo Identifies 7 Natural Ways To Fight Depression
My advice for people who are close to people with depression is that they should show love and care for anyone who is depressed or passing through such. People should try to understand them, because there were times I would say one thing and people would term it to mean something else or they don't agree with me whereas it was reality for me.

Those things I heard and saw were reality to me. Thank God that I took to my doctor's advice then that I should not react to everything I saw/heard and that helped me a lot."
Depression (major depressive disorder or clinical depression) is a common but serious mood disorder. It causes severe symptoms that affect how you feel, think, and handle daily activities, such as sleeping, eating, or working.
It is characterized among others by lack of joy, feeling of hopelessness, guilt, anxiety, worry, body pains, loss of or excessive appetite, sleeplessness, or too much sleep, lack of concentration and/or impaired psycho motor skills.
A patient may lose interest in people and activities around him which had hitherto offered him happiness as he withdraws and becomes suspicious of people and events around him.
According to experts, it is, often triggered by certain neuro chemical  imbalance in patients. Especially predisposed to and at risk of this condition are people who are not able to handle some stress factors in their personal, family or social environments. These range from  various forms of tragedies, job loss, heartbreaks, financial and economic pressure, loss of dear ones etc.
To be diagnosed with depression, says Dr. Malomo, a renowned psychiatrist, the symptoms must be present for at least two weeks.
Some forms of depression are slightly different, or they may develop under unique circumstances, such as:
Persistent depressive disorder (also called dysthymia) is a depressed mood that lasts for at least two years.
A person diagnosed with persistent depressive disorder may have episodes of major depression along with periods of less severe symptoms, but symptoms must last for two years to be considered persistent depressive disorder.
Perinatal depression is much more serious than the "baby blues" (relatively mild depressive and anxiety symptoms that typically clear within two weeks after delivery) that many women experience after giving birth. Women with perinatal depression experience full-blown major depression during pregnancy or after delivery (postpartum depression).
The feelings of extreme sadness, anxiety, and exhaustion that accompany perinatal depression may make it difficult for these new mothers to complete daily care activities for themselves and/or for their babies.
Psychotic depression occurs when a person has severe depression plus some form of psychosis, such as having disturbing false fixed beliefs (delusions) or hearing or seeing upsetting things that others cannot hear or see (hallucinations). The psychotic symptoms typically have a depressive "theme," such as delusions of guilt, poverty, or illness.
READ ALSO: Going Through Depression? Here Are How 6 Women Won The Battle Without Prescriptions
In severe cases, despair over their suffering sometimes drive victims into thinking of committing suicide. It is also a stubborn disease to treat, doctors say, because patients have to consistently use medications for between six and eight weeks before their beneficial effects start manifesting.
Even after successful treatment, the patient may have to be on a maintenance dose to prevent the episode from likely recurring.