It Takes God's Grace Not To Contract Coronavirus In Nigeria's Markets | Dr. Uchenna Emelonye, Whose Family Survived COVID-19 Shares The Experience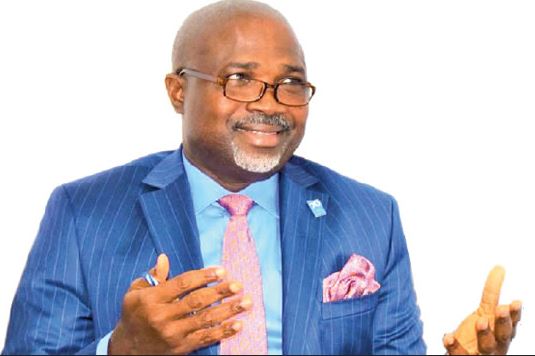 Dr. Uchenna Emelonye, pictured above is the Country Representative of the UN Office of the High Commissioner for Human Rights in Liberia. The highest-ranking Nigerian in the UN human rights system shared his family's battle with the dreaded COVID-19 with PUNCH.
How did you and your family members contract the virus?
Frankly, I don't know and probably only God knows. To provide you with our context, I am presently serving in Liberia and my family resides in Abuja because my current posting is a non-family duty station.
On the other hand, my eldest son was enrolled for a postgraduate program at the Tsinghua University, Beijing, China, and was home for Christmas in December 2019 before the outbreak of COVID-19 in January 2020 and eventual lockdown of China. Since then, he has been home and doing virtual studies.
On my part, I reside in Monrovia and returned to Abuja on March 12, 2020, to celebrate my 53rd birthday with my family and I was on this trip when the world and Nigeria shut down and I was stuck in Abuja, gladly with my family.
During the lockdown and bearing in mind that my wife is a public health expert, she instituted and we observed the requisite health and safety protocols at home, including installing a handwashing station at a stand-alone house, where we live exclusively. As part of our precautionary health measures, we disallowed every visitor and she prevented every person in my household from going out for whatever reason, including our chef.
Believing that she would handle the threat of contracting the virus better, she assumed the responsibility of doing all shopping for the house, including foodstuffs shopping in open and unregulated markets. Since I was home, I could not hide under my quilt in fear of COVID-19 and see my wife expose herself in an open market. So, I joined her and we were both exposed to that bi-weekly shopping in open markets in Abuja.
I recall the experience and was certainly sure that it takes the grace of God for someone not to contract the virus because social distancing measures are impracticable and impossible in an Abuja open-air market and ostensibly other open markets in Nigeria. At the end of these risky shopping exercises during the lockdown, we diligently observed precautionary ablutions and sanitisation before making contact with kids or doing any other thing at home.
I recall also that my wife was so meticulous about contracting the virus that she stopped putting money from ATMs or anywhere in her purse, but rather she put them in disposable plastic bags. She also bought and placed sanitizers at all corners of our house and in all our vehicles. Suffice it to say that we did all within human diligence to evade the virus, but unfortunately, our best was not enough.
Did you report yourself or how did you get to the isolation centre? Where did you receive your treatment, along with other members of your household?
I got to know that I had COVID-19 in a strange way and seemingly through an ambush. Bearing in mind that I had been home and out of my duty station for over two months and recognising that working from home in Abuja was not the same as working from home in Monrovia, my office requested me to return to Monrovia amidst the global lockdown, using the UN special flight operated by the World Food Programme.
So, on Saturday, June 6, 2020, my family drove me to the Abuja airport with all of us hale and hearty and bade me farewell. My unknown health condition defiled all the precautionary measures at the airport in Abuja, including the temperature check.
I flew from Abuja with about five other passengers to Ndjamena. In Chad, few passengers disembarked and some others boarded and eventually, we were seven passengers who arrived Accra, Ghana, and we were all subjected to health screening, including temperature checks. Having passed the anecdotal health checks, I was taken to and quarantined with other passengers at a designated hotel in Accra.
I stayed there and in complete isolation for two nights and on Monday, June 8, 2020, I was taken to the airport, went through the relevant health screening and boarded a flight to Monrovia. On arrival in Monrovia, I underwent the usual preliminary health screening successfully and after passing through immigration, I was tested for COVID-19 as a mandatory protocol for all incoming visitors during the lockdown in Liberia. I was released to go home, isolate and await my test result. On the evening of Monday, June 8, 2020, that I arrived Monrovia, I suddenly began to feel unwell.
By Tuesday morning, my condition had developed into the full-blown cold with running nose and headache. On Wednesday morning, I was really sick to the extent that I admitted to my wife through a phone call that I would not be surprised if I failed the COVID-19 test.
SEE ALSO: COVID-19 ALERT: 'Active community spread ongoing in Lagos' –Commissioner For Health, Prof. Akin Abayomi
Being the medical practitioner that she is, she encouraged me and dissuaded my thoughts that my symptoms would most likely be psychosomatic because I left home a few days ago healthy and everybody I left behind was healthy.
Few minutes after this conversation with my wife, my phone rang and it was a call from the UN doctor. I froze momentarily as I held my phone without accepting the call and it rang out. At that moment, my mind did a 360-degree scanning of my trajectories in the past months and convinced that I made the best efforts to do the needful. I quickly braced for the bad news and called the doctor back.
As a medical doctor trained to break bad health news, he began by talking about generic issues. Since I was already impatient with my health situation, I disrupted him and told him that I was feeling unwell so it was no strange news if my test was positive and he said yes, my test came out positive. He asked me to get my things ready and he would come to take me to the UN isolation and treatment facility.
I stood still in the quietness of my lonely home in Monrovia and after internalising and accepting the sad reality that I tested positive for COVID-19, my other hurdle was to break the bad and unexpected news to my family and the fact that they were principal contacts that needed to be quarantined and examined. I summoned courage and experimented with the bad news with my twin brother and thereafter rehearsed the same with my sister. I then mustered the courage to inform my wife, who received the news in shock and complete disbelief.
What symptoms did you and your family members exhibit when you contracted the virus? Can you share your experience at the treatment center and do you or any member of your family have any underlining health issues?
Following my test result, my entire household arranged for tests in Abuja and the result of my wife and three children came back positive. The test of our driver was also positive and it was only the chef and houseboy that were negative.
It was to say the least agonising that few days after I moved into the UN isolation and treatment facility in Monrovia, my entire family also moved into a UN isolation and treatment center in Abuja and were all kept in separate rooms without the usual familial contact, including the baby of the house, who turned 14 while in isolation.
Fortunately, my family and I had no underlining health conditions and were asymptomatic. On my part, I was generally unwell and my cold mutated into a cough, persistent headache, and overall body weakness, even though my temperature was normal. We were all fortunate that I work for the UN and we were taken to the UN-run COVID-19 treatment facility in both countries, so we were treated with the highest level of professionalism by the respective medical teams.
How long did it take you and members of your family to recover?
Based on the prevailing health protocol in Nigeria, my family did their second test after the eight days of the first test and their result came back negative after a few days and they were discharged. On my part, and based on the prevailing health protocol in Liberia, which requires two consecutive negative tests after 12 days of the first test, I had my second test on June 19, 2020, and it came back negative.
I underwent the third test on June 22 and it did not surprise me that it came back positive because I was still feeling unwell. I had my fourth test on June 29 and the result was indeterminate. It was only on July 12 that my result was negative and I was thereafter discharged from isolation.
Since you were discharged, how have you been able to cope with the stigma that comes with COVID-19 from your neighbours, your colleagues at work and relatives?
I am not sure that there is any stigma concern to worry about for COVID-19 survivors in Nigeria and other African countries where the level of testing is very low. Who should stigmatise who here?
Is it the person inadvertently dealing with COVID-19 as usual cold, cough, or malaria, or the COVID-19 survivor, who was diagnosed, treated, and fully recovered? I guess common sense suggests that the existential threat to humanity is posed by the untested and unaware COVID-19 human vectors, who are, unfortunately, numerous in our communities.
ALSO SEE: Ex-Presidential Aide, Doyin Okupe & Wife Share Experience After Their Recovery From Coronavirus
What message do you have for those who do not believe that COVID-19 is real?
Despite the debatable conspiracy theories of how the virus emerged, the truth from harrowing personal experience is that the virus is real, it is around and a threat to humanity. We all have to be vigilant while we pray for our medical experts to find a durable cure.
In the interim, the good news amidst the well-founded apprehension about COVID-19, particularly in Nigeria and Africa, which I must admit has yet to be medically validated, is that the causality rate in the continent is minimal. From personal instance, of all the people that made contact with me or those that I can recollect making contacts with since the outbreak of the virus in Nigeria and Liberia, I am not aware of anyone that has passed away as a result of any ailment whatsoever, including COVID-19.