Nigerian Couples Who Got Married During The Lockdown Share Unforgettable Memories Of Their Digital Weddings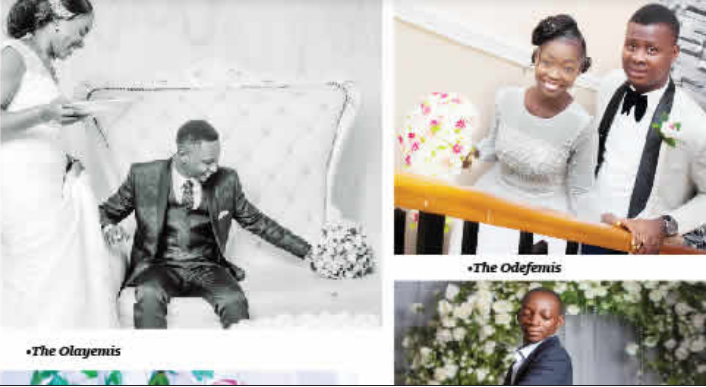 With the emergence of COVID-19 pandemic, the idea of digital weddings was birth. For many people across countries, videoconferencing tools such as Zoom, Youtube, and other social media platforms came helpful in conducting weddings in order to observe safety protocols during the lockdown.
When Oluwafemi Koleosho and his then-fiancée, Olanike, chose their wedding day, they were unaware that a pandemic was lurking around.
They dated for over a year when Oluwafemi, the chief executive officer of an e-commerce platform, asked Nike if she would marry him. Both families later met and fixed a date for the wedding.
According to Nike, they deliberately picked a date in May 2020 for their wedding which was supposed to be her husband's birthday. She said,
"We started dating sometime in 2018. We decided on our wedding date sometimes in the middle of 2019. Both families picked May 2020. It was supposed to happen on my husband's birthday. But coronavirus came with its own plans."
'Our love stories'
The Koleoshos met at a church and didn't know they would date let alone get married until they had a reason to work together planning for a programme in church sometime in 2016. Nike narrated,
"It's such a long story but I will give a brief summary. We both attended the same church. He is a long-time member and I just became a full-fledged member then. We only got talking sometime in 2016 when we had to work together during a special programme for three days. We became friends after that.  One thing led to the other and we started dating in 2018."
They continued as lovers and as of 2019, they were certain they wanted to spend the rest of their lives together. He asked her if she would marry him and she said yes after which both families were introduced to themselves.
For the Olayemis, their love story started while they were students at the University of Ilorin, Kwara State. Although Michael was three years ahead of his wife, they were able to give love a chance. He said,
"We met at the university. We were both medical students at the University of Ilorin. I was a 500-level student while she was in 200 level. We were both members of Christian medical students association. This was in 2012. Many things happened and we started dating in 2014 September."
Olayemi noted that from the day they started dating, they set out to get married to each other from the start, but the official proposal was November 6, 2017, a day after her birthday.
The newly wedded Segun Jones stated that he and his wife met in school while they attended the same Christian fellowship at their university. He said,
"We met in the university, we also attended the same Christian fellowship and we somehow became friends. We've always been buddies."
Jones noted that they had the quietest proposal in a remarkable way.
He added,"Nothing grandiose really." He managed to tuck a wedding ring in her hair without her noticing it.
"Until I told her something perched on her hair," he said in excitement. In an attempt to pull it out, "she touched the ring, glowed in excitement," he added.
He added that they started to plan for their wedding sometime in January 2019.
Like others, Toluwase and Adenike Odefemi also met in church sometime in March 2017. Toluwase recalled that he was attending an evening service in his church then, "I noticed a lady I was seeing for the first time (apparently that was not the case for her). Deep down I knew she had everything I wanted in a woman, in terms of appearance at least, " he said in excitement.
He added that it started to rain before the service ended and, "I was about leaving with my friend only for me to notice her again. My friend and I decided to drop her off so as not to leave her stranded in the church that late; that marked the beginning of our friendship."
Odefemi said he had always told himself that he was going to be a friend to whoever was going to be his wife, so, "I was quite intentional about friendship. We became close friends not too long after the church episode, we talked every day and we talked about almost everything," he added.
He said that there was nothing spectacular about their proposal because they had been friends for a while and it was glaring that they both wanted the same thing from each other. He said,
"I proposed to her on April 21, 2018, and then she gave me a positive response about four weeks after that."
READ ALSO: COVID-19 Pandemic: Edo State Pupils And Parents Share Interesting Experiences With WhatsApp, Zoom Lessons
Parental approval for online weddings
Digital wedding is a new reality in Nigeria and many families have yet to fully cope with the idea of having to attend the 'big day' of their loved ones by watching them online.
It's a tough decision for many couples to hold weddings online especially without having their family members in attendance.
Koleosho described the process of trying to convince both parties to opt for a zoom wedding as "war"
It would mean a wedding party without an aso-ebi ( uniformed attire), it was almost not something they wanted to hear but eventually, they were able to have their way. She said,
"As at April, the conclusion was that the wedding would have to be postponed indefinitely. You know Nigerian parents and aso-ebi but we took a break and somehow discovered that the court/registry rites could be done at our private residence as long as the COVID protocols were adhered to."
Olayemi explained that deciding to do an online zoom wedding was a late decision but it appeared  the only available means to hold their wedding amid COVID-19.
The newlywed said although it was their last option, having to convince both family members wasn't an easy task especially because of tribal differences.
"Convincing our family members was a tug of war. I'm from the South-West and you know how Yoruba like to invite many people to such an events. Convincing them was not easy. I mean telling my family members that they couldn't invite friends, church members, colleagues, and so on was not something easy at all. We had lots of meetings, disagreements, and so on. Eventually, I think almost everyone came to terms with it.

"Besides, government policies about gatherings were evident for all to see. Coronavirus and its attendant protocols. My wife and I are medical doctors, so we should be setting examples of how to be safety-conscious. It was based on this reasoning that we were able to convince our family members."
Jones noted that they never foresaw a zoom wedding as the families were set for a wedding with glitz and glamour. He stated,
"We chose to go virtual when we realised that having the usual 'owambe' was becoming unrealistic. It seemed impossible by the day. I also guessed that it would take a long time before the whole frenzy and glamour of marriage ceremonies return. I then decided to take the bull by its horns."
He said to his surprise his wife didn't object to his decision, adding that she said she was more interested in the marriage and not the glamour. "I couldn't agree less," he said.
He stated that eventually, they settled for a virtual wedding on April 11. Jones narrated how opting for a virtual wedding seemed unrealistic to family members and convincing them wasn't a walk in the park. He said,
READ ALSO: See How Lagos Couple Who Didn't Want Their Wedding Postponed Due To Covid-19 Shutdown Got Married
"Gele' and 'aso ebi' materials had been bought and sewn by family members. Families on both sides anticipated the nuptial event for many reasons. My wife was the last child and I am the only son as well in my family. So the preparation was solid

"It wasn't difficult to convince our friends, though painful. The groom-squad and my wife's bridal train had got all they needed. They bought their clothes. One of them had already booked his flight ticket from Berlin. So it was a bitter pill to swallow for them. But they followed the event virtually."
Odefemi said early in the year they decided to get married while "COVID-19 pandemic had not become something to worry about."
He said COVID-19 did not exactly affect their wedding as they had always loved to have a modest wedding. He said,
"I had always wanted something really small though; like having a 'strictly by invitation' wedding guest list probably in a conference room and this was responsible for us selecting a Tuesday to minimise attendance.

"Our proposed wedding date (June 9) was approaching, the government had ordered a lockdown a few weeks before the date.

"At the end of April, we asked ourselves if we wanted a 'wedding ceremony' or desired to get married; we got the answer we needed and decided to figure out a way of making our friends as well as well-wishers part of the occasion virtually. It was at that point we decided to be creative about it and then settled for an online wedding just so we do not have to postpone the event."
Odefemi noted that convincing their family was not so much of a big deal as the parents had already told them from the outset that it was their wedding.
"We appreciated both families for the support we got all along from them. We only had to make them see reasons why it had to be an exclusively online wedding."
Online wedding, a blessing in disguise
Kolesosho said when they discussed the modalities they soon both realised that the wedding had to hold somehow especially for the fact that they could have a decent location. She added,
"The modalities for having church rites at my parents' residence was also sorted out .

"We chose representatives from families and the church as well as friends to be physically present while others were to savour the day  watching from their screens."
Despite the fact that coronavirus altered their plans, the groom said there were many good sides to having an online meeting. Koleosho said it was a beautiful one for them and they were excited that they had an online wedding. She said,
"I was elated. We both actually don't like the glamour associated with having many people at a wedding, so we were glad. Our ceremony was beautiful, we enjoyed it thoroughly. The decor was perfectly tailored for an intimate wedding, the people, we knew everyone on a personal level, blessing and exchange  of marital vows.

The icing on the cake was how distance wasn't a barrier for our friends and family who couldn't be physically present to enjoy the ceremony.

We also had a reception; we entertained our family members who were guests. My mum happens to be a caterer, so that wasn't a hassle. There were refreshments for those who wished."
Also, Olayemi said he's not someone who believes in spending more money on a day's event, "I don't see the need for spending millions on a day's event then be broke afterward. It doesn't make sense to me and that has always been my mindset," she added.
He noted his view, the plan was still to have "a decent, well organised wedding and reception." Olayemi noted that zoom was never part of the plan until coronavirus came.
"We had to cut down the guest list to only family members. That meant we had to do a virtual wedding so that our distant families, friends, and well-wishers can celebrate with us and also witness the moment," he stated.
The medical doctor added that it was an avenue to cut resources as they had to trim down the list. He said,
"You know how Nigerians like to celebrate people. This is actually a good thing but it also means one has to invite many people, thereby stretching finances. Zoom afforded us the opportunity to cut down expenses."
Olayemi said many of their close friends were unable to be physically present at their wedding.
SEE ALSO: Couple Earn Goodwill Of Online Users After They Found A Clever Way To Hold Their Social Distancing Compliant Wedding Amid COVID-19 Restrictions
"There were many people we had to apologise to after the wedding for not being able to invite them to our 'big'day. The beautiful thing was that all those who mattered were in attendace either in person or online.

"In fact, some of our friends watched from the United Kingdom, United States of America, Italy and all over Nigeria. It was a beautiful day."
Describing the  experience, he said their wedding was absolutely "beautiful."
Jones said though he's not an extrovert, he missed the physical presence of their friends and was more concerned for his wife who wasn't able to enjoy the day with her friends especially the bridal train. Jones stated,
"I'm cool-headed, so in a sense, I wasn't too bothered. But I was bothered for my wife. The wedding day is undoubtedly one of the highlights of a lady's life. I wished she had it better. She told me not to be bothered about how she felt about this as there are better days ahead."
Looking on the positive side of having a digital wedding, the content creator said he enjoyed it as the event was totally devoid of high jinks. He said,
"I enjoyed it as it was short and sharp. No unnecessary shenanigans. We were done in about two hours. It was also a low budget. Except for the customary dowry, I spent which wasn't much of a big deal.

Although I'd made deposits for many other necessities before the pandemic broke out. I'm yet to be refunded by the vendors though. This taught me a lot of lessons and the chief amongst them is that – life is not difficult, except we make it so."
Jones said they also came to terms with the popular aphorism, "If life throws you lemon make lemonade off it. We made lemonade off ours. But in it all, the stance of my wife amidst all these was for me charming, enchanting, and revealing. She should be assured of my unalloyed regards and love! She is indeed an Amazon"
Odefemi said that he didn't feel they missed out on anything since it is a virtual meeting. He said,
"Not at all. I can say we are the happiest couple on earth because we were able to involve people all over the world.

"For many youths, there is an expectation of what a typical wedding ceremony should look like; which is an exceptionally big occasion neglecting the fact that there is a life to live after the wedding.

For me and my wife, an online wedding was just a perfect idea because we were able to effectively ignore societal pressures and focus on what was most important as it was not about impressing anyone."
Odefemi noted that having to do an online wedding has really redefined the meaning of wedding to people. He added,
"We believe the narrative is about to change and if people can focus on what they want for themselves while caring less about the status quo, it will go a long way in redefining our perception of ceremonies.
"For us, the online wedding took the pressure to impress our supposed attendees off us and it still did not change the fact that we got married and were celebrated; it was strictly about what we felt was good for us."
Digital wedding has come to stay – Marriage coach
A relationship coach, Shamsideen Giwa, said digital weddings are beautiful innovations giving solutions to many challenges. He said,
"We are different and as such the wedding versus marriage debate would go in different directions for us. As important as weddings are, the marriage, for me, will always be paramount.

"People who want their wedding small may not have an issue with virtual weddings. However, the more culturally minded and elaborate people may find it a downgrade to what they planned."
Irrespective of the type of wedding couples prefer, Giwa noted that an online wedding isn't a bad idea as he had personally witnessed some. He added,
"I have witnessed a few online weddings and the last one was anchored to perfection with meals delivered to the event for locally based attendees."
Giwa noted that there was no point in delaying one's wedding because one wanted to have an elaborate wedding.
Examining the benefits of  online wedding, he said, "It is an online marriage that helps you cut down on cost. It also helps with crowd control and the chaos of many experiences with physical events.
"The event is able to be true about the couple as all attention is on them. It also helps people who may not have been able to travel down or attend due to distance to do so without an issue from wherever in the world."
The relationship coach noted that the only issue that could have happened and disrupted online weddings was internet issues. He, however, noted that digital weddings had come to stay. He said,
"I see it revolving around technology as a fast internet capable of smooth streaming may still be a struggle for many in our society.

"I believe it has come to stay and will keep evolving to match our desires,and even blended with physical events as options. It would take a bit to get there, but the journey has already begun."