South African Mum, Thembi Maphanga Who Survived Severe Burns & Lost Her 25-Month-Old Daughter After They Were Set Ablaze By Her Ex Shares Her Story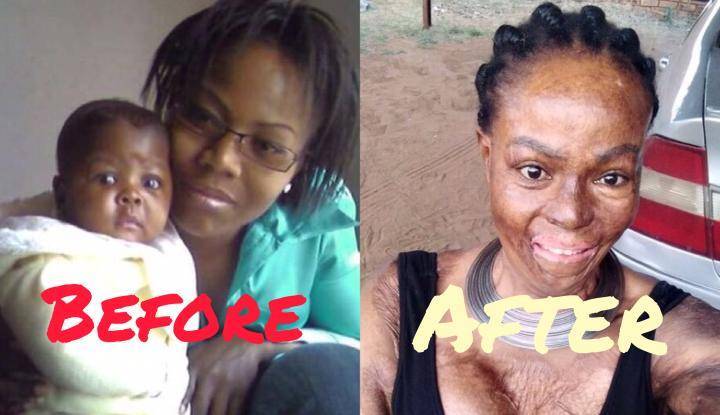 On March 13, 2010, Thembi Maphanga and her baby's father had a disagreement. After a long discussion, they decided it would be best if they parted ways.
He left the home that he'd shared with Thembi, and their daughter, Kamo, who was 25-months-old at the time but the scorned lover returned and it was deadly.

The following day, March 14, 2010, Thembi's ex returned to collect his belongings. Later, he went into Thembi's bedroom with a can of gasoline, shut the door, and began to douse her with it. She screamed for help while fighting him off but he overpowered her, struck a match, and set her ablaze.
READ ALSO: Mum Of One, Sacha Pugsley, Told She'll Never Grow Breasts After Suffering Burns Shares Her Story And Pictures
According to Thembi who survived the arson,  survivor, her child's father fled the engulfed room through the window, leaving Thembi and their daughter to burn to death. Thembi suffered burns to nearly 80 percent of her body while Kamo's burns were more severe. Both were rushed to the hospital by neighbors where the daughter died three days later.
Although the incident occurred ten years ago, Thembi, popularly known as Miss T, said it feels like it happened yesterday.
She shared her story via a Facebook post thus:
"I Remember it like it happened yesterday.

We had an argument, the next thing he decided to play God with our lives," she wrote.

"He dosed us with petrol fought with him so he cant ignite the match but he over powered me. Boom..he left us there in the locked bedroom to die

Unfortunately my daughter didn't make it," she added, recalling her horrible ordeal.

"I made peace. I forgave him. I accepted things I can't change"
Maphsnga's ex-boyfriend was arrested and convicted for attempted murder and murder.
See a screenshot of her post and her photos below: