Family Members & Close Confidant Give Insight Into Femi Fani-Kayode's Crashed Marriage To 4th Wife, Precious | See Details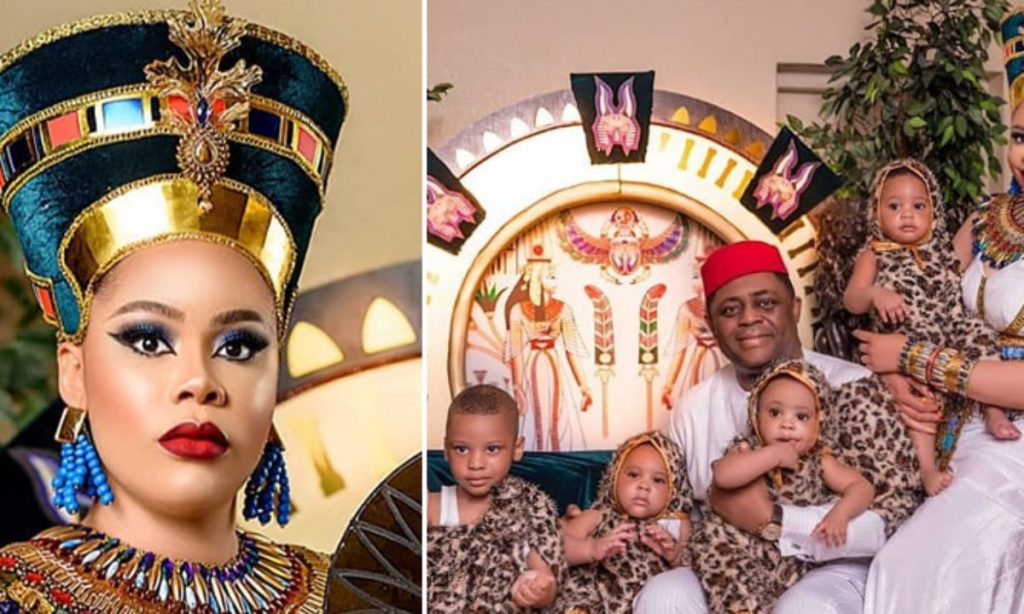 Former Minister of Aviation, Femi Fani-Kayode, and his ex-beauty queen wife, Precious Chikwendu, have separated. This, according to reports will be FFK's fourth failed marriage.
The couple, who are parents to four sons, including a set of two-year-old triplets, have been married since 2014.
A family source told PremiumTimes on Wednesday that the marriage broke down due to a health challenge that Chikwendu who is fondly referred to as Snow White has been trying to manage since they became man and wife.
According to the source, the health issue posed a serious challenge and the couple later became estranged.
Although unconfirmed news reported that the separation was as a result of domestic violence and that the triplet sons may not have been fathered by Fani-Kayode as they were conceived through IVF and Chikwendu had demanded a DNA test.
Alongside other unprintable reasons, the source also claimed that they had countless disagreements over ''unapproved outings.''
The close family source said,
"Snowwhite was fond of going out without Fani-Kayode's permission and he could no longer tolerate it."
The source also denied reports that the union broke down due to domestic violence allegedly meted out to the ex-beauty queen by the ex-minister.
In a separate chat with PremiumTimes, Chikwendu's uncle, Okey Onyemachi, also debunked some allegations making the rounds. He said,
"I never witnessed any domestic violence incident but I am aware that they are separated and are not staying together as we speak, but reports of domestic violence are very funny and malicious.
I am unhappy about the reports and my major concern is the children and why people are cooking up fake stories. The allegations that the kids aren't chief's is a big lie and unthinkable. Precious is my niece and I can confirm that all these stories are false."
The couple has apparently been living apart for some months now.
Another source told SaharaReporters that FFK who had had a hat-trick of marriages before meeting Precious accused her of infidelity. The sources revealed that he started physically abusing Precious from the first year of their marriage — the same fate that befell her three predecessors.
The violence, it was gathered, increased as the years went by. FFK was said to have ordered Precious to abort her last pregnancy, claiming it did not belong to him.
The sources said Precious ignored him but got a savage beating, including on her belly for the recalcitrance.
The source further said FFK always hit the woman violently in presence of their house helps and sometimes threatened her with a gun by sticking the weapon in her mouth to warn her against squealing. He sometimes instructed his bodyguard to hit the ex-beauty queen.
READ ALSO: FFK and Precious Chiwendu's Marriage Allegedly Crashes and How he Used Apostle Suleman to Cover up Wife Abuse
However, a family member who spoke differently on her sister's marital issues was Prisca G Chikwendu-Nduka, dragging their uncle and wife messily.
Prisca took to Facebook to share the very lengthy post, defending her sister, noting though, that she has her own mistakes. Prisca made it known that their Uncle, Okey Onyemachi knew about the abuse but advised Precious to stay first for the sake of their mom's bill which FFK bore, and then for her sons.
What angered Prisca most, is, however, that their uncle and wife knew about all of her sister's ordeals and are still secretly taking FFK's side.
"It is disheartening when the people you look up to, and who should have your back, turn against you because of monetary gain. I have kept silent on this issue, but it's time we took a stand," she began.
"Rev Okey Onyemachi and Joy Onyemachi, you both cannot deny knowing that my sister's husband beats her! Aunty Joy Onyemachi, you have witnessed him beating her severally especially during pregnancy.

I have had discussions with both of you severally about her leaving that marriage before he kills her, but you both said she has to stay on that it makes no sense her leaving him without anything after giving him sons.

Yes the incident with the knife occurred, but the truth you purposely ignored is that she picked that knife to protect herself from being beaten again and you both know it! Further more uncle Okey, (I use the word uncle/aunt lightly because you in my opinion don't deserve it, but I'll rather use it than call you Reverend or pastor cos your actions are a let down to that title), you were not there when the knife incident happened so it amazes me how you have this detailed false description of what happened that day.

Now to obvious facts, Even if Precious had a mental breakdown like you claim, who wouldn't? Considering what she had to go through in that house for almost 6yrs. A house she had no say in, a house where she was constantly beaten and humiliated before staff and sometimes visitors.

A house where one who calls himself a husband will call and pay pastors to give their fake prophecies against his wife, one of which is "that she has spiritual problems and she's only living because she's under his spiritual covering, that the day she leaves his covering she will die. You are very aware of this!

First, we were born and raised in Makurdi, Benue state. We weren't the kind of family that traveled every year, we sometimes went home once in 5yrs, and the stay is probably for two weeks spanning Christmas and New year. in that two weeks we only spent about 2days in umuahia, my maternal home, your home.

As we grew up, the visits became fewer and in between. When you guys did visit Makurdi, the visits were never for long, intact uncle Okey I never got to know you till I was about 13 or so. Aunty Joy you never spent more than 2weeks in a year at our home and so many years you totally never showed up.

How then was the opinion formed that my sister has been mentally disturbed and violent from childhood? I'm over 3yrs her senior and I'm sure I should have known.

Precious has her faults, she has made mistakes,mistakes she has paid for and is still paying for, but she is your niece, your blood, your family. She does not deserve the label you have given her and all the lies I woke up to against her today.

Turning against her the way you have doesn't speak well of you and the respective of the ministries you both represent. Please stop telling people that you're representing the Onyemachi family, cos you're not.

The opinion of two does not speak for the entire family, and I'm aware you both did this on your own. That said I leave you both to God's judgement. We're orphans and have no one to speak for us, but we are unified and believe that God will speak for us.

For all you have done, God will answer, you will surely reap the rewards. On behalf of my Siblings and I, I rest my case. Prisca G Chikwendu-Nduka", she wrote.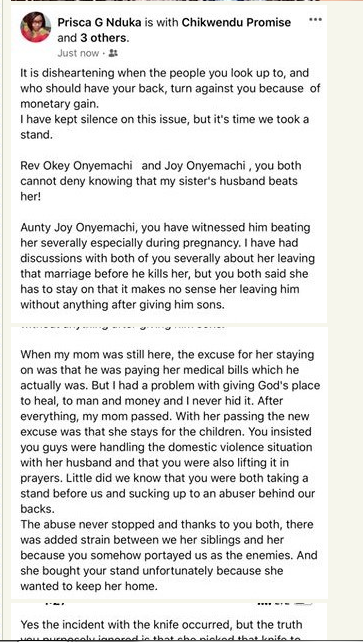 Another report by Vanguard also revealed what caused the strain in the duo's marriage.
Details revealed by Human rights activists and Convener of Concerned Nigerians Group, Deji Adeyanju has it that the marriage might have collapsed due to mental and health issues on the part of FFK's wife.
Adeyanju, who is a close confidant to the estranged couple, in a series of tweets, debunked the rumors making the round that domestic violence was responsible for the separation of FFK and Precious, saying the story was planted by her after their marriage crashed.
Deji, in the Twitter thread, asked Precious when and how did FFK abuse her, if the abuse happened when she was pregnant or when her siblings and family members were living. He said her family members were always around in FFK's home.
Deji who claimed to be close to the couple said he has been in the know on many of their quarrels in the past which he had even been invited to resolve several times and it was never about domestic abuse.
Deji also stated that FFK has done everything for Precious from supporting her beauty pageantry with about $500,000 at the start of their relationship to standing by her when she had several surgeries. He also claimed FFK took care of the medical bills of her parents who were battling cancer amongst several other things.
Deji stated that Precious knows where her problems are coming from and they are spiritual. Deji advised her to seek the face of God instead of chasing shadows. He also stated that the fact that she has survived this long is a testimony.
Deji recalled when Precious agreed to be checked into a mental home because of her mental issues and how she consequently ran away from the mental home.
Although FFK has been alleged by his previous wives of domestic violence, Deji tweeted that he cannot speak on that because he wasn't a part of it but on the issue of FFK and Precious, Deji reiterated that it is not about domestic violence because she has never raised this issue, nor her family members that stay with them at home, or at any time when Deji went to settle issues between she and her husband.
Deji recounted how Mrs. Precious had lost her mind on several occasions and even attacked her husband and other domestic staff with a knife.
Although Deji subsequently deleted all the tweets, he, however, left several new tweets advising young people to stay away from toxic and crazy people and that marriage is not mandatory for all. We, however, gathered that Deji deleted his original tweets after FFK called him to do so saying no one should join issues with her publicly.
Fani-Kayode's first wife, Saratu Attah, whom he married when he was 22, was also regularly pummeled by him.
Sources said the woman, daughter of the late Adamu Attah, was viciously beaten for requesting a swimming pool in their home on Marine Road in Apapa, Lagos.
FFK's next marriage was to Yemisi Odesanya, daughter of a judge. She is now known as Yemisi Wada after remarrying.
In newspaper interviews, the woman told stories of Fani-Kayode's viciousness and lack of care for their daughters, the reason for which he was excluded from the marriage of one of them, Temitope, in 2014.
Despite the disconnect between him and the children, FFK never fails to advertise his "love" for them on Facebook on their birthdays.
READ ALSO: Read FFK's Sweet Message To His Three Children And Their Mothers
Born in 1989, Precious is a model, actress, and former beauty queen. She represented Nigeria at the Miss United Nations World Beauty pageant in 2014.