Relationship Coach, Women Share Their Opinions On The Best Approach To Help A Spouse Who's A Poor Dresser | Olajide & Sayo's Story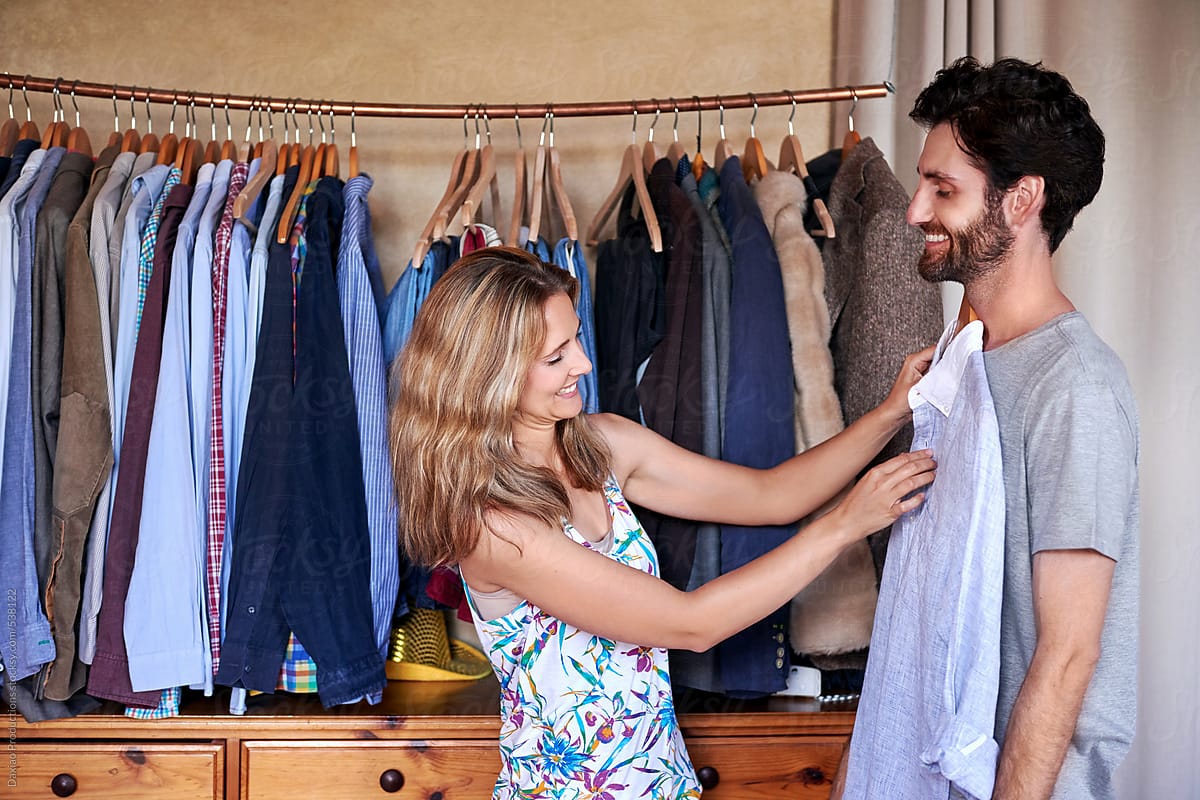 When Olajide engaged his fiancée, Sayo, she wasn't much of a power dresser but has a good character and also full of intelligence hence he overlooked that aspect of her dressing.
It was something he observed early in the relationship but didn't have a good job to buy her enough clothes or teach her good dress sense. But overtime, as things improved, he started to help her in that aspect. Olajide said,
"Now my wife dresses well and one would assume she had always been a fashionista. Before we got married, I got a well-paying job and I set aside part of my salary to shop for both of us but I made hers a priority."
He added that he visited several mobile shopping applications to search things for his wife and later went to shops to buy things for her.
He stated,
"I didn't tell her that her dressing was bad at any time neither did she realise what I was doing. She only saw me as a caring man. Before we got married, she saw that people admired her and the fact that people now pass positive comments to her made her realise that something had changed about her dressing. She became conscious of what she was wearing. Everyone likes positive comments you know.

"That was the trick I played on getting my wife to improve on her dress sense. I didn't want to hurt her self esteem and I am glad I was able to pull that through without hurting her.''
Olajide isn't the only one who believes in deliberate actions to change their spouse's poor dressing style. Mr Joseph Omenukwa is also one of them.
Joseph said he would look for a good method to address the issue so that he wouldn't hurt his wife's feelings in any way. He said,
"If my wife is a poor dresser, I will observe the best correctional approach to adopt, like going on shopping. For me, rather than going to the cinemas, I will go shopping with her. I will make her feel like I just wanted to go shopping with her without necessarily telling her why I am taking her out.

Telling her that my decision is based on her sense of dressing might not help matters. You know women are emotional, so, I have to be deliberate about making my wife happy.

This tactic may work even better. Or I could buy clothes for her as a present. Whenever, I travel, I can buy her stylish dresses that will fit her well.''
However, some women who spoke with PUNCH correspondent said the best approach would be to call their spouses and address the issue.
A teacher, Mrs Mercy Rowland, said she would discuss the issue with her husband first and give him time to explain and make him understand the point she was trying to make. She said,
"I will talk to him about it and give him time to understand it. It will be a gradual process and I know he will change. I will buy good clothes for him and show him pictures of well-dressed people.

I will make him see men that look good, especially people he admires. And whenever he dresses well, I will compliment him deliberately.  I will deliberately massage their ego."
In the same vein, an accountant, Mrs Modupe Oni, said she would teach her spouse to dress well and let him know how she desires him to appear nice. He said,
"I will teach him how to dress well. I will plan a day to go shopping with him. I will compliment him whenever he wears something nice and whenever he wears clothes that are not good-looking, I will let him know.

If his clothes are not fitted, I will advise him to amend them. Whenever he is wearing an outfit that doesn't suit the occasion, I will let him know too."
A clothier, Mrs Solape Soares, advised couples not to impose their taste on their partners to avoid causing trouble in the home. She said,
"Don't be pushy and don't impose your taste on your spouse especially as a wife if he doesn't like your choice of clothes for him. Try to choose clothes that match your partner's personality and taste, not yours.

Before suggesting any changes, try to find out why he chooses to wear particular pieces. If your man values comfort, try to show him in a tactful and respectful way that nicer clothes can be comfortable."
SEE ALSO: Married Couples And Relationship Experts Share On Dangers Of Overbearing Mother-in-law
Commenting on the matter, a relationship coach, Shamsideen Giwa, said it was vital to aim for peace in the process of wanting to correct their spouses who don't dress well.
According to him, it is beyond dress sense and this should be considered in the process of desiring changes in their partners. He said,
"Many people want to correct their partners and in the process have been offended by their partners. Sometimes, we get so emotional about trying to correct that we ignore the process of correction and just focus on the end result. We forget also that the end result will forever be a product of the process that birthed it. A person who was corrected through humiliation will become the teacher or leader who crushes others.

"It is absolutely commendable to see the room to get better and try creating the effect on someone. It is heroic to do this amid rejection of the lesson or upgrade. Some people are too stubborn to be corrected. Yeah I know, but it is going to be almost impossible to justify doing this by crushing the person.

"This is not tough love; it is what many tyrants are made of, something we do not want to be. Similar to raising a voice or being abusive, belittling a person does not tell a tale of their character; it tells a tale of our own character and the huge hole in our ability to teach. In the end, the person is left depressed rather than energised from the message, an anti-climax ofju sorts."
Giwa added that one should study one's partner well before tabling certain issues before them including about their poor dress sense. He said,
"That being said, if your partner is someone that is open to a conversation on such issues, talk to the person on their dress sense and make them see reasons why they should improve on their dressing.

You can start by showing them some good combination especially in this age of social media. Let them know a celebrity that you admire their dressing. You can even start by going shopping together later. Let them start to choose their clothes and other fashion items themselves."
Giwa added that if one's spouse wasn't open to a conversation, one could be more deliberate and systematic in one's approach. He stated,
"In such an instance, you can start by buying things for your spouse, checking fashion catalogues together and telling them the mode of dressing that you like. When their style of dressing has improved, compliment them and let them know how beautiful they look in the outfits.''