Journalist & Mom, Kemi Olunloyo Answers Questions On Why She's Still Single At 56 | Her Reasons Will Leave You Dazed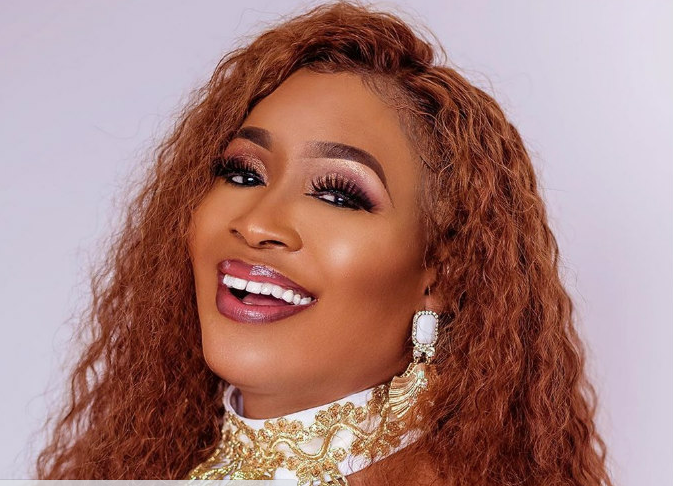 Controversial media personality and international-trained journalist, Kemi Olunloyo has given an answer to one of the very many questions people have been asking, especially on her status, who really is Kemi Olunloyo?mWhat sort of person is she? And the big one, of course, why Kemi Olunloyo is still single.
Though there have been several posts and insinuations about Kemi Olunloyo's marital status, in this interview with City People's Publisher, SEYE KEHINDE, the single mom bares it all on why she is still single at age 56. Enjoy it.
Let's talk about you, who is Kemi Olunloyo?
Kemi Olunloyo, the good woman who can change Nigeria, though, I don't want to be the President of Nigeria, not even a politician.
What sort of a person is Kemi?
Kemi Olunloyo is an extrovert, eccentric, with high self-esteem and superiority complex. I feel superior to everybody. I earned my superiority. Nigerians say "you are too proud" yeah! I am proud. It is in the Bible. Anybody can google it.
I am a US-trained Journalist, "must you always tell us?" Yes! US-trained Journalist and Us-trained Pharmacist is not the same as Nigerian-trained. God wants us to be proud of ourselves, but many people are suffering from low self-esteem.
They would be in my DM, asking me for school fees, are these children not born by someone and they are asking me for school fees? I asked somebody a few days ago that who are the parents of these youths that are abusing us? Are we the ones to be paying their school fees?
So, the real Kemi Olunloyo is blunt, I will tell you how it is. If you sit next to me in a church and you have bad breath, I would offer you groundnut, which is the antidote to bad breath. I will tell the person point-blank, "would you like some peanuts, your breath stinks", that is me, that is Kemi Olunloyo.
READ ALSO: Kemi Olunloyo Celebrates her 1st Child who Clocks 30 Today | Advices Single Moms to Learn from her
Is that not why many people are attacking you?
That is it because they are not like me, they don't like blunt people, they don't like people who tell the truth. I spoke to Fani Kayode recently, he has been so hard to reach ever since all the recent happenings. There is no preferential treatment when I am making money.
Seye, this is what you do for a living. You started the No 1, and what is still the No 1 soft sell Magazine in Nigeria, City People. It's entertainment. Look at how journalism was when we came out of journalism school. We reported news, we reported general news.
In journalism, we have what we call General News, Traffic News, and Entertainment News. We have Gist News and we also have Celebrity News. I remember one of your staffers, Bola. She was solidly the gist girl. She was City People's Oyo-State Gist Reporter. She always had her story correctly. May her soul rest in peace. She had her stories accurate, she had the phone numbers of newsmakers.
She did well on Entertainment News. So, when I do entertainment news, some people don't like it. They don't like celebrity news. The fact is news is so broad now, into bits. That's what they call Newsbit, I tell these young people.
They would say leave Linda alone, leave Davido alone, you have finished with Davido, now it is Tacha, you have finished Tacha now it is Erica, it's Kiddwaya, this and that, young people in their illiteracy, who will teach them? What is selling in news now is entertainment and you can make money from it. Celebrity news next.
Have you heard this one "food journalism"? I actually saw the word on somebody's Twitter page recently. I have a cooking show "Kemi talks food", if you go on Instagram, you will see all the foods I cooked, I called it a cooking show. Now some people are calling it food journalism. And I am talking on my own, telling you what I cooked and I don't see why I can't make money from it. But they don't want you to do your work. Everybody is selfish, everybody doesn't care.
Even people in my neighbourhood, they are not happy about me not supporting the Endsars protest. When I say if anybody attacks Police, Police must deal with them, they got mad. I told them not to meddle in my business. So, talking about real Kemi Olunloyo, I think I have covered the whole area apart from the fact that I am single and you have not found me a husband.
READ ALSO: 'A sharp razor blade was used. Me and my sister used diapers and bled for a week' Kemi Olunloyo On Circumcision As A Little Girl
How come you are still single? Haven't you met any man who has similar views and lifestyles as you?
Chris Nwandu, a journalist, he is already married (laugh), so, I am his wife on Facebook. I actually asked him for a date. I asked if he is not married. But I like it when a journalist dates a journalist, it is a good thing, so we now turn the whole thing to flirting on Facebook. He called me his wife in one post and in another said Sister Kemi.
Yes! I have met guys, I have met people, but I just don't fall in love. I said to a friend, sometimes ago, 2014 to be precise. I said if I fall in love with a man in Nigeria it must be because he is rich. It must be the money.
I said I want to lie down in my house all day, the driver goes on errands, the cook making my food and I am on Facebook, Instagram and Twitter all day (laugh). So, I just don't fall in love very easily.
I just feel like money is the one that is going to kill the relationship, so, I like myself being single. I don't want to submit to a man, it comes down to that. It is very hard to submit to a man, for me, I have to be the one in charge.