See What Child Comedienne, Emmanuela, Is Doing This For Her Mother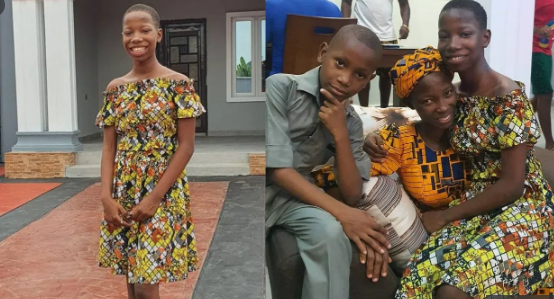 Popular child comedienne, Emmanuella, is all grown and has no doubt done well for herself since she first shared her talent to make people laugh with Nigerians. The pre-teen is in the news again after a silent period and is receiving quite a lot of goodwill after she shared photos of a beautiful home she built for her mother.
Emmanuella, who is said to be 10-year-old is renowned for her role in Mark Angel's comedy web series, and the feat she has achieved building a home for her mother is one that has left many Nigerians pleasantly surprised just as much as impressed.
READ ALSO: Couple Earn Goodwill Of Online Users After They Found A Clever Way To Hold Their Social Distancing Compliant Wedding Amid COVID-19 Restrictions
took to her Instagram page on Saturday to share pictures of herself within the newly constructed building alongside family members.
Taking to her Instagram page to share the news, she wrote:
"I built this for u mom. For all the prayers, all the encouragement, and support. Mummy I know you said u want a portable house and this is it."
Adding;
"But forgive me because I must complete ur mansion for you next year. Don't worry it won't make us go to hell, My super Christmas mummy. I love you."
The little Emmanuella started comedy when she was five. It was gathered that she was on a family holiday when she met Angel, who needed children for his comedy shoot, and enlisted those he knew for an audition.
Since then, Emmanuella has been on the rise and has become a household name.
See more photos below: