Marriage: Igbo Monarch, Igwe Kenneth Orizu Demystifies The Osu Caste Culture & Why He Abolished The System In His Kingdom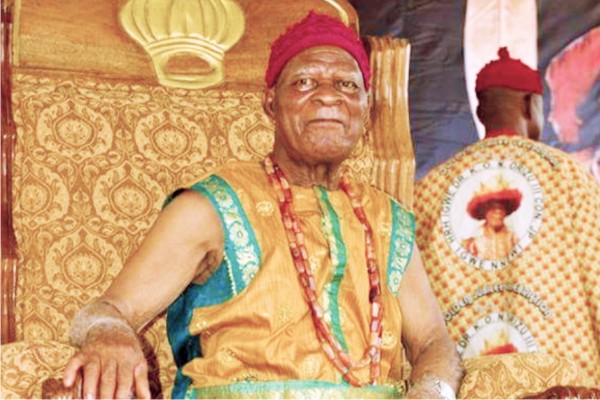 The Igbo Osu-caste system is one that is sketchy in terms of context, especially to a lot of non-Igbos.
What is, however, familiar is that the culture which forbids and excludes some Igbo folks from marrying other Igbos is quite well-known and many people have read of the dilemma of two Igbo lovers who are unable to pursue their love on account of a 'taboo' stemming from the infamous Osu caste system.
In a recent interview, Igbo Monarch, the Obi of Otolo and Igwe of Nnewi in Anambra State, Igwe Kenneth Orizu, speaks to Punch correspondent, Tony Okafor about the abolition of the Osu caste system in his kingdom, how the practice originally came about among other issues
READ ALSO: Nigerian Doctor, Urchilla Dean, Lists Reasons Why Igbo Parents Are Right To Frown At Their Children Marrying From Other Ethnic Groups
Read excerpts from the interview below:
You were said to be one of the first traditional rulers in Igboland to abolish the Osu caste system, what challenges did you face that opposed the move at the time?
Nobody opposed the move. If there was any opposition, they didn't come out to state it publicly.

To date, I'm still being commended for abolishing the caste system. I abolished the caste system because it didn't have any value, in my opinion.

In the old days, our people castigated them – those regarded as Osu. The story dates back to the old days when people found guilty of abominations were cast away to avoid the anger of deities.

If any of such persons slept on the same mat with you, you became an Osu automatically.

You would not sit on the same seat with them, otherwise, you became an Osu. That was how they were treated and abhorred.

But with the advent of civilization, the practice became laughable, especially after the Agbedo was cleared which now became one of the largest markets in Anambra.

Part of the forest was also meant for the Osu people. After the Nigerian Civil War in 1967, there was a dance Osu girls came out with.

It was so attractive that after the dance, many of them were impregnated by the so-called non-Osu people because they were so beautiful.

Not only that, these same beautiful women were branded Osu in the day, but at night, many people would go for them.

I thought that was outright deception.

I told my people that the deceit must stop. By the way, who did God create and call Osu? It was man-made.

So, it was largely because of those beautiful women and the obnoxious conditions they were subjected to that made me abolish the caste system in Nnewi to enable them to freely marry.

And shortly after the abolition, many of them started getting married. We don't have any problem with that again in Nnewi. We are one.
Speaking on extravagant weddings and funerals in his kingdom, the 95-year-old monarch had this to say:
You discouraged wasteful spending at funerals and traditional marriage ceremonies, why?
I looked at the way we conducted funerals here; it was associated with wasteful spending and was affecting the people, so I thought something must be done about it.

I made consultations and we decided to cut everything down to the barest minimum. Today, you can hardly see any funerals in Nnewi with wasteful spending.

If anyone violates the rules, there are attendant sanctions for that. We collectively achieved the feat, so nobody is complaining about it.