60-Year-Old Mum-Of-5 Who Hid Her HIV Status From Her Three Sons Tells Why… And It's So Disheartening!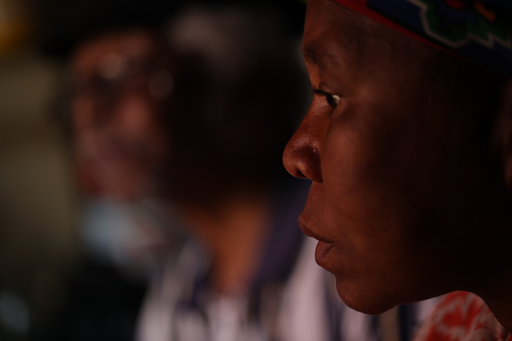 As the world marks the 2020 World AIDS Day amid the COVID-19 pandemic, people who are living with Human Immunodeficiency Virus, HIV, have been unashamedly coming forward to share their stories.
The theme for the year's observance is 'Ending the HIV/AIDS Epidemic: Resilience and Impact.'
The commemoration of World AIDS Day, which takes place on December 1 every year, is an important opportunity to recognise the essential role that communities have played and continue to play in the AIDS response at the international, national and local levels.
For 60-year-old mom-of-five, living with HIV when detected early is not a death sentence, provided one takes his/her antiretroviral drugs religiously.
Sharing her experience with PUNCH HealthWise, the sexagenarian simply identified as Blessing who is also battling with diabetes, said except for fear of stigma, she had no problem living with HIV since 2004 when she was diagnosed with the virus.
Blessing narrated,
"I was diagnosed with HIV in 2004. I was very scared when the doctor told me that I was HIV positive and I cried. It was as if the world was over.

"Emotions took over and I sat down crying and letting the tears wash over my face.

"But before going for the test, I was already scared because my husband was sick and had some symptoms suggestive of HIV but he had refused to go and know his status.

"I became more worried when I met my husband's friend who told me that my husband told him he was HIV positive but didn't want me to know.

"So, his friend told me to be careful and also advised me to go for HIV screening to know my status. It was then that I realised the reason why my husband had refused to do HIV screening despite all my plea."
READ ALSO: Brave Woman, Doreen Moraa Moracha Opens Up On Living With HIV, Survival | Shares Some Advice With HIV+ Parents
The businesswoman continued,
"For over two weeks after I heard about my husband's status, I wasn't myself, as I kept wondering what the result would be. Unfortunately, when I went for the test, the result came back positive.

"I was so devastated when the doctor broke the news to me. I was angry with my husband for not telling me he was HIV positive when he knew the risk involved.

"The most annoying thing was that he refused to go for treatment so that the children and I would not know that he was positive. Sadly, he died in 2006. That was how I acquired the infection.

"So, I have been on antiretroviral treatment since then. I thank God the drugs are free and the doctor told me that my CD4 count is good.

"The doctor also told me that I would have to take the medication for the rest of my life or until a cure is found.

"He assured me that with the right treatment and support, HIV would not stop me from living happy, fulfilled and long life provided I don't miss my medication.

"With all those assurances, I beat my chest that I will make it. I told myself that I will not die like my husband who allowed the virus to kill him for fear of stigma. So, for 16 years now, I have been living with HIV, though not all my children are aware of my status."
Giving reasons for not disclosing her HIV status to all her children, Blessing said,
"I have five children, three boys and two girls. So, to avoid stigma, I only told the girls about my status. I refused to tell the boys because I am scared.

"For 16 years that I have been living with HIV, my three boys are not aware of my status. I don't want them to stigmatise me or begin to run away from me.

"I know that if I tell them, they won't support me. They may even throw me out of the house because of fear.

"But with courage, I have continued my medication and I am getting on with my life. I know that there are laws that forbid stigmatisation against people living with HIV, but those living with the infection are still being stigmatised. Even for some, the stigmatisation starts from the home, family members and friends.

"That was why I told you that only my two daughters are aware of my status for 16 years now. I don't want to suffer any stigmatisation and I avoid taking my medication where people are.

"I am happy my daughters kept my status to themselves and they are really supporting me.

"And the journey so far, has convinced me that HIV is not a death sentence. I go for my routine therapy every three months, that is all."
SEE ALSO: FG Shares Positive News On Reducing The Prevalence Of HIV/AIDs In The Country
But Blessing is more concerned about battling diabetes than HIV.
"My worry for now is diabetes and not HIV. Seven years after I was diagnosed with HIV, I came down with diabetes. It has been giving me sleepless night. Living with HIV is better and cheaper than living with diabetes. With HIV, you can eat and drink anything but not so with diabetes. If I should eat small eba, my blood sugar will be high.

"Managing diabetes is expensive unlike HIV. Drugs for managing diabetes in Nigeria are not free and they are very expensive. Some are sold for N13,000 while HIV drugs are free",
she lamented.
On her view on Nigeria's effort in the fight against HIV/AIDS, the sexagenarian said that the government was trying in terms of access to drugs but still has to do more in the area of awareness creation.
"Some people think that living with HIV is a death sentence, but it's not. Government must continue to educate the people to dispel the myth and misconception around HIV/AIDS.

It is this misconception that is creating fear and stigma. Government should also try and make drugs for other ailments that people living with HIV are suffering from free like the antiretroviral drugs."
Blessing also advised Nigerians to go for HIV screening to know their status, assuring that early detection saves lives.
The data from the Nigeria National HIV/AIDS Indicator and Impact Survey indicate that Nigeria has an HIV prevalence of 1.4 percent among adults aged 15–49 years.
According to the data while Nigeria's national HIV prevalence is 1.4 percent among adults aged 15–49 years, women aged 15–49 years are more than twice as likely to be living with HIV than men (1.9 percent versus 0.9 percent )
The survey says the difference in HIV prevalence between women and men is greatest among younger adults, with young women aged 20–24 years more than three times as likely to be living with HIV as young men in the same age group.
Among children aged 0–14 years, HIV prevalence according to the data is 0.2 percent. Significant efforts the survey notes have been made in recent years to stop new HIV infections among children.
The data added that "At the national level, viral suppression among people living with HIV aged 15–49 years stands at 42.3 percent (45.3 percent among women and 34.5 percent among men). When people living with HIV are virally suppressed they remain healthy and transmission of the virus is prevented."
Speaking in an exclusive interview with PUNCH, Deputy Director, Research and Head, Clinical Sciences Department, Nigerian Institute of Medical Research, Yaba, Lagos, Dr. Agatha David, said HIV is treatable with current available drugs, while urging those that are positive to stop living in denial and go for treatment.
ALSO SEE: "I want to advise more women to know their status" HIV+ Mom of Three Shares Her Ordeal
David disclosed that stigma associated with HIV is driven by ignorance. The HOD explained,
"A lot of people don't still understand that HIV is treatable. A lot of people don't understand that regular human association with people that are HIV positive does not pose any kind of risk of transmission.

"A lot of people still believe that HIV is only acquired through sex, so they associate it with promiscuity. These are fallacies because there other ways of acquiring HIV."
The researcher noted,
"So, if people understand that is not the fault of the HIV positive person that is positive in the first place by promiscuity.

"That you can't get HIV by regular human interactions, that HIV is treatable and that somebody who is on treatment is virally suppressed.

"Then you find out that HIV is much better than a lot of other health conditions that have difficult treatment modalities."
She urged people to know their HIV status by going for regular screening, maintaining that HIV is not a death sentence. David said,
"My message to people is that HIV is treatable. The drugs available today are very effective to treat. They don't cure but they treat such that people that avail themselves for treatment are treated.

"Even if they are ill, they can still recover and the best thing is to know their status before they even become ill.

"So people that are HIV positive recover, they remain healthy and can do anything."