Bolanle Olukanni, Toke Makinwa, Other Celebrities React To The Strange Reconciliation Of Mum-of-4 With Her Abusive Husband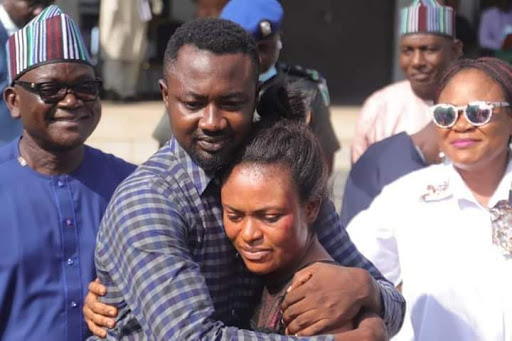 Toke Makinwa, Bolanle Olukanni, Latasha Ngwube, Mary Njoku, and others have come out to condemn the reconciliation of Channels TV reporter based in Benue state, Pius Angbo and his wife, Dr. Ifeyinwa.
Dr. Ifeyinwa over the weekend called out Angbo for subjecting her to domestic violence for the six years that they have been married. On Monday, December 7, Benue state governor, Samuel Ortom, mediated in the matter and reconciled them. without any penalty for Pius over his actions. Read here.
Like some other Nigerians, these celebrities took to their social media handles to condemn the move. Bolanle was of the opinion that this will set a bad precedence.
Bolanle Olukanni wrote:
This is EXTREMELY disturbing and appalling. This woman was beaten by her husband'. Reconciliation is not what is needed right now. He beat her .

It's not the first time. He needs to be tried and charged with abuse. The shame that a Governor has choosen to be part of this stupid reconciliation sets a DANGEROUS precedence and narrative on excusing violence against women.

Domestic Violence is rarely spoken about and people are suffering in silence . It's dangerous!!!! No more reconciling people .

She has 4 children including a new born . Her options are limited and what she needed was assistance to leave (a transition home , scholarship for her kids ) she needed options to leave.

Not being Convinced to go back to her abuser.
See screenshots of the comments from the celebrities below: