Why Men Are More Likely To Die From Diabetes Than Women, According To Experts + Ways To Avoid Risk Factors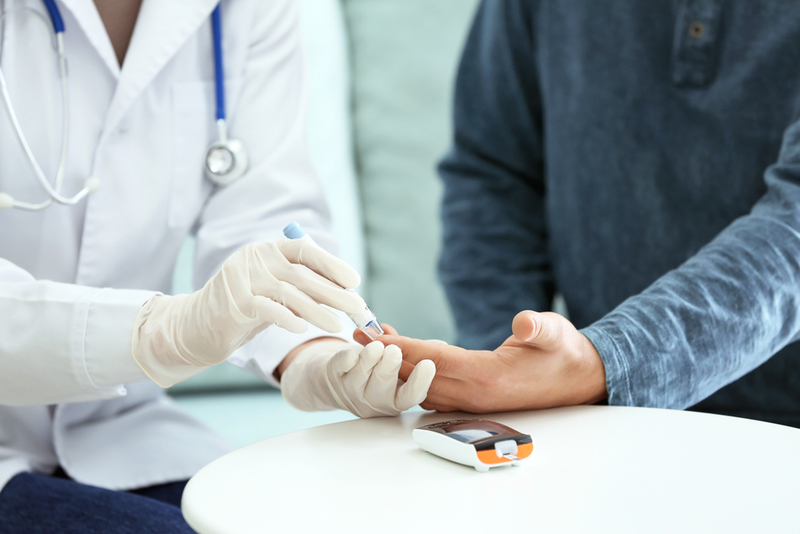 Diabetes is a disease in which blood sugar (glucose) levels in your body are too high. Diabetes can cause serious health problems.
For example, when someone begins to experience frequent urination, increased thirst and increased hunger, all is certainly not well with the body. Such a person may be suffering from prolonged high sugar level, also know as diabetes mellitus, which, when untreated could lead to complications.
Indeed, prolonged high blood sugar comes about as a result of disorder in the "chemical processes that occur in a living organism in order to maintain life."
Simply put, it is a condition caused by problem in the processing or production of insulin. The condition is widespread, and effects male and female, irrespective of age, race or lifestyle.
According to experts, Men are more likely to die from diabetes than women because they are prone to complications from the disease.
The experts further said men must begin to avoid risk factors making them more vulnerable to diabetes complications to avoid dying from the disease.
The experts spoke in response to the World Health Organisation's 2019 Global Health Estimates which revealed that there has been an 80 per cent rise in deaths among males. 
The WHO global estimates published on Thursday also revealed that deaths from diabetes increased by 70 per cent globally between 2000 and 2019.
Speaking with PUNCH HealthWise, a diabetologist at the AB Specialist Hospital, Lagos, Dr. Akinniyi Akinmokun, says a combination of risk factors was responsible for diabetes complications in men.
"Men are more likely to die from diabetes because they are vulnerable, they are the people who will smoke, drink, they are more adventurous and all these are extra risk factors for the development of complications including death.

"So, the men need to avoid smoking, drinking, and avoid injuries,"
Akinmokun said.
The diabetologist also stated that women live longer than men.
"Generally, women outlive their husbands. Most of the time, the man dies before the woman and so, diabetes is just an extra factor. 

"It's a general thing that women outlive their husbands; there are more widows than widowers. That is a statement of fact,"
he said.
Also speaking, a professor of Community Medicine and Public Health at the University of Lagos, Akoka, Lagos, Bayo Onajole noted that late presentation is another risk factor for diabetes complications in men.
SEE ALSO: Medical Expert Gives An Insight Into Diabetes In Women
"Naturally, men tend to present late with more complications than female. Females tend to visit the hospitals and have diagnosis early.

"When you have diagnosis early, complications are reduced and it prolongs life; that is a major factor,"
Prof. Onajole said.
The don said other factors contributing to the rise in deaths among males are co-morbidities like hypertension, obesity, and other cardiovascular diseases.
"The issue of multiple pathologies is not only with diabetes; when you have co-morbidities and you are presenting late, the outcome may be terrible.

"Also, our culture says that men should not complain and most men will have to keep the mature outlook even when they are dying and behave as if nothing is happening.

"In terms of drug compliance too, females tend to comply more with medications than men because men don't want to be seen as been weak,"
Onajole added.
He, however, said there is a need to improve on access to health services, early diagnosis, and health insurance for all Nigerians.
"First of all, men must realise that they are human beings first and disabuse their minds from trying to be healthy when they are not.

"There is a need to increase more awareness so that people can go for more check early enough. When there is an early diagnosis, the prognosis is good.

"Finally, we must make allowance for accessibility to health services, whether male or female, and one of the ways to make accessibility is the health insurance scheme so that the fear of getting the money for treatment will be out of it.

"We must look at paying for health early when you are strong to receive the benefits when you are weak,"
he said.
According to the World Health Organisation's 2019 Global Health Estimates, non-communicable diseases now make up 7 of the world's top 10 causes of death.
The United Nations agency said the figure is an increase from 4 of the 10 leading causes in 2000. 
The estimates which cover the period from 2000 to 2019 noted that deaths from diabetes increased by 70 per cent globally, with an 80 per cent rise in deaths among males. 
"In the Eastern Mediterranean, deaths from diabetes have more than doubled and represent the greatest percentage increase of all WHO regions,"
it said.
SEE ALSO: World Diabetes Day: Health Expert Shares Simple Lifestyle Measures To Tame Diabetes
The estimates, however, highlight the need for an intensified global focus on preventing and treating cardiovascular diseases, cancer, diabetes, and chronic respiratory diseases, as well as tackling injuries, in all regions of the world, as set out in the agenda for the UN Sustainable Development Goals.
The Director-General of WHO, Dr. Tedros Adhanom Ghebreyesus said:
"These new estimates are another reminder that we need to rapidly step up prevention, diagnosis, and treatment of non-communicable diseases.

"They highlight the urgency of drastically improving primary health care equitably and holistically. Strong primary health care is clearly the foundation on which everything rests, from combatting non-communicable diseases to managing a global pandemic."
The WHO report read in part:
"The estimates further confirm the growing trend for longevity: in 2019, people were living more than 6 years longer than in 2000, with a global average of more than 73 years in 2019 compared to nearly 67 in 2000. But on average, only 5 of those additional years were lived in good health.

"Indeed, disability is on the rise. To a large extent, the diseases and health conditions that are causing the most deaths are those that are responsible for the greatest number of healthy life-years lost. Heart disease, diabetes, stroke, lung cancer, and chronic obstructive pulmonary disease were collectively responsible for nearly 100 million additional healthy life-years lost in 2019 compared to 2000.

"Injuries are another major cause of disability and death: there has been a significant rise in road traffic injuries in the African region since 2000, with an almost 50 per cent increase in both death and healthy life-years lost. Similar but slightly smaller increases (at around 40 per cent) were also observed for the Eastern Mediterranean region. Globally, deaths from road traffic injuries are 75 per cent male."