NIN Registration: Federal Government Extends Deadline | See New Date
The Federal Government has extended the deadline for all Nigerians to register and link their National Identification Number (NIN) to their SIM cards.
This information was posted on the official Twitter handle of the National Identity Management Commission, NIMC.
The NIMC had initially given January 19, 2020 deadline for those with NIN and February 9 for those without NIN.
After many outcries from citizens, the government has now extended the deadline to February 9, 2021.
There have been calls for the deadline for the synchronization of NINS and Sim cards to be extended or better still be suspended, as the nation experiences the second wave of the COVID-19 and also due to the large crowds that gather daily at the various offices of the National Identity Management Commission, as many telephone subscribers had yet to get their NINs.
The tweet reads;
"Public Notice!!!!

All Nigerians and legal residents are advised to enroll for their national identification number (NIN) and link them before February 9th, 2021.

Enroll for your national identification NUMBER (NIN) today!!!

Please remember, NIN enrollment is FREE."

See Also
READ ALSO: NCC Gives Update On Proposed Mass Disconnection Of Telephone Subscribers Without NIN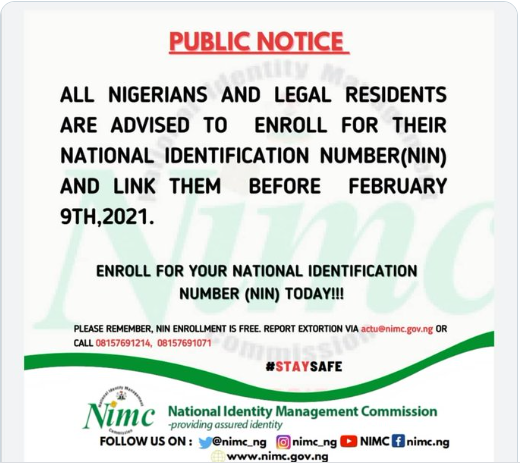 Public Notice!!!!@DrIsaPantami @aliyuaziz @FMoCDENigeria @nimc_ng @NgComCommission @NITDANigeria @Galaxybackbone @UwaSuleiman pic.twitter.com/zbxwFNAip7

— NIMC (@nimc_ng) January 19, 2021