UPDATE: Former Pastor Of The Omega Fire Ministries, Mike Davids Drops Bombshell Over The Sex Scandal Between Apostle Suleman And Stephanie Otobo | VIDEO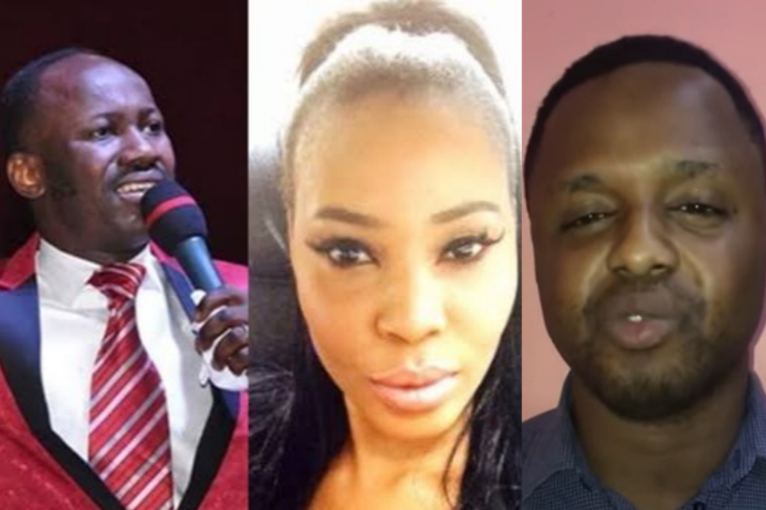 Three years after, when we thought the romance scandal between Benin-based preacher, Apostle Suleman and Canada-based Nigerian singer, Stephanie Otobo had died down for good, we've gotten another shocker.
Former pastor of the Omega Fire Ministries, Mike Davids, who had accused the General Overseer of the church, Apostle Suleman, of sleeping with his wife, has threatened to expose the "truth" behind the Stephanie Otobo's sex scandal.
Recall that Suleman was dragged to filth between 2017 and 2018 when Stephanie alleged that she slept with the man of God, even to the extent of providing pictorial evidence.
Otobo also accused the controversial clergy of impregnating her and breaching a promise to marry her.
The sex scandal, which was one of the stories that trended in the year 2017, saw the pastor defending himself and denying all the allegations against him. He said Otobo was being used by some agents that were bent on bringing him and his ministry down.
The accusation dragged on with famous Nigerian lawyer, Festus Keyamo standing as Stephanie's lawyer.
However, months later, Stephanie made a U-turn and confessed at the Omega Fire Ministries that she was paid by "strong" politicians and pastors to accuse Suleman (read here).
"They paid me a lot of money," she said, crying in the video posted to the church's Facebook account.
Well, Davids who recently accused Suleman of sleeping with his wife, Faith Edeko, who currently heads an Abuja branch of the church, has said in a new video that he and Apostle Suleman both know how they got Otobo to come to the church in Auchi, and apologise over the scandal and how they persuaded her mother too. David said:
SEE ALSO: "We had sex in Italy, New York & Nigeria. Apostle Suleman, admit your sin publicly" – Stephanie Otobo Says in Another Press Conference
"I left the church (Omega Fire Ministries) of my freewill. You were never the one who sent me out of that ministry. I was tired of your ungodliness as a leader. And that was the major reason I left that ministry. So, forget those manipulations and cheap lies.

"We all know the part I played in the Stephanie Otobo saga. You know as much as I do. How much involved I was in bringing that saga to a halt. I don't even need to mention names. You knew how we got Stephanie Otobo to come to the altar and apologise to mama (Suleman's wife) and brought Stephanie Otobo's mother to Auchi.

"I am coming to that issue because you are pushing me to that extent, Apostle Johnson Suleman as much as I knew what happened. Thirdly, I am also aware that my account has been frozen. You have also released policemen to get me arrested.

"You have 48 hours to ask those who are blocking my account to unblock it. You will not like what is going to follow. Don't say I didn't give you this warning."
READ ALSO: Apostle Suleman Scandal Update: Stephanie Otobo Writes Petition Against him for "Illegal Procurement of Abortion, Threat to Life and Attempted Murder"
Suleiman has been in a running battle with Davids over the latter's allegation that he slept with his wife. In the latest drama in their war of words, David countered Suleiman's claim that he doctored an audio recording where his former principal could be heard threatening his life.
Suleiman had agreed that the voice in the recording was his, but said it was from a conversation he had with a young lady three years ago.
Responding to the clergyman's comment, Davids shared a video on his Instagram page on Sunday, where he said: 

"The audio I released is the original audio and Apostle Johnson Suleman knows that the one he released is doctored, fake, manipulated. Don't forget that I was part of that system for 16 years.

"That you sent me out of OFM for reasons of blackmailing pastors, I want everyone to know that it is a lie. I left that ministry of my own freely because I was tired of your ungodliness as a leader."
Watch Davids threaten Suleman in the video below.
https://www.youtube.com/watch?v=TtWBxr8syTw&feature=emb_logo