Oritsefemi's Wife Calls Out The 'Imbecile' Who Slept With Her Hubby On Their Matrimonial Bed, As Singer's Former Manager, Kara, Shares More Insight Into Their Marital Woes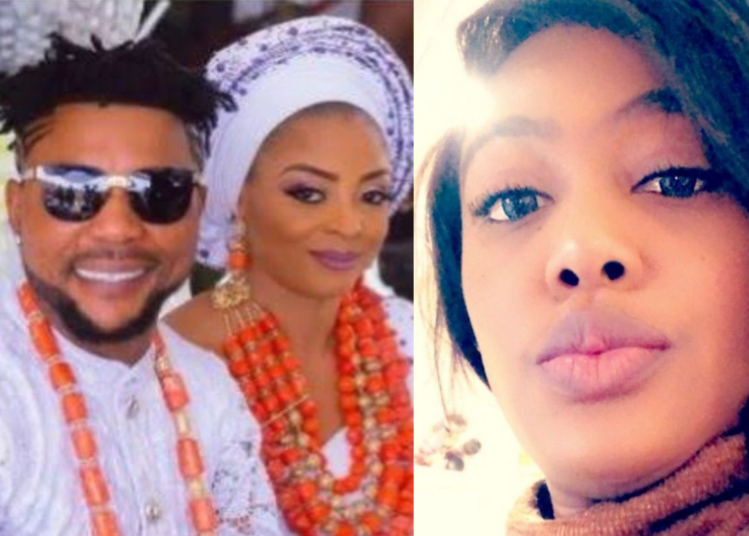 It appears there is once again, trouble in paradise in the home of Nigerian singer, Oritsefemi Ekele, popularly known as Oritsefemi, following his wife, Nabila Fash's recent outburst on social media about his side chick.
Nabila, in a series of posts shared on her Instastories, revealed that an "imbecile" came to her matrimonial home to sleep with her husband while she was away at work.
The singer's wife who noted that the story would have been different if she met the unidentified lady in her matrimonial home, insinuated that it was her 'act of kindness that opened the can of worms.'
Nabila went on to tackle those who opined that she should blame her cheating husband instead. According to Nabila, the side chick was fully aware she was coming to see a married man, in his matrimonial home.
This is coming months after she reconciled with her husband. Recall that three months ago, the singer took to his social media page to tender an unreserved apology to his wife after they got separated over domestic abuse allegation.
The Double Wahala singer asked his wife to forgive him saying he missed her daily; Nabila was said to have left their home after the abuse. Oritsefemi called on his fans and followers on Instagram to beg his wife on his behalf, saying he is deeply sorry.
In another post, Nabila added that while it is not wrong to love and give second chances, it is however wrong to continue being a fool and not realizing your worth. In her words:
"Women/men, it is not wrong to love! It is not wrong to give a second chance! It is not wrong to want to protect your home/marriage! What is wrong is to continue to be a fool and not know your worth."
READ ALSO: Singer, Oritsefemi, Makes Desperate Call For Help To Save His Marriage With Nabila Fash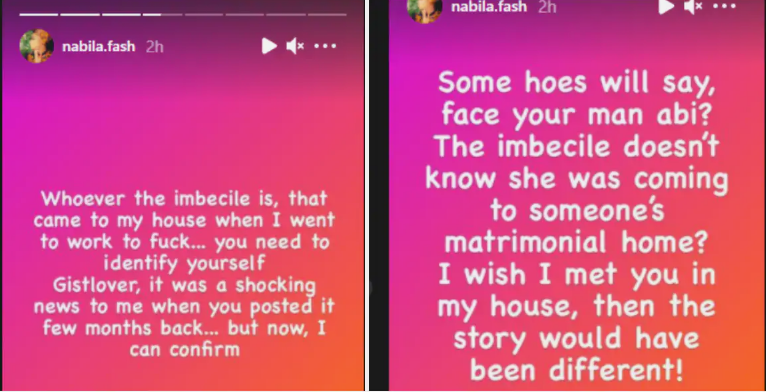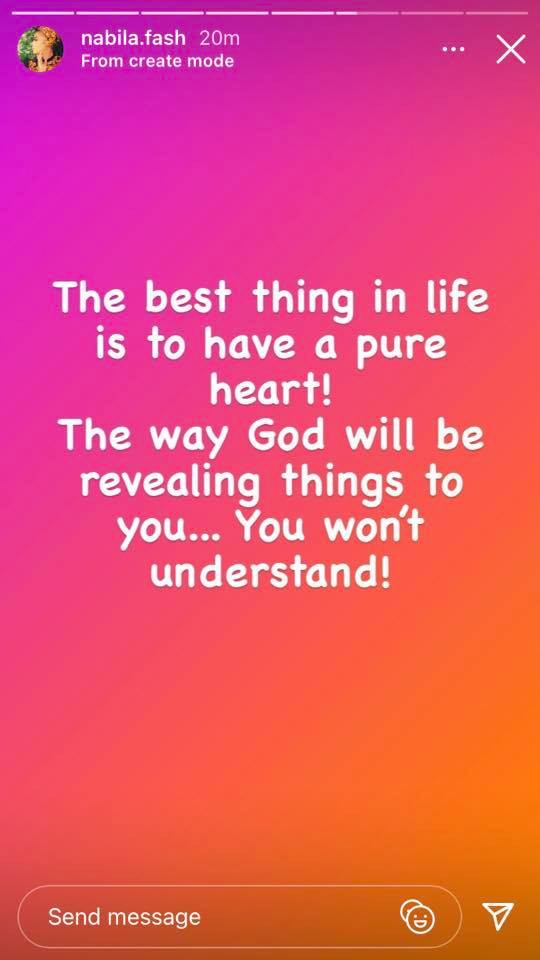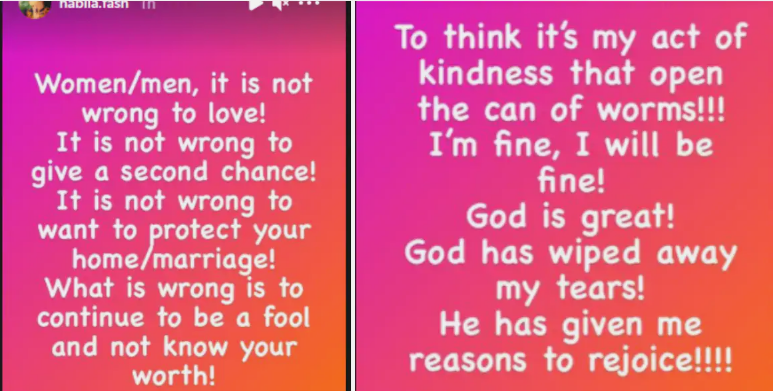 A few hours after the outburst, Oritsefemi's former manager, The Lady Kara took to social media to slam the singer while taking side with his wife.
According to Kara, she knows that Nabila must have gone through much pain for her to bring her personal business to the public.
READ ALSO: Oritsefemi's Wife Gushes Over Him As He Rents Lekki-Ikoyi Billboard to Display Pre-Wedding Photos
She further claimed that she agreed to manage Oritsefemi only because his wife begged her to, adding that she spent her money to fund the singer's tour and did not get a penny back. She wrote:
"I tend to keep quiet in the media… but this time I need to say this publicly for the record. I know where my loyalties lie. @nabila.fash …keep your head up.

"You were the one who begged me to manage him and I did a lot just for you. I spent my money to help fund his tours and did not get a penny paid back or any form of compensation.

"He left me stranded in Europe but thank God I have decent friends in this life globally… I just let that slide because I know how to earn from my other businesses that pay me.

"I kept all the memories and a lot of ugliness quiet from those times not just to protect his career and very diminished brand but to also protect you and your marriage.

"I almost physically fought people and even almost fought him to get him to behave… hmm… and despite everything, I am glad you know I stayed true to our friendship even when we didn't speak.

"I was quiet because I did not want to be the one to cause problems between both of you. A marriage is sacred to me. Pray and focus on the blessings coming your way.

"No one can know your pain or heal you better than God. I am glad we spoke… it is not easy to be married to someone so … er… disrespectful …to not just himself but to God.

"I respected you with my silence … I did my best and it took 3 years for God to open these cans of worms. I now feel free to say this in public.

"I know the agony that drove you to make those posts on Instagram. I don't expect anyone else to. Keep your pain contained. I sympathise with you. I am here for you. It is time to heal … whatever you decide, make God your centre."
SEE ALSO: 9ice Makes Desperate Appeal To The Public To Help Save His Marriage With Wife, Olasunkanmi | VIDEOS
Nabila also reacted to Kara's post. See it below.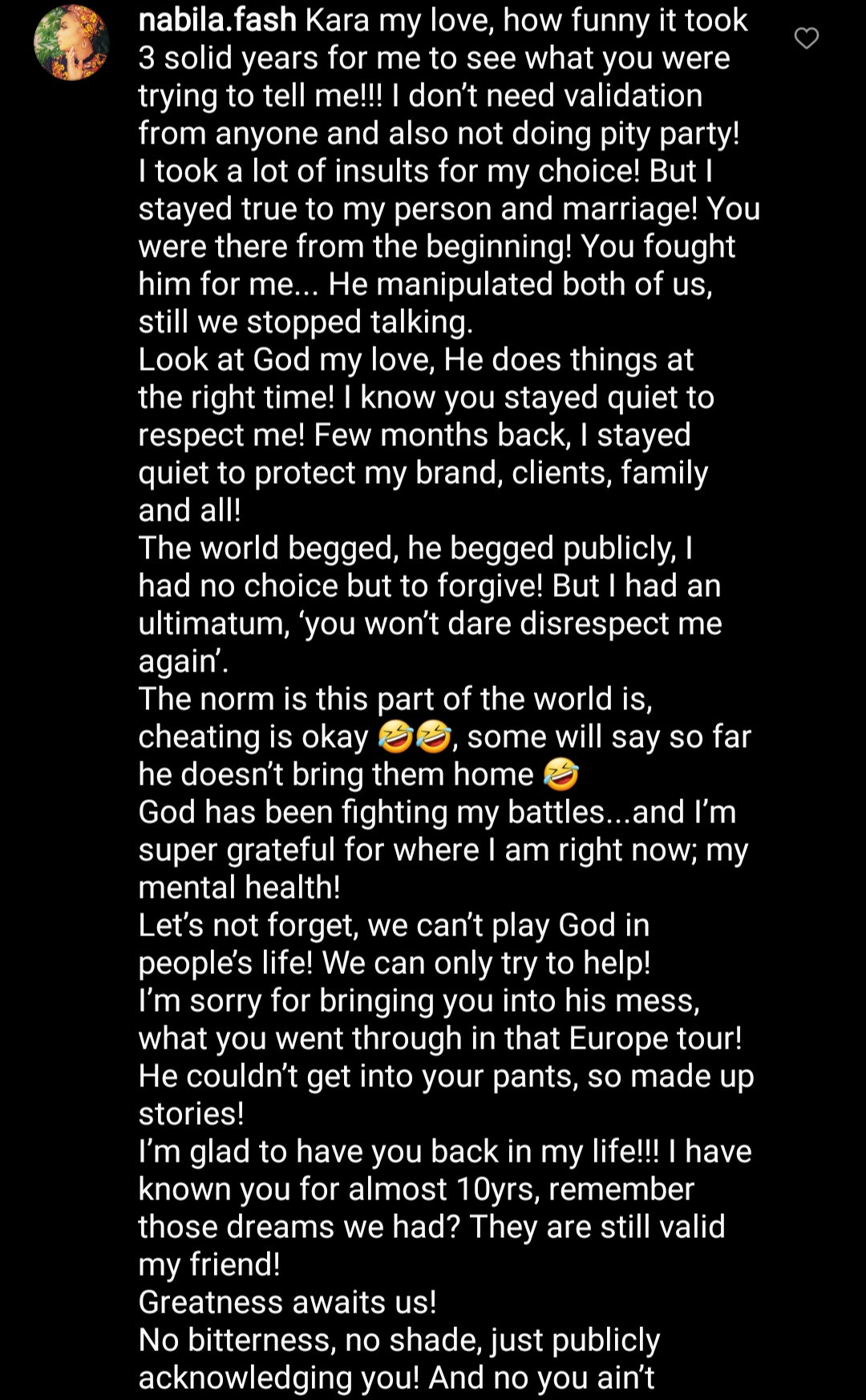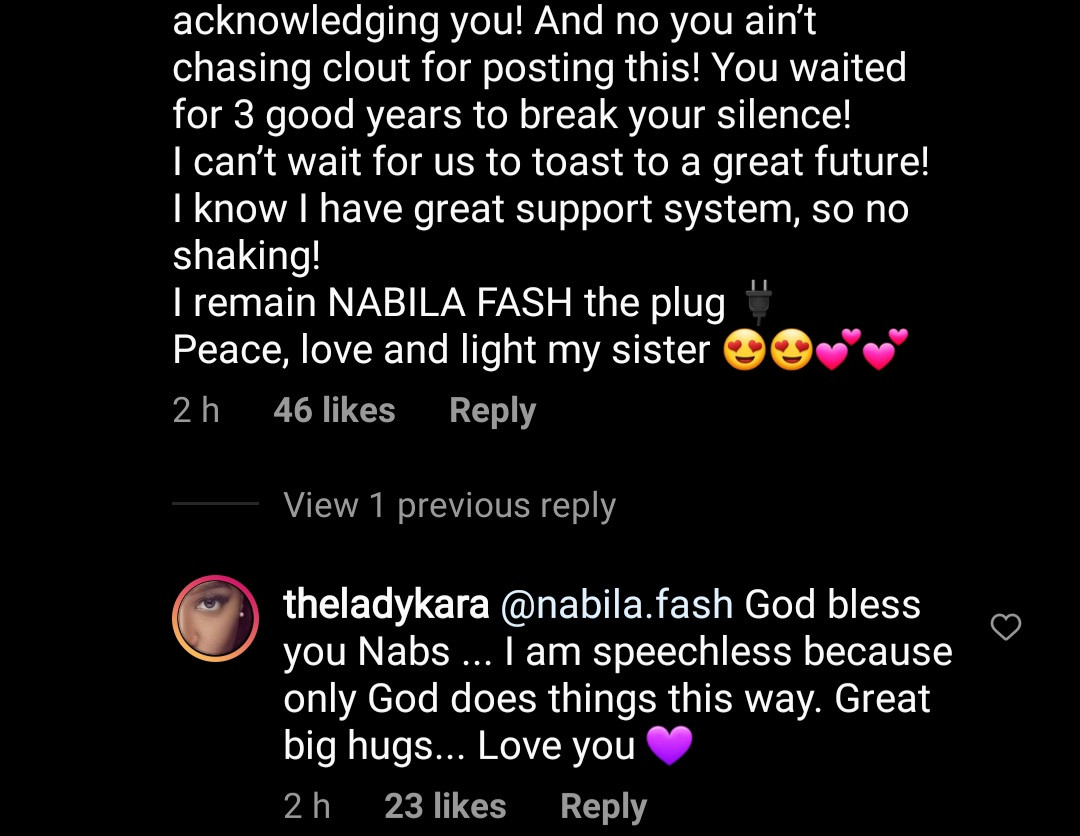 See screenshot of Kara's post…