Celebrity Dad, Oritsefemi Responds To Infidelity Allegations, Hits Back At Former Manager, Kara: 'Confess.. how many times you don chop her husband'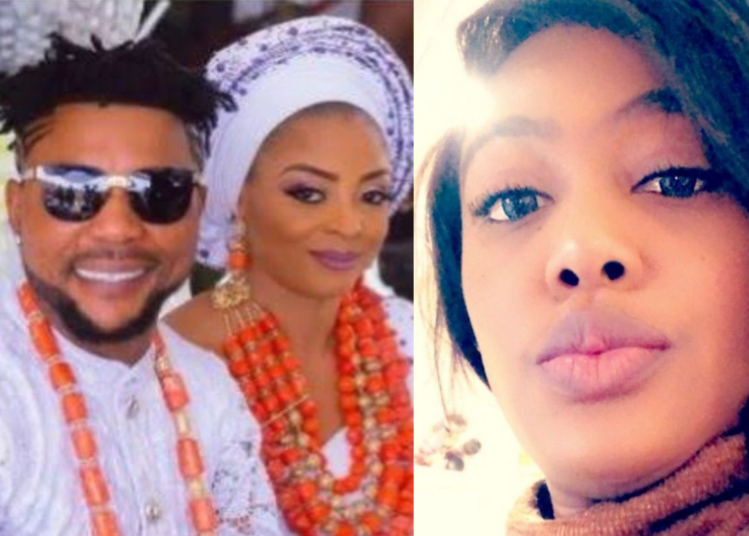 Nigerian singer, Oritsefemi Ekele, popularly known as Oritsefemi, has finally responded to the infidelity allegations levied against him by his wife, Nabila Fash.
Recall that Nabila Fash via her Instagram page alleged that a strange woman who she described as an "imbecile" came to her matrimonial home to f**k her husband on their matrimonial bed while she was at work. She wrote:
"Whoever the imbecile is that came to my house while I was away at work to have sex, you need to identify yourself. It was shocking news when it was posted a few months back, but now I can confirm. On a Monday morning, when people are out to look for daily bread some people, it is sex that is their problem.

"Women it is not wrong to love! It is not wrong to give a second chance! It is not wrong to want to protect your home/marriage! What is wrong is to continue to be a fool and not know your worth."
Reacting to the allegation yesterday afternoon, Oritsefemi, who has two children from his previous relationships prayed he dies an untimely death if he ever had sex with anyone in his home on the said day, February, 8. He wrote,
"If I had sex yesterday with anybody, let me die untimely. I am leaving in peace. bye."
Oritsefemi also reacted to allegations his wife is the one with the money in their marriage. Following Nabila's outburst on social media, different people weigh in on the couple's relationship.
Some who shared their opinions claimed the double wahala crooner isn't as rich and his wife's money is what the family relies on.
Responding, Oritsefemi denied this. He said his wife's salary can't feed him, neither is it up to what he charges for "ordinary collaborations alone",  and that's why he encouraged her to start her own business venture.
He added that he helped his wife to establish her business yet she had the audacity to ask him to "sign an agreement" and then told her worker to tell him to "wait at the reception." He added that he has nothing less than 9 landed properties with documents.
READ ALSO: Singer, Oritsefemi, Makes Desperate Call For Help To Save His Marriage With Nabila Fash
Read his post below.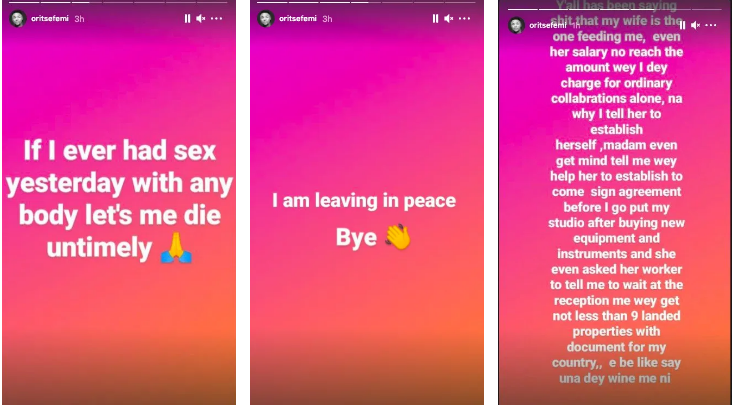 Oritsefemi also hit back at his former manager, The Lady Kara, who called him out and took sides with his wife Nabila.
In a post shared to Instagram, Kara said she knows that Nabila must have gone through much pain for her to bring her personal business to the public.
She further explained that she agreed to manage Oritsefemi because his wife begged her to but she says it didn't go well as she spent her own money to organise tours for the singer and she never made a dime back.
SEE ALSO: Oritsefemi's Wife Calls Out The 'Imbecile' Who Slept With Her Hubby On Their Matrimonial Bed, As Singer's Former Manager, Kara, Shares More Insight Into Their Marital Woes 
She also added that her loyalties lie with Nabila. Oritsefemi has now hit back via his Instagram Stories.
He accused Kara of sleeping with her friend's husband in the UK. He called her names then went as far as demeaning her by making an inappropriate statement about her lady parts.
As for others who have an opinion about his marriage, he has told them that most of them were still in secondary school when he became a super star.