Actress And Mom, Uche Nnanna Maduka Calls Out This Category Of Nigerian Women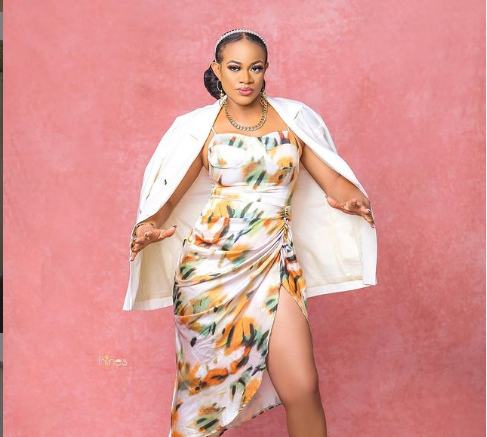 As the world celebrated women's day yesterday, March 8, actress and super mom, Uche Nnanna Maduka took to Instagram to condemn this evil act by some Nigerian women.
In reality, some Nigerian mums and housewives are perfect abusers of children, teenagers, even adult domestic staff in their care.
In public forums, out there on the streets, virtually every woman is reacting, mouth agape, in disbelief, and lamenting the grief that some housemaid was tortured or brutalised by their 'madam', but that's just as good as it gets.
News that gets out regularly shows that most of the surprise shown by Nigerian women may be tainted with hypocrisy and some people have even posited that many Nigerian women will not make heaven because of how they treated or are currently treating their house helps.
READ ALSO: Twitter User, Jimoh Okunade Calls Out A Neighbour Who Did This To Her Maid
The mother-of-two condemned these women in a video posted to her Instagram page, urging them to change their ways or face the consequences, which would be passed on to their third generation. In her words:
"You went down to your village or wherever to pick up an innocent child, to come to be your household. One year, two years, three years that child is in your house doing all the house chores and taking care of your children and yet, you have refused to place her on salary.

You have refused to send her to school. Not even to send her to learn a trade, handwork and yet you pray morning and night for your own children to be useful while another person's child is being useless in your home.

Woman, the thunder, the punishment that would follow you will get to your third generation if you don't change."
Sharing the video, she captioned:
"As we celebrate women's achievements around the world today being the International Women's day, let me also call some women especially Nigerian women to order.

We can do better women, That your house help is someone else's Child. Treat him or her right, please. The campaign theme for International Women's Day 2021 is "Choose To Challenge " So I challenge you to do the Right Thing. I Fear who no fear some women."
READ ALSO: The Abuse Of House Helps / Domestic Staff Among Nigerian Women? Let's Get Real!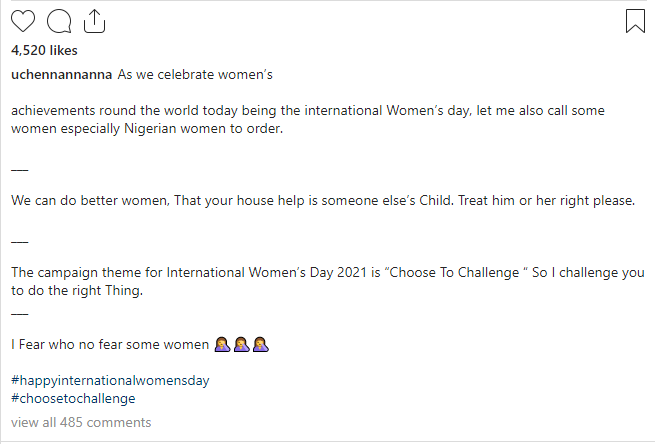 Watch the Video Here…