Actress / Mum-of-One, Anita Joseph, Issues Strong Warning To Parents Who Are In The Habit Of Doing This To Their Kids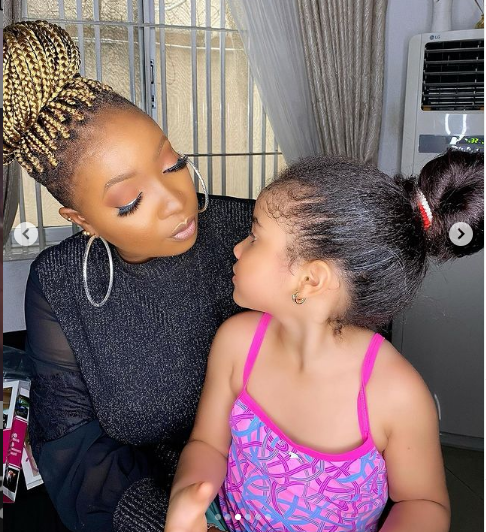 Nollywood actress and mother, Anita Joseph has issued a strong warning to parents who are in the habit of kissing their children in the mouth, telling them to desist from the act.
Taking to her Instagram account to share a video, the Anambra-born Nollywood star raised the hygiene concerns for those who involve themselves in this act as she claims can pose health complications.
She advised parents to rather give their kids a peck on their cheek and not kiss their wards in the mouth because their immune system is susceptible to infection.
Anita added that kissing a child or toddler shows how dirty a parent is to the child.
Some social media users who reacted to the video applauded the actress for the advice saying many microbes in an adult's mouth can be transmitted to children unknowingly.
READ ALSO: Actress / Mum-of-One, Anita Joseph, Speaks On When It Becomes Inappropriate For Children To See Their Parents' Naked
askdrchi: that there are a huge number of microbes in our mouths that may not infect adults, but can be transmitted to children and harm them greatly. And since the child has a weaker immune system, some dangerous infections can enter their body through saliva.
express_fabrics: She is damn right……these little ones are tender and are very sensitive…… yes we love but let's show this love other ways, rather than kissing in the mouth.
samsiiiie: She is saying nothing but the truth. Most children are not born with Herpes virus : cause of cold sores or the famous fever blisters.
They are inoculated by adults in childhood and worse off a child who doesn't have a strong immune system can have the virus travelling to the brain. But no they won't hear. Keep kissing newborns and kids on the mouth. ?
READ ALSO: See Important Information On Why Kissing Newborns Can Be Fatal For Them – Dr. Agatha
endowed_queenb:
This one makes sense I am a victim I will stop it from today thanks for this lecture.
Will they hear ? That's how I read about somebody complaining that her brother in law was kissing her baby and she indirectly told him to stop it and they laughed it over. I was like what useless indirect speech are you talking about? Babe come out straight and tell him to stop kissing your child . If e vex him let him go to his house and stay there . Mtchewww. Na so e dey start .