The Tears And Waiting Is Over For This Nigerian Couple Who Are Now Telling A Different Story After 25 Years In Marriage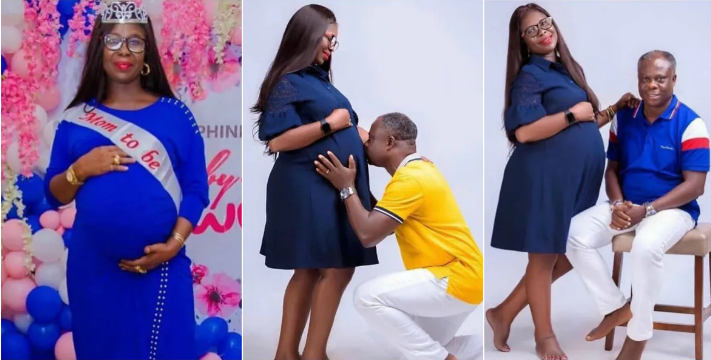 A Nigerian couple has finally welcomed their son after 25 years of waiting. The good news was shared on social media by a family member identified as Ujiro Isibeluo Erighono.
Bearing children and the timing vary from couple to couple. Some have their children a few months into their marriage while some have a long delay.
Some have single births while some have multiple births. Some experience delay at childbearing due to complicated health reasons while some do not have any known complicated health issues but yet, experience delay in childbearing.
All in all, most married couples desire to have children as such, when after a delay, a couple and their well wishers suddenly get blessed with their own, they cannot but shout it loud on the rooftop that they have been blessed, too.
Of course, many people have praised God for doing it for the couple. The mother had a lavish baby shower in preparation for her child's coming.
READ ALSO: Nigerian Mom, Lily Marama Expresses Immense Joy At Welcoming Quadruplets Against All Odds
Ujiro wrote on her page:
"Beautiful OMAM, pls join me and appreciate this Great God who made this possible. This my elder sister have been waiting and believing God for 25 years. But today, God have given her a new name o. I can't keep calm o. The tears and waiting is over. God is ever faithful.

"This testimony is to encourage someone. Though it tarry, wait for it. It shall come to pass. Just have faith and trust him. If you don't know the pain, you won't understand the praise.

God be praised forever. From the happiest aunty on earth. EDD 29-3-2021."
Giving an update two days ago, Ujiro revealed that the couple has finally welcomed a healthy baby boy.
"If you don't know the pain, you won't understand this praise. This Glory has a story. God did it again after over 25 years of waiting. God brought our prince ?. May his name be praise forever. Thank you Lord. We are grateful. ? ?. DOD 26-3-2021."
READ ALSO: Amazing Birth Story of How A Somalian Couple Battled Infertility To Welcome Their Second Child 20 Years After Their First