Nollywood Veteran, Pete Edochie Talks Tough On Culture, Marriages, Blames The Woes Of Married Women On Feminism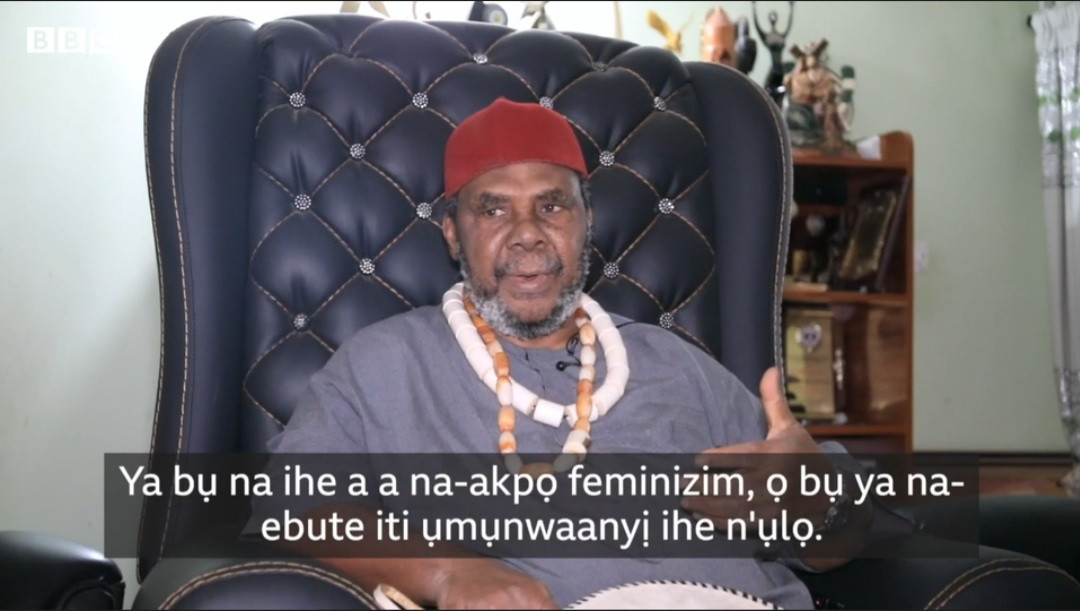 Pete Edochie has attributed the rise of broken marriages and domestic abuse cases against married women to feminism.
In an interview with BBC Igbo, the thespian stated that feminism isn't our culture as Africans. The 74-year-old dad and grandpa added that when a woman leaves her parents and follows her husband, she's to do whatever her husband wants her to do.
Pete further stated that in most cases of domestic violence, women are to blame because they are no longer submissive.
He also complained that women of today don't know how to do basic things like cooking to keep their husbands happy, despite getting a formal education.
According to the veteran, his mother didn't get a formal education, yet she cooks a variety of dishes very well in a way that's pleasing to his father.
"Any woman who cannot cook cannot call herself a woman, no. This thing called feminism, that's what leads to women getting beaten in marriages.

"When you talk to a woman, she will respond to you. When she responds to you, you won't be able to bear it so you'll stretch out your hand and beat her up."
He added that he doesn't like seeing women cry because it touches him deeply but women are the ones who do things that lead to the beating.
Speaking further, he said that women's understanding is limited, adding that he has dealt with a lot of women, including working with them as their boss and he has come to the conclusion that their understanding is small. He said in Igbo:
"Its not everything they explain to you that you people understand. For the record, women's understanding is limited, let me tell you the truth.

"I don't hate them but I've had dealings with them a lot, including those at work where I'm the head. Their understanding is limited to a large extent, do you understand?"
SEE ALSO: Clergywoman Laurie Idahosa Comes For Pete Edochie After He Revealed How His Mum Married His 40-year-old Dad At Age 15
He also insisted that the African culture doesn't worship women like they do in western countries. He said:
"This thing called feminism has no usefulness. We don't worship women in our culture. White people worship women.

"If you notice in the western countries, three or four women could arise and say a man touched them inappropriately at work and the man will resign for that reason. Such a thing can't happen in our land.

"In our culture, if as a woman, no man tells you how good looking you are, you'll stay in a place, crying, and asking yourself if you're not good enough to look at. This is how our culture is."
He reiterated that he's a man who adheres strongly to our culture and traditions. For the African men, he said a number of them now practice modern trends that are not African, like kneeling to propose to a woman. He went on to condemn this practice.
"Kneeling down to give a woman a ring because you want to marry her is not our culture as Igbo people.

"Any man who kneels in front of the woman he wants to marry, what that means is that he has taken the headship of his family and handed it over to the woman, that's what it means."
SEE ALSO: Nollywood Veteran, Pete Edochie Goes All Chauvinistic As He Tells Young Men Why They Should Never Kneel To Propose To A Woman
Below is the full interview…
"Feminism isn't something black people are known for. Once a woman leaves her parents to meet her husband and takes his surname, she is to be submissive to him.

If she wasn't married, she can do whatever she wants. Our women now plunge into feminism nowadays. They can't even keep their husbands anymore. Is that a good thing?

These women are schooled but a lot of wives now can't even cook — one thing that a woman should be good in so as to be able to keep her husband.

My mother was not educated but she would cook all sorts of soups. My father would always get back home hurriedly to eat what his wife had cooked. Today, our wives can't even cook anymore.

Women who can't cook aren't supposed to call themselves women. And feminism is what causes women to be beaten up in marriages. You complain to a woman and she retorts.

It becomes unbearable, so you stretch your arm and deal her a slap. Domestic violence starts. I don't like seeing women crying because it hurts me deeply. But it is the fault of the woman herself a lot of times.

To be honest, the understanding of women is low. I'm not a misogynist but I've associated with them a lot, even at work. Feminism has no place in our culture. We don't worship women as the whites do.

I'm a strong adherent of culture. Kneeling to put a ring on a woman's hands is not our culture. Any man who does that transfers the headship of his family to that woman. Until my dad died at 96, he never knelt to propose.

It's just like kneeling down on entering a church because there's a higher being to whom you're paying respect. Men climb trees to tap palm wine. How does it look if women do the same? Today women dictate to men.

It wasn't like that in our days. How women talk to men nowadays isn't how we were raised. My mother was never beaten. My wife and I have been married for 52 years. I never beat her. My five married sons don't beat their wives."
ALSO SEE: Yul Edochie Shares Controversial Perspective on Domestic Violence…Do You Agree?
Click here to watch the video