Don Jazzy Makes Shocking Revelation About Getting Married At Age 20 To Model, Michelle Jackson And Why It Ended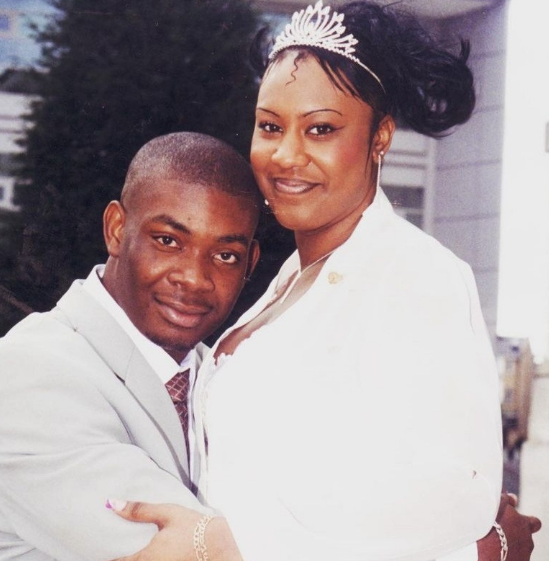 One of Nigeria's most popular beatmakers and record label owner, Michael Ajereh popularly known as Don Jazzy has opened up about his personal life, revealing something about him that most didn't know.
The record label boss said he was married about 18 years ago, when he was 20. According to the 38-year-old bachelor, he was married to his best friend, Michelle Jackson, a model and writer.
The Mavin boss posted his wedding picture which showed the couple in a warm embrace on his verified Instagram account and explained that he got divorced two years later because he was more focused to his career, music than his family
He shared below…
"For so long everyone keeps asking me when am I getting married? Well truth is almost 18 years ago I was 20 and I got married to my best friend Michelle @yarnstaswitch and it was beautiful. I loved love and I loved marriage. Michelle is soooo beautiful inside and outside with such a soft heart.

But then me being so young and full of dreams I went and fucked it up cos I was giving all my time to my Music. Music became priority instead of my family. We got divorced when I was 22 and it hurt. I am still very much in love with my music and I wouldn't want to marry another and fuck it up again.

So I'm taking my time. Why am I just saying this now?? I really like to keep my relationships private actually. Past or present. But I was watching the bounce interview with Ebuka which is almost like a tell all interview, and I felt bad skipping this huge part of my life. So yeah make una no vex o."
His ex Michelle responded with love emojis.
READ ALSO: "I'm working on myself, if time passes and nobody wants to marry me, then so be it"- Don Jazzy Talks Marriage
In another post, the singer and songwriter revealed that his ex-wife is a beautiful woman with a good heart, adding that Michelle is now married again with a 10-year-old son.
SEE ALSO: "Dear Future Wife, Don't Worry Be Fat" – Don Jazzy Shares Hilarious Video [WATCH]
Don Jazzy also debunked rumor that he has a child hidden somewhere.
Another fan asked if the Nigerian music industry was worth sacrificing his marriage for and he replied in the affirmative.
The follower asked: "But boss, shey Nigeria music industry deserve such sacrifice? Cos I'm still confuse."
Don Jazzy replied: "Ahh it does o. I will like to think that I have been a blessing to millions of people directly cos my music is successful. Let's just be thanking GOD sha."