From Staunch Fan To Wife! Peter Okoye Tells How His Journey To Forever With Wife, Lola Omotayo Started 19 Years Ago | Video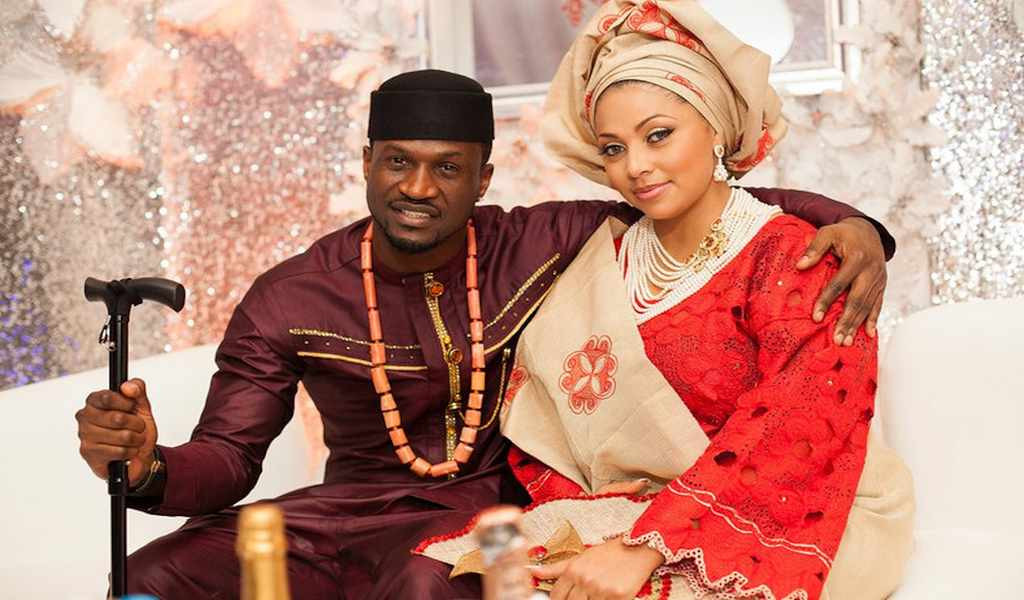 Nigerian singer, Peter Okoye a former member of defunct music group, P-Square does not take a back seat when it comes to expressing his love for his wife, Lola Omotayo, or letting the world know just how much he loves her.
Speaking in an interview with popular On-Air-Personality, Adesope Olajide who is based in the United Kingdom, Peter also known as Mr. P gave a detailed narration about their love story and how they met.
According to the dad-of-two, their former manager gave Lola their CD and she fell in love with their songs. He also disclosed that Lola then ensured that they always performed at every function the agency she was working with organizes.
During the interview, the dad-of-two disclosed that their former manager at the time was the one who knew Lola and gave her a copy of the P-square CD. He said the disc eventually got stuck in Lola's CD player and she had no choice but to listen to their songs anytime she was driving.
Eventually, the songs grew on her and that was how she became a staunch fan of Psquare. So much was her love for the music group that she started attending their concerts and recommending them for gigs.
Peter said they always made it a point to go and show their appreciation whenever she attends their shows. Unfortunately, the singer said they fell out with the manager who linked them up with Lola at the time and he refused to give them her contact.
However after their relationship with their former manager went sour, Peter said they had to find a way to establish a new relationship with Lola who was working at Anthony in Lagos at that time.
He concluded by saying that 'P-Square' should be grateful to Lola who he eventually got married to.
Social media users who were moved by the narration had mixed reactions. Read what some of them had to say:
SEE ALSO: "We have cried together"- Lola Omotayo Celebrates Her 4-Year Marriage to Peter Okoye
perf_boss_ said: "His wife was there for him when he had nothing but when he blew people didn't want him to marry her. Thank God he was a man on his own if it were some people they would have bowed to the pressure."
tamo_gusto212 said: "Hold her strong that's your angel Na the kind woman all man want be that women wey get oil for head ♀️ he who finds a wife finds a good thing."
domingo_loso said: "It's a good thing to cherish and appreciate your partner, that feeling of someone supporting you from scratch and y'all grow big together is hell of a beautiful experience.
iam__kingsman213 said: "Behind every successful man there is always one special being."
Watch the video HERE……
Last year, the singer reiterated during a heart-to-heart conversation with his fans on Insta-live that he was a gold digger when he met his wife nineteen years ago.
The entertainer was dishing relationship advice to his fans when he shared about his own relationship and how much growth he and his wife have built together.
According to Peter, who directed his advice at men, in particular, he said men need to be smart and recognise when they have found a good woman. The singer shared that he was under no illusion that his wife was perfect but he worked with her to become the woman that is best suited for him.
READ ALSO: Peter Okoye On Why He Won't Abandon His Wife & Kids Despite Family Feud
He added that he was never really good-looking but that his wife worked with him to become a better version of himself and he shares that that is the secret of his looking younger than his years.
He said as at then;
''I met my wife 18 years ago, I was a gold digger. When I met her, I f*cking had nothing. Men wise up, every woman is not a harlot or a slay mama, Pick one and make her look the way you want her to be.

My wife was never perfect, don't get me wrong, what I did was make her look the way I want her to be and she made me look same way she wanted me to be.

Have you seen me before, I was ugly before. Look at me now, every day I'm looking younger."