Celebrities Drag Actor/Dad-Of-1, Yomi Fabiyi Over His Comments Defending Alleged Child Molester, Actor Baba Ijesha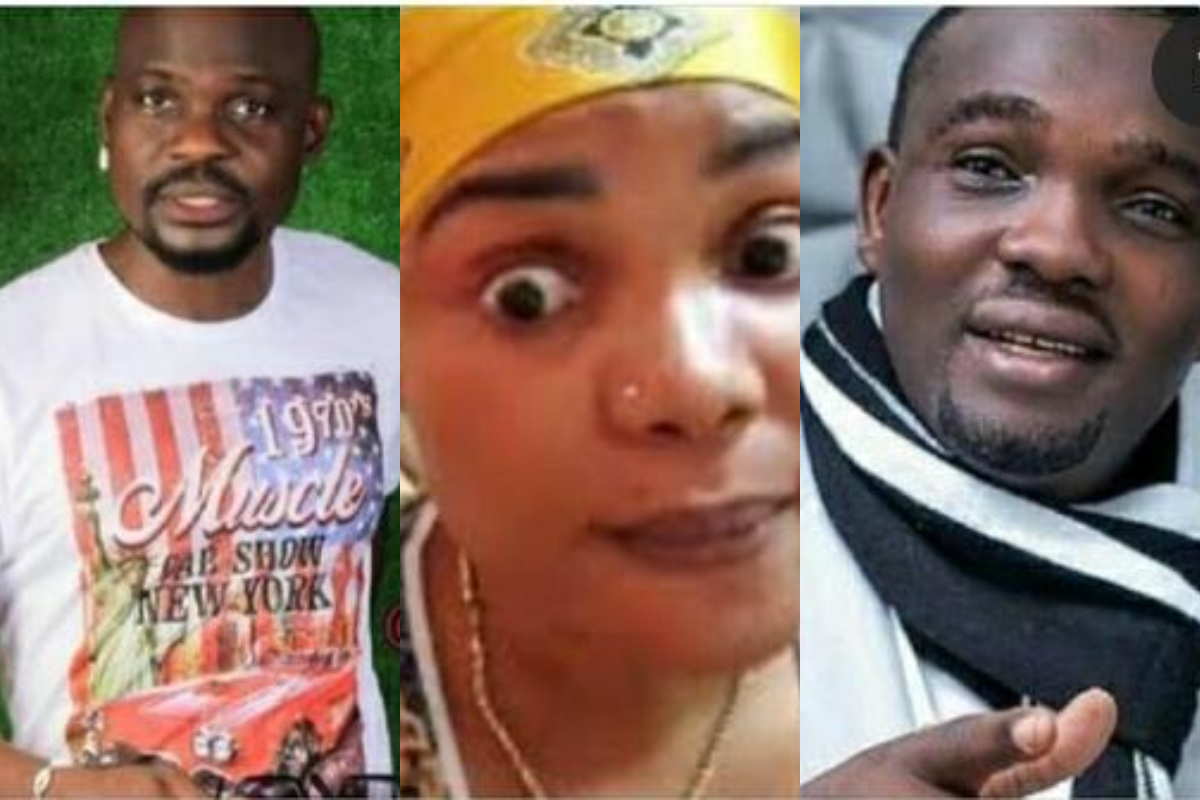 Nigerian celebrities have taken to social media to drag Nollywood actor and movie producer Yomi Fabiyi for defending his colleague Baba Ijesha over the rape allegations leveled against him.
Yomi Fabiyi, a dad-of-one is part of those who believe Baba Ijesha is not guilty until the court proves him guilty hence defending him with all their might.
The actor whose real name is Olanrewaju James was arrested by the Lagos state police command for allegedly defiling a 14-year-old girl over the course of 7 years.
The police said in a statement that the suspect "confessed to the crime" and was also "captured by a CCTV camera in the house of the complainant", who happened to be popular Nigerian comedienne, Princess.
Following police's report, Yoruba actor Yomi Fabiyi released a post asking his colleagues not to jump into conclusions. He went on to demand evidence first.
His post was re-shared by actress and mom-of-2, Foluke Daramola. To clear the air, comedian Princess released a video.
According to Princess who is the foster parent of the victim, Baba Ijesha first assaulted the girl sexually when she was 7. Another time, he is said to have penetrated her with a key.
She said the alleged act affected the girl mentally and physically as she hardly did her school work and always failed in class.
It got so bad that the school once called the girl's biological parents and also called Princess to report that the girl was caught in school grinding her brother.
SEE ALSO: Tonto Dikeh Calls On All Mothers To Join In The Fight Against Actor, Baba Ijesha Accused Of Defiling A Minor
The girl kept the abuse to herself until recently when she opened up at age 14. At this point, Princess said she put up CCTV camera in the house and  alleged it captured Baba Ijesha in the act. She alleged that when he was confronted, he confessed "4 times" and blamed the devil.
Princess called out Yomi for demanding evidence before he condemns Baba Ijesha's act. She asked why a grown man will want to see CCTV footage of a child being molested.
She also called out Foluke Daramola and asked if anyone requested for evidence when she disclosed she was a victim of rape. Daramola later released a video, apologising.
However, Yomi Fabiyi stood his ground and accused his colleagues of being in the habit of kicking a man when he's down and celebrity moms like Iyabo Ojo who disagree with him slammed him for defending Baba Ijesha.
Most people have different views about this whole allegation but then some of the female actresses have condemned his attitude way even before he pleaded guilty and are willing to fight anyone that tries to defend him.
Ever since the rape issue popped up, Iyabo Ojo and Yomi have been dragging each other because of their separate views over the rape allegations.
This angered Iyabo Ojo further and she dragged Yomi.
Yomi then took to his Instagram Live to hit back at Iyabo. In response, Iyabo also took to Instagram Live to blast Yomi. She called him "mad" and other choice words.
See below…
Like Iyabo Ojo, Mercy Aigbe also joined her colleague to condemn the actions of Baba Ijesha. The mom-of-two in a post on her Instagram page said there's no peace for a rapist hence Baba Ijesha should be brought to book praying that God protects all children from the hands of these rapists who hide themselves.
Screenshot below;
OAP Toke Makinwa also took to her social media handle to slam the actor. Posting on her handle, Toke wrote;
"Yomi Fabiyi is a disgrace, a complete idiot, one of the reasons why the fight against sexual violence gets harder by the day, you want to see a video first even when you know she is a minor? Even after you heard he confessed? What is wrong with the world??? I cannot can't."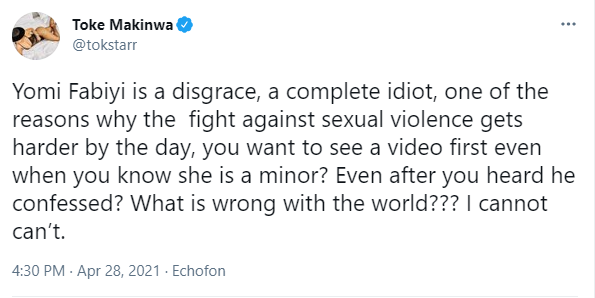 Also reacting is Nigerian relationship coach, Blessing Okoro, a mother of two. Taking to her verified social media handle, the controversial relationship expert wrote;
"Pedophilia should be sentenced to death by hanging once evidence is found …
Kill them .
They deserve death ……
Say rubbish and your own child will be defiled so you can feel the pain…
One reason that till today I don't have house help , I do everything for my kids my self , even the school said I should get lesson teacher I said I don't want , both male and female all of una get out . If I can't school then myself make them fail in peace . I have sacrificed my freedom for my kids , even family members don't come to my house I go drop u for hotel . Everybody get out .
Stop trusting people with ur kids . They are not safe anymore . Pay attention to them .
I will make a video and tell u how to know ur child has started having sex or being molested .."
Comedienne Lepacious Bose on the other hand, slammed entertainers who initially defended Baba Ijesha who was arrested for defiling the minor, but recanted upon learning that actress and comedienne Princess is the foster mother of the child involved.
According to Lepacious Bose, these entertainers took a different position on the case because they know Princess is their colleague.
The comedienne who asked if they would have changed their stance on the case the child involved came from a different background, stated that everyone should speak up against rape no matter the person involved.
Watch the video Here…..