BBNaija Star, Venita Akpofure Talks On Life As A Single Mom And The Decision To Leave Her Marriage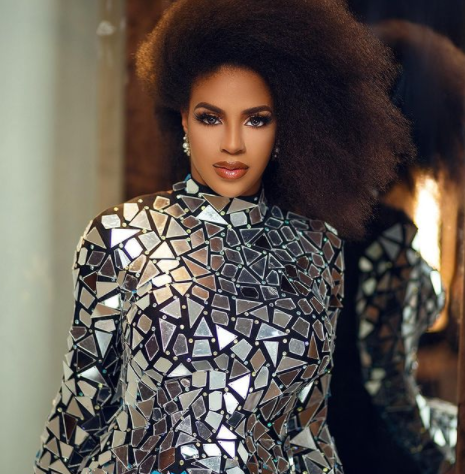 Actress and model, Venita Akpofure, has said that walking out of her marriage was one of the toughest decisions she has ever had to take.
The former Big Brother Naija housemate was previously married to Terna Olusola Tarka and they have two daughters. In 2019, she confirmed rumors that their marriage had crashed and also dismissed reports that he was a violent man.
In a fresh interview with PUNCH, the former video vixen said walking out of their union has been one of her toughest decisions to take. She also shared on her life as a single mother. According to Venita, being a single working parent is not easy. In her words:
"One of the toughest decisions I have made was leaving my marriage. It became known to the public about seven months after I had moved out of my matrimonial home. I am grateful that I had a great support system that really helped me through that period.
READ ALSO: Body Positivity: Reality Star And Mum-Of-2, Venita Akpofure Redefines The Meaning Of Flaws In New Inspirational Post
Being a single mother is not easy, especially if ones work a lot. I had to multi-task to make sure I'm there for my kids. I don't consider being in the limelight as a fulfillment. Fulfillment, for me, comes from within, which is when I am meeting personal goals and providing for my kids."
Speaking during an episode of the BBNaija Reunion show last year, the reality star revealed snippets of events that led her to the decision to end her marriage.
The beautiful mom talked about losing her identity in the course of keeping a home together, a reality that didn't quite make her happy.
According to the Pepper Dem Gang housemate, the life of being a stay at home mum was not one that she was exactly happy with. She decided to make a change at the point she realised her children could use the restroom independently (Read the rest of the story here).
During the interview, Venita also stated that celebrities have the responsibility of cautioning their fans when they use hate words or victimise others on the Internet. She said,
"Social media is toxic. There are some things I believe people should be responsible for. For example if I have a fan base that spews hate online, I would call them to order but some people feel they don't owe that social responsibility to anyone.

But, they do. I am not afraid to offend any fan on that basis. I am quite outspoken and I don't hide my feelings. I think it is the social responsibility of celebrities to caution their fans."