New Mom, Uche Ogbodo Expresses Fear Over Postpartum Weight, Solicits Possible Advice From Fellow Moms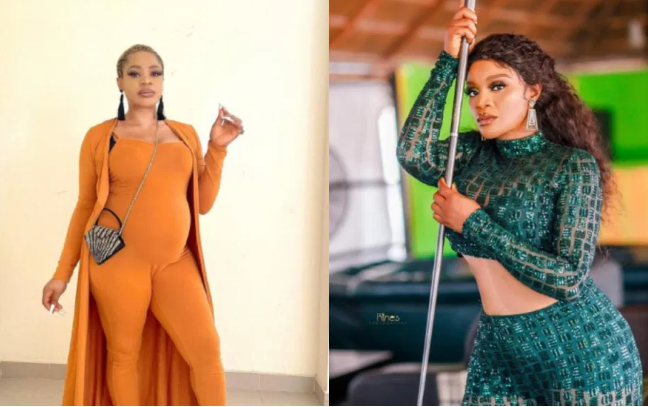 Nigerian film actress and producer, Uche Ogbodo who just welcomed her second child expressed her worries over her postpartum weight and asks how she could deal with it.
Sharing a throwback photo of herself, the Enugu-born actress expressed how much she misses her old body, adding  she feels quite uncertain if she would ever snap back to her old shape.
According to the mother-of-two, many women are going through the same confusion on how to manage their bodies after childbirth assuring them that with hard work and dedication, they can get back to their shape.
The actress then solicits possible advice from fellow moms and colleagues on how to snap back fast.
Below is what the 35-year-old new mom wrote on her Instagram page,
"I won't even Lie, sometimes I miss my old body. I'm so scared, I don't even know how fast I will be able to snap that to this shape but I am hoping to work really hard on it again if my body Allows me.

I know many women are going through confusion right now on how to manage their bodies but trust me you can do it. with just hard work and dedication you can.

Pls Moms tell me at the comment section what you are doing to snap back after your babies, I will be needing tips ooo."
READ ALSO: Six Weeks Postpartum, See The Measures New Mum, Amber Rose Is Taking To Lose All That Baby Fat
Uche's fans came through for her as many assured her that she would snap back. Others made suggestions of what she could do to get back in shape.
Reads some comments below:
jencee_skincare_nigeria: "Just do tummy tuck ooo. I've not done it but I feel it's the best."
nollynmusic: "Waist trainer as soon as you come home from the hospital. Then worry about the rest later because you have to eat well to breastfeed."
rachelfadoju: "Little quantity of food. Take fruits. Cut down on solids like eba, fufu. After delivery people say it normal to always yearn to consume so much food but it's important to use your brain and avoid excessive fat."
nana_akosua_adwebi_kete: "You need to tie the tummy with a piece of cloth sis then you can flow well and try not to eat that heavy food from 5 pm sis all the best."
viviancrushy2: "You will turn out fine after breastfeeding, exercises will help you a lot."
READ ALSO: Beauty & Lifestyle Influencer/ New Mom, Ronke Raji Shares 5 Tips To Lose Postpartum Belly In Two Months!
Two days ago, Uche took to her Instagram page to make her joyous news while she thanked everyone for the love being showered on herself and the newborn.
Her post read:
"I JUST WANT TO SAY THANK YOU, EVERYONE. I SEE ALL THE LOVE ALL THE DM'S ALL THE WASSAP MESSAGES, THEY ARE OVERWHELMING. I CRY SOMETIMES. LITTLE ME DO I DESERVE ALL THESE SUPPORT?. GOD BLESS YOU ALL, I CAN'T REPLY ALL THE MESSAGES BUT I SEE THEM. THANK YOU."
With an accompanying caption that reads; "My Bunny & I are grateful for your love, Gifts & Support. We Muove! Are you Where?"
However, she didn't disclose the sex of her new baby. The Enugu-born movie star officially announced her pregnancy on social media when she took to her Instagram page on March 12, 2021, to share photos of herself wearing a new look and displaying her baby bump while sitting in an aeroplane.
SEE ALSO: Actress / Expectant Mom, Uche Ogbodo Talks Life And Why She's Having Kids Out Of Wedlock
She had posted a couple of photos with the caption: "Flying private with my bunny, In the Oven, NAh ! You can't seat with Us, 3 is a Crowd".