PSC Chairman On COVID-19, Boss Mustapha Makes Clarification On Re-introduction Of Nationwide Curfew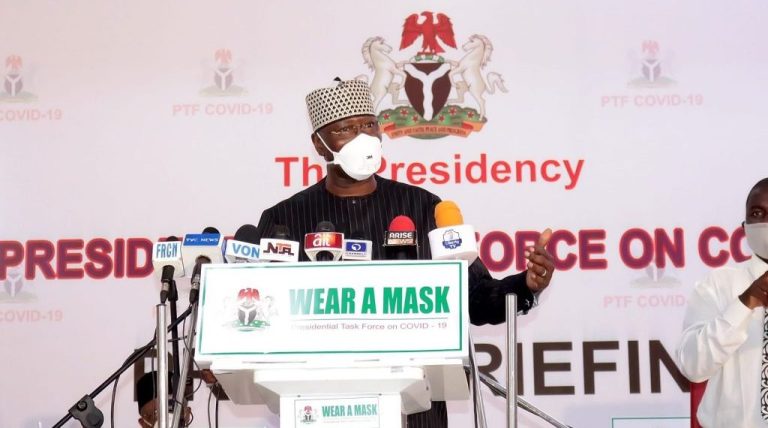 Chairman of the Presidential Steering Committee, (PSC) on COVID-19, Mr Boss Mustapha, has explained the misconception regarding the reintroduction of curfew in the 36 states of the country.
According to Mustapha, it was wrongly reported that the federal government had re-introduced nationwide curfew between 12 a.m. and 4 a.m. as part of the COVID-19 safety protocols. He clarified the news and made it known that the PSC press briefing was taken out of context.
He said:
"Under the Fourth Phase of restriction of movement, night clubs, gyms and others will remain closed till further notice; while all citizens will also ensure that mass gatherings outside work settings do not exceed maximum of 50 people in an enclosed space.
READ ALSO: Phase IV: FG Reintroduces COVID-19 Restrictions, Limitations On Mass Gatherings, And More… (Details)
These restrictions have been in existence under the Third Phase but are being maintained under the Phase Four of the phased restriction of movement.

Therefore, the PSC hereby reiterates that there is no newly introduced lockdown. There is no need for the panic that followed the announcement of the Fourth Phase of the phased restriction of movement.

We will continue to appeal to members of the public to comply with these restrictions because they are necessary safety measures against contracting the dreaded coronavirus, which is still ravaging human populations across the world.

The structure of the PSC shall reflect the new focus of the response with a targeted approach on vaccine oversight, risk communication, international travel quarantine processes, and sub-national engagement; and that the tenure of the PSC shall last till 31 December, 2021."