Dr Anu Of Medcontour Trends Again As New Victim Accuses Her Of Recent Botched Plastic Surgery In Abuja Despite Court Case (Graphic Photos)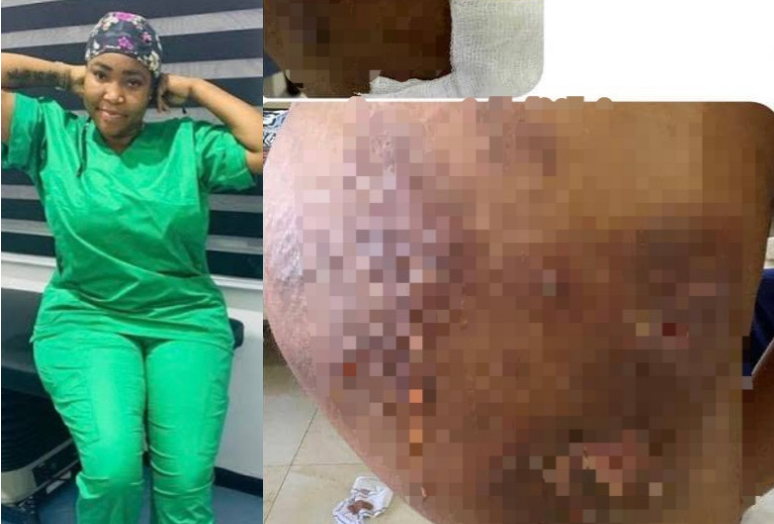 A Nigeria-based plastic surgeon with a questionable reputation over the integrity of her practice is in the news again. Dr. Anu Adepoju of Med Contour, a Lagos-based cosmetic surgery hospital is not new to controversy.
She has been called out a number of times in the past few years over botched plastic surgeries that caused the death of a number of women.
Another alleged cosmetic surgery victim who suffered a botched butt surgery has come out to accuse Dr Anu of being responsible.
Photos of the patient's butt with puss leaking out of it are circulating online, alongside a chat purportedly from the patient.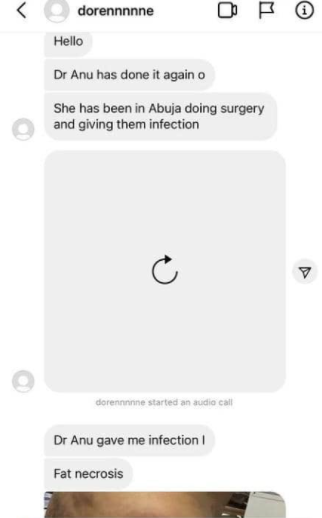 In the chat, the patient alleged that Dr Anu moved her practice to Abuja after her clinic in Lagos – Medcontour – was shut down over alleged malpractice.
SEE ALSO: Another Nigerian Woman, Vick, Becomes Victim Of Botched Plastic Surgery Carried Out In Lagos
The patient added that she lives in New York and didn't know about Dr Anu or the other patients who claim to be her victims.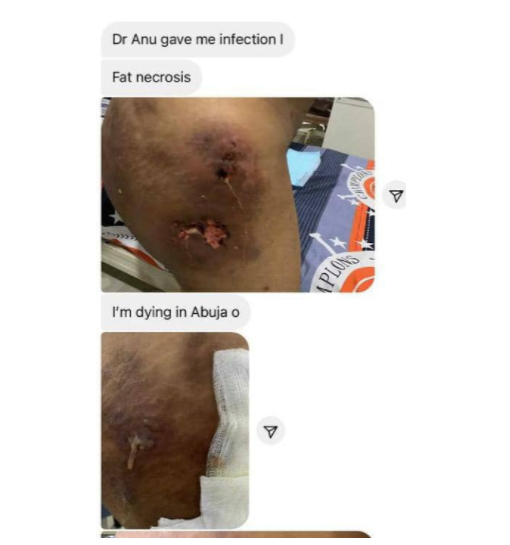 When she returned to Nigeria, she booked a session with Dr Anu, she claims, and it ended in a disaster.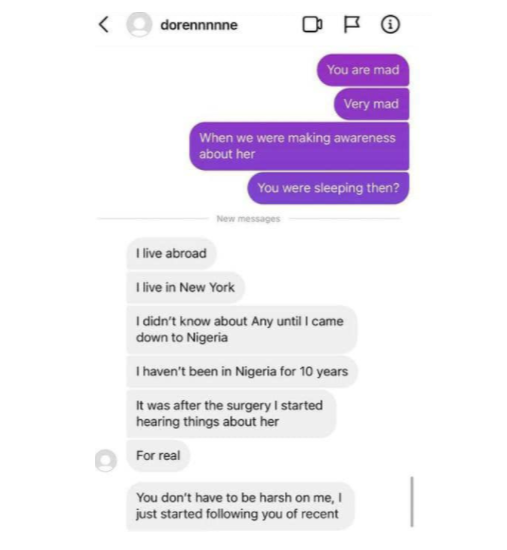 SEE ALSO: Infamous Cosmetic Surgeon, Dr Anu Adepoju, Has Been Suspended From Medical Practice In Nigeria
Photos of her bum are now circulating on Twitter, with some people calling her out for not doing a Google search of the doctor who she was about to entrust with her life and money. Others called Dr Anu out, making her trend again.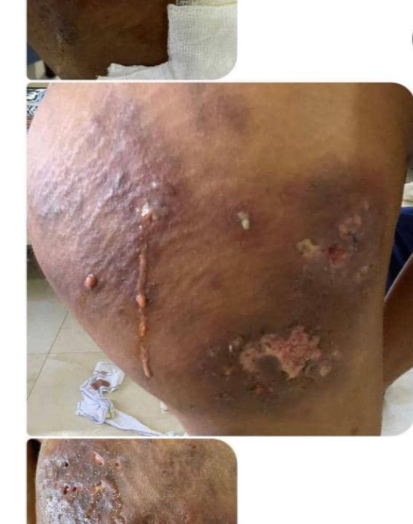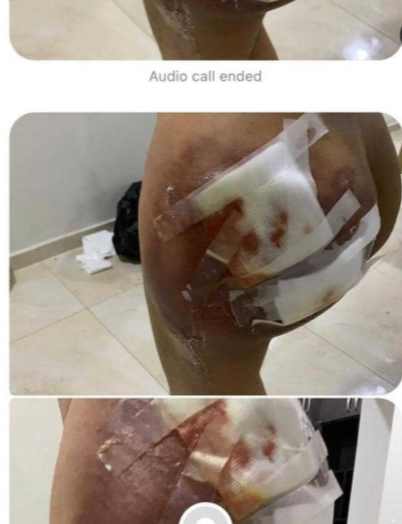 It would be recalled that Dr Anu has been involved in controversies after multiple patients who visited her cosmetic surgery clinic for body enhancement suffered life-threatening complications, including a former beauty queen, Nneka, who later died in LUTH.
Last year, Dr Aanu was suspended from the medical profession in Nigeria after LUTH petitioned the medical panel following the death of the victim of Dr Anu's procedure who died after being transferred to its hospital.
Also, the Federal Competition and Consumer Protection Commission, FCCPC, sued her to court for malpractice in July 2020 and photos of her arriving in court were shared online.
SEE ALSO: Controversial Cosmetic Surgeon, Dr. Anu Dismisses As Mental Illness,The Worries Of Young Woman Fearing For Her Life After A Botched Surgery
Yet, she's alleged to have continued practicing in Abuja, causing more harm to patients.
Below are some Twitter reactions to the allegations.