Vlogger, Phina Narrates Her Harrowing Experience After Escaping From Suspected Kidnappers In Lekki, Lagos | Gives Safety tips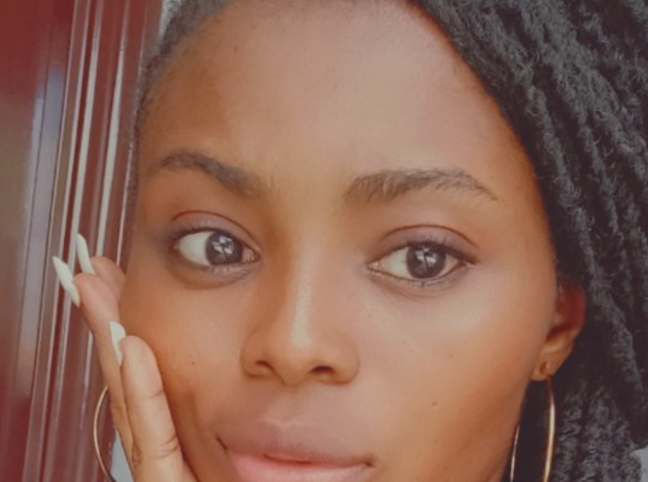 Media personality, Phina has narrated how she escaped from suspected kidnappers in Lekki  area of Lagos state.
Phina who narrated her harrowing experience via tweets she shared, said she was approached by an armed man who had "Special Forces" inscription on his T-shirt while stuck in traffic leading up to Lekki Main Gate on Admiralty Road.
She revealed that after she ignored the man who wanted her to park, and drove her car into a slight middle opening in the traffic, he quickly walked away.
Phina also disclosed that she saw another man with same inscription on his T-shirt enter a van, giving her the impression of the men being members of an organized "kidnap gang."
The media personality who went on to give safety tips, said;
"Security Alert! A THREAD!

I just had a harrowing experience. It lasted only seconds but was no less scary for that. I was in traffic leading up to Lekki Main Gate on Admiralty Road. I was talking to a client on the phone as we were at a standstill. I saw a man walking up to me.

Slim. Tall. Dark. Dressed in black trousers and a T-shirt. The T-shirt was black also and had a logo that looked like wide spread wings in gold with 'Special Forces' boldly written across also in gold. It looked like some kind of paramilitary gear but none I have ever seen before.
READ ALSO: SECURITY ALERT: Nollywood Actor, Femi Branch Warns Women Doing Online Business To Take This Very Precaution
He walked up directly close to me and indicated that I park to the curb and lightly tapped something that looked bulky like a holstered gun by his side. He was silent but menacing. I immediately ignored him and drove my car straight into a slight middle opening in the traffic.

I was ready to hit the car in front of me, if necessary. He saw that and quickly walked away. Two things chilled me after that. Remember I was still stuck in traffic.

I looked ahead of me and saw another guy in the same clothes walking the opposite direction to the one who approached me. And in my rear view mirror, I saw the one who approached me enter an all black van with tinted windows on the other side of the road, driven by someone else.

The van drove off leaving at least the other chap at the scene. Who were these people? I don't know.

But it looked to me like maybe an organized kidnap gang? I can't be the first person who has had this experience in this location. The Police need to do something quick.
READ ALSO: National Issue: Celebrity Mom, Bimbo Afolayan Shares Timely Security Tips On How To Avoid Being A Victim Of Kidnapping
My advice to women driving alone:

1) Stay in middle lanes as much as possible especially when in traffic.

2) Ignore any directive to park or open your doors. If your attacker threatens to shoot, let him. Better he shoots you there than take you elsewhere.

3) If you feel threatened, accelerate immediately and hit the car in front of you hard.

That will cause a commotion that makes your attacker run away. Better you have a repair bill than the alternative.

4) Stay aware of your surroundings always. Don't get too caught up in conversation or music not to know what is going on around you.

5) Realize that in such a situation, the greatest weapon you have is your car. Think of it as such and use it as such. Any opportunity you see, hit them. Clear those his crooked legs. Make sure he will never walk up to another woman, and threaten her again.

After reading this, I felt the need to share for security and safety reasons. I heard about some kidnapping that happened in Lekki axis around 8pm yesterday. Stay safe y'all."
SEE ALSO: Designer, Lisa Folawiyo Warns Against Early Morning Jogging On The Lekki-Ikoyi Link Bridge Following Her Sister's Recent Scary Encounter