Actress, Kiitan Bukola Narrates Her Traumatic Childhood Encounter With A Pedophile And How The Experience Had A Long-term Effect On Her Life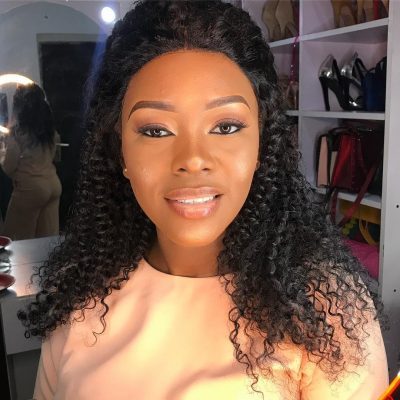 In the past few days, the Yoruba movie industry has taken the center stage of all attention following actor, Baba Ijesha's alleged child molestation and rape case. The case brought rancour, division, and open altercations among colleagues in the industry. And one actress, Oloruntimilehin Bukola, popularly known as Kiitan Bukola was caught in the crossfire over her latest movie currently showing online.
The movie is on rape and the act of pedophilia and some people who feel she's using the travail of Baba Ijesha to the trend have come to her head with threats and insults. But the actress has defended herself that she is only telling her story, her encounter with a pedophile when she was a child.
According to her in a chat with PUNCH, the experience took place in Ado-Ekiti where she was born and schooled. She was merely a 10-year-old primary school pupil when an adult man perceived to be a family friend took advantage of her and raped her.
The ugly experience according to Bukola, had a long-term effect on her life, she became a drunk at an early age, and for her to be happy she had to drink a lot.
"My mum used to hawk and I was attending Union Baptist Nursery and Primary School, Oke Bola, not really far from our house. Sometimes when I came back from school, my mum would tell me to wait for her somewhere till she came back. When she came back from hawking she would pick me up and go back to the house together.
ALSO SEE: Actress, Padita Agu Opens Up On How A Simple Advice Helped Her To Enjoy Sex In Her Marriage After A Rape Experience Nearly Marred Her
There was a day I was asked to wait for her in front of a hotel called K Palace Hotel. There is this house opposite the hotel so I waited for her there. There's this person who is like a brother who stayed in the house. He was the one that raped me. I didn't tell anybody.

For a week I couldn't even use the restroom very well. I was feeling pain all over my body. That trauma has been in my head for a very long time. The experience and trauma turned me into a drinker. I was never happy around people.

For me to be happy I had to drink a lot. I couldn't even keep a relationship for a very long time as a result of the trauma. I was having serious mood swings. It was the story I used as a movie in "Right Time". I never told anyone and I decided to make it into a movie," she once narrated in an interview.
In the interview with PUNCH, she said,
"I cannot remember what age I started taking alcohol but I started drinking beer in secondary school. My mom did not know about this habit and my father did not live with us. Drinking is an addiction for me. I find it difficult to make love without getting high, because of my rape ordeal.

That way, I can do whatever I want. Also, I have to really share a close bond with my partner before I can get intimate. Sometimes, I feel irritated, angry and paranoid for no reason. I still get flashes from the incident. I can picture his face clearly. However, I am really trying my best to stop my drinking habit. People close to me know that I always have (alcoholic) drinks around me.

I did not want to tell anyone my story at that time because of the fear of being stigmatised or ridiculed. That was what prompted me to make a movie about my experience 23 years later. I want victims to have the courage to speak out. The incident happened at Oke Bola in Ado Ekiti.

"Meanwhile, I had another bad experience with a guy some years back. We were in a long-distance relationship but he came to Nigeria after a while. I had gone to see my mum in Ondo State and he was in Akure (the state capital) at the time.

We spent some time together and when it was getting late, I asked him to drop me at the park. However, he cajoled me and we stayed back in his house. He tried to have sex with me and when I refused, he slapped me very hard. I told him it was the time of my menstrual cycle.

But, he insisted that he wanted to confirm. He later confirmed and apologised. I did not sleep till 5am when I left his house the next day. This happened in 2006 or 2008. I have been more careful since then."
SEE ALSO: Singer Djinee Explains How Fault-Lines In The Parenting Of Boys Is Fostering Rape Culture In Nigeria
The actress who urged victims to speak out regardless of when the incident happened also said she wished she met her rapist before he died. She added,
"When I told my rape story on social media, I found out that the guy had died. I was told he was killed during a robbery. I was hoping to meet him and I would have paid him back for what he did to me.

"I knew the identity of my rapist, so I told my family friend about it, who then informed me that he (rapist) had died. Another person also confirmed the story to me after I spoke out about the incident. I think my career also helped me to speak out because I could make a film out of it."