Meet Allman, The Woman With 7 Husbands As She Shares How She Manages And Satisfies All Their Needs | WATCH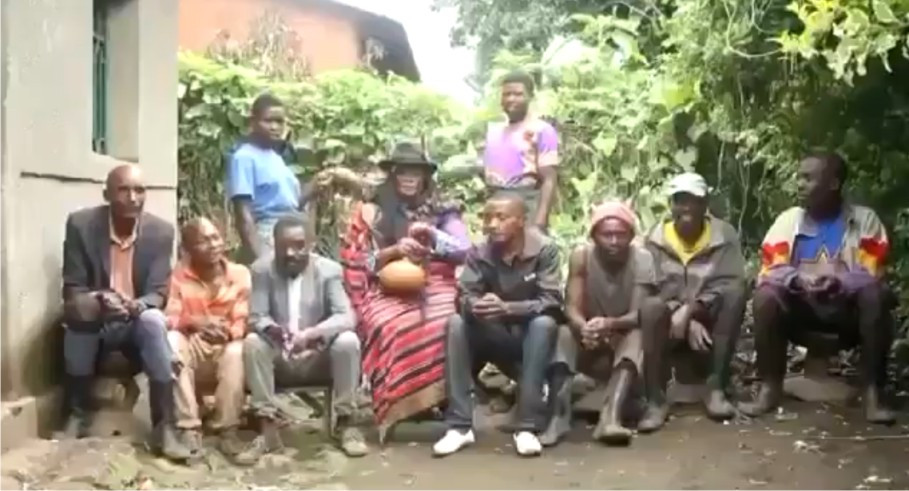 An African woman has decided to change the marriage narrative for one of the most unpopular forms of it – polyandry. The revered Ugandan spiritualist, Allman, popularly known as the Female Samson married seven husbands for herself.
In a documentary published by Youtube content platform, Afrimax, the woman who was flanked by all her husbands recounted how she was made to marry some residents, the elders of her deity chose for her, in a bid to produce many children, which is a source of her power.
"I am a traditional doctor. I use the power of the dead to heal other people. And to be able to do that, I have to marry to get power and also to avoid punishment from my elders," she said.
This is what led her into polyandry, and she is currently a mother-of-six, and yet to give birth for her recent husband.
Allman went on to reveal how she manages all of them and also satisfies their needs. According to her, she singlehandedly takes care of their needs and has built a house for all her husbands, hence why she's able to discharge her sexual duties with them separately in their rooms.
In a tone that exudes confidence, she boasted that none of the men have the effrontery to cheat on her or think of leaving her. According to her, she possesses super powers that help checkmate their activities.
On how she satisfies them sexually, she said she is the only person that has the power to demand sex, and she chooses who she craves for. She said:
"I satisfy all of them from time to time. None of them has ever complained and none will dare cheat because the elders will reveal it to me in a vision before it happens."
SEE ALSO: Interesting Update On The Story Of Ugandan Mum, Ann Grace Aguti Who Married Three Husbands At Once
The polyandrous traditional healer who is reportedly living in peace with her husbands, does not cut her hair as was the case with her predecessors saying, like the Biblical Samson, her powers emanated from the hair.
In the clip, all her husbands were mute, save for sipping and passing to the next person a drink in a gourd she had held.
Allman receives queenly treatment from her husband; she doesn't walk on foot as she is constantly conveyed in a palanquin. Others ensure she doesn't sweat and two of them are dedicated to fanning her.
The video is trending at a time when there is an online debate on if women should be allowed to marry more than one husband.
The clip has generated mixed reactions on social media. Some persons opined that the men must be under a spell, others hailed her as the real queen.
READ ALSO: S.Africa New Marriage Law Could Allow Women To Marry More Than One Man
Watch the video below…
Once upon a time, a queen was born. #cynthia NYSC Olamide Tinubu #tuesdaymotivations Lillard Fajr pic.twitter.com/0whbGfonqX

— Omo Ope (@blog_street) May 25, 2021