Televangelist, T.B Joshua's Shocking Death: Wife, Evelyn Recounts Incident Leading Up To His Death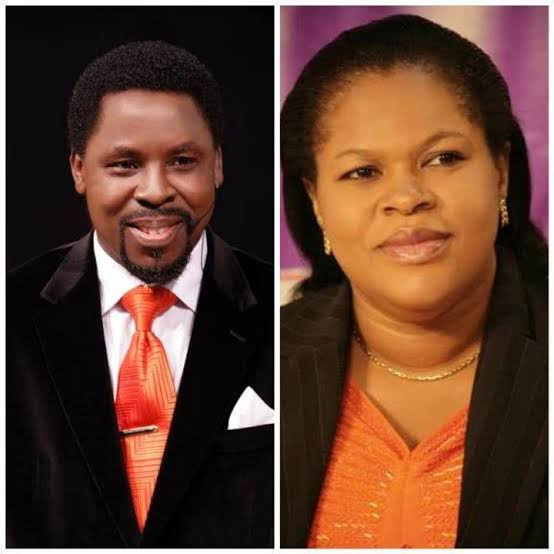 Evelyn Joshua, wife of the founder of Synagogue Church of All Nations (SCOAN), Temitope Balogun Joshua, popularly known as T.B. Joshua, has disclosed the incident leading up to his death.
The famous prophet died in Lagos on Saturday evening shortly after a programme at his church. T.B Joshua died at the age of 57, six days to his birthday, June 12. The church announced the death of the televangelist and philanthropist on Sunday morning via his verified Facebook page.
Speaking with some selected journalists on Sunday, June 6, the mother of three said that her husband "ended his race prayerfully".
She revealed the televangelist spent about three hours in prayers before the last service on the mountain and appeared to be very healthy. She said he never showed any sign of illness or worry and that his main concern was about the prayer line they offered to Indians against the COVID-19 pandemic. She said:
"Afterward, he came up to shower and I left him to have some time to prepare for service as worship had started.

"Few minutes later, he stepped out for ministration. While ministering, he spoke about a time to come and time to leave. His statements were spiritual and suddenly, he left the stage and went to his inner chambers.

"I waited a few minutes and thereafter decided to check on him. I met him sitting on the chair like someone reflecting but unconscious. I quickly beckoned on his disciples who came and tried to revive him to no avail.

"Of a truth, he went home to be with the Lord and left us with a message, watch and pray."
On Sunday, June 6, Evelyn mourned her husband on Twitter, writing;
"Losing a loved one is never easy; whether sudden or foreseen. It is always heart-breaking. Grief can wreak havoc on our overall well-being. That's why it's important to stay rooted to the Almighty. Only He can lessen our heartache and comfort us in these times. Seek refuge in him."
SEE ALSO: COZA: Woman Alleges TB Joshua Raped And Trapped Her At His Synagogue Church For 14 Years
Reacting to the sad news, the state Commissioner of Police, Hakeem Odumosu disclosed that TB Joshua was officially pronounced dead by a hospital around 3am on Sunday.
"It is true he is dead. I do not know the cause of his death yet. But the information we have is that he was conducting service. Along the line, he felt uncomfortable, walked to his apartment himself and never came back.

"His people thought he probably wanted to rest or refresh but when they didn't see him after a long while, they went in search of him and found him in an unusual position.

"The service started in the evening. But it was around 3am that he was pronounced dead by a hospital."
T.B Joshua's SCOAN and his Emmanuel TV is one of most popular and largest Christian broadcast stations in Africa.
Mr Joshua was very popular for several decades as a fiery preacher on television, using his platform to attract a large number of Christians from across the world.
He was philanthropist who used his popularity and platform to reach out to the less privileged and have helped established many charity organizations for the poor.
The late Prophet hails from Arigidi in Akoko North West local government area of Ondo State. His demise shocked residents of Arigidi as his philanthropic works extended to large members of the community.
He was said to dole out money and food to the elderly, scholarships to youths as well as pay for execution of several community projects.
Late TB had already acquired land to build a university before he died.