Why My Dad Demanded Impossible Bride Price From Ojukwu – Ex Beauty Queen, Bianca Ojukwu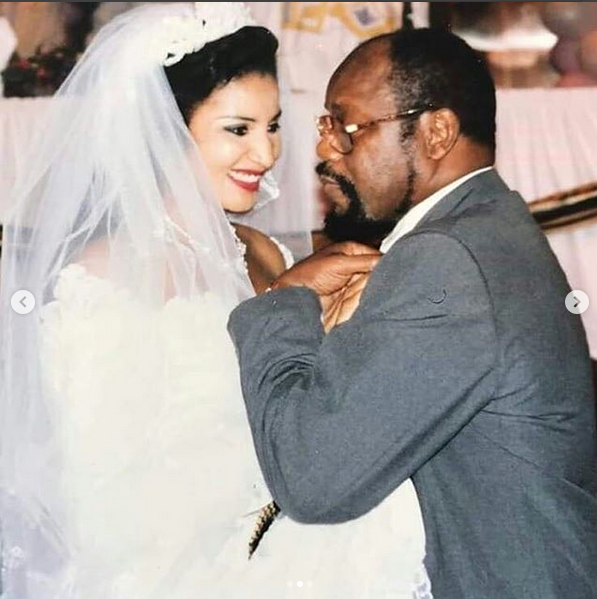 Bianca Odumegwu-Ojukwu, has recounted how her late father demanded an "impossible bride price" from her late husband, Dim Chukwuemeka Odumegwu Ojukwu who was the president of the defunct Biafran state.
The mom-of-3 and winner of the Most Beautiful Girl in Nigeria 1988 Pageant had recently taken to her social media page to mark the over two decades since after she was married to the late Igbo leader.
The ex-beauty queen who married the former military general and Biafran leader in 2001, is the daughter Chief CC Onoh, a former governor of Anambra state. The late Onoh was said to have initially opposed Ojukwu's marriage to his daughter due to their age differences.
In a Facebook post, the 53-year-old diplomat-cum-entrepreneur said her dad had asked Ojukwu to pay 100 pre-independence copper coins, an old currency, that prompted the former Biafran president to dispatch men across the country to search for them before their eventual marriage in 2001. She wrote:
"What a day it was, and full of drama! The bride price was a daunting factor. My father, Chief CC Onoh gave his daughter's suitor, Dim Chukwuemeka Odumegwu Ojukwu a seemingly impossible task in this respect.

"He demanded a bride price of 100 pre-independence copper coins (those old coins with a hole in the middle) and where could anyone readily find these extremely rare coins, and in such quantity in 2001?

"And so people were dispatched to various parts of the country in search of the old coins. It cost so much more to source the coins than they were actually worth. Years later, when I asked my father what informed his request."
SEE ALSO: Bianca Odumegwu-Ojukwu Fondly Remembers Late Husband On What Would Have Been Their 24th Wedding Anniversary | Photos
Bianca added that her dad revealed years later that he made the unusual request to teach Ojukwu to value women. She shared further:
"He laughed and told me, 'I had to make it difficult for him. If it were purely a matter of paying money, being a man of great means, he would have been prepared to pay any amount, no matter how huge, as bride price.

That would have been easy. But in the course of your marriage, anytime he makes you upset and you threaten to head back home to us, he will remember the difficulty in procuring your bride price!' Vintage Aninefungwu!

20 years ago to this day, and I am simply awed by my father's wisdom. I am extremely privileged to have lived under the shadow of these two great men, valiant men who rode the thunder and quelled the storm."
READ ALSO: 'I'm the only legal wife of Ojukwu' – Bianca Tells Court As Legal Battle Over His Property Continues
On November 26, 2011, Ojukwu died in the United Kingdom after a brief illness. The Nigerian army gave him the highest military accolade and conducted a funeral parade for him in Abuja the day his body was flown back from London.