Comic Actor, Ogbolor Addresses The Unmarried On The Repercussion Of Serial Monogamy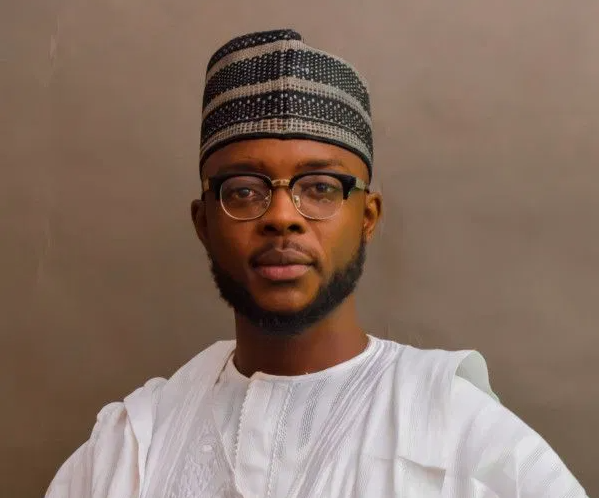 Nollywood actor, Uba Michael better known as Ogbolor has taken to social media to reveal the side effects of serial monogamy, that is, the practice of having a number of long-term romantic or sexual partners in succession.
Sighted on his Instagram story, Ogbolor, who is still a bachelor disclosed that an unmarried person who changes relationships or jumps from one sexual partner to another is training his or her mind not to stay with his wedded spouse in marriage.
The On-air Personality who recently made a strong case for looks detailing how important it is in relationships noted categorically that there are some people who are accidents waiting to happen. He wrote:
"As a single person, jumping form one sexual partner to another sexual partner is training your mind not to stay with one person in marriage. SOME PEOPLE ARE ACCIDENTS WAITING TO HAPPEN."
See screenshot of his post below;
READ ALSO: Why "Monogamy is not my thing" — Single Father of 3, Wizkid Reveals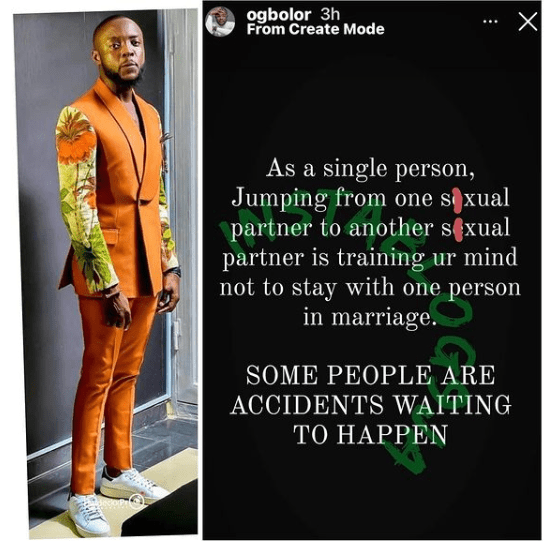 READ ALSO: Actor, Ogbolor Harps On The Importance Of Looks Before Marriage For This Reason
Below are people's reactions to his post…
@blaq_beeutee wrote;
Some damaged individuals will still come here and comment nonsense. A nuisance once said every woman is an ashawo and some okpos concurred to it. Wait for those damaged people that don't believe that a man or woman can stay faithful or loyal
@ohnee wrote;
Well great point – but what if they don't wanna stay? You gon tie them with rope?
@supergirl_extragirl wrote;
Abeg rest! Too many motivational speakers !! There is no manual for a successful marriage ! Just pray to have a Good Partner and a successful marriage
@_miiwa wrote;
Yes!!!!! Incase you don't understand…. what he is trying to say is that when you taste everything , you become insatiable and start seeking for more outside. Periodt