Deyemi Okanlawon's Heartfelt Note Of Appreciation To Wife Is Everything!
One of Nollywood's best actors, Deyemi Okanlawon took to his Instagram page to serenade his wife for standing by him in his trying times.
In his heartfelt post, the dad of boys who recently had a successful surgery after developing complications from unsuccessful medical procedure, took time to appreciate and thank his beautiful wife, Damilola for standing by him through all the pain.
The actor who woke up this morning thinking how favoured he must be amongst men, went further to thank God for creating her and making their paths cross.
His post reads
"Appreciation Post: My beautiful Damilover, I woke up this morning thinking how favoured I must be amongst men. I'm amazed at how, just when I believe I've loved to my fullest, my heart expands to love you even more.
Thinking through everything we went through over the past few months, how you held my hand through all the pain, how you helped me cry the tears I was trying hard to hide, how when I started giving you all my bank account information you told me not to even think about it cos I'm going nowhere – I'm sure you're regretting that one now sha!

I thank God again and again for creating you, bringing us together and packaging me enough for you to say yes! I pray that every blessing of God in my life be mirrored and multiplied in yours and our children.

Guys if you ever see this my babe outside pls help me thank her for truly loving me with all my good and my flaws. Also help me tell her I said it's time for her to "relax and be taken care of"!"
READ ALSO: "Don't Kill Yourself All In The Name Of Being A Provider" – Actor, Deyemi Okanlawon Reaches Out To Fellow Men\Dad In Thoughtful Instagram Post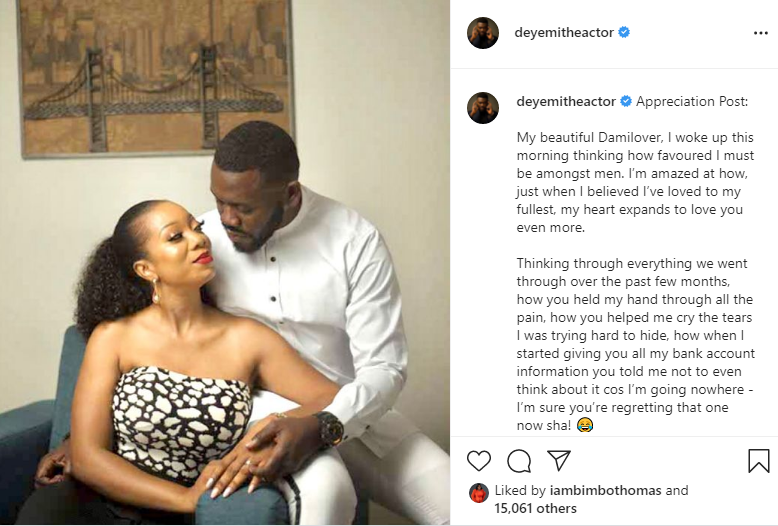 Two weeks ago, the celebrity star took to his page to share on his health status after undergoing a successful surgery.
The voice actor disclosed that he lived with the "most excruciating pain" for almost two years after an unsuccessful medical procedure.
Okanlawon revealed that he relied on strong pain killers to see him through until now that he has undergone another surgery to correct the problem and stop the physical pain. He shared:
SEE ALSO: Nollywood Star, Deyemi Okanlawon Counts His Blessings As He Recounts Being Told He And His Wife Cannot Have Kids Of Their Own
"For almost 2 years after an unsuccessful medical procedure I've had to live through the most excruciating pain imaginable… at night I literally screamed and cried, by day I worked and smiled through it all (with really strong pain meds).

Post-surgery I feel like I've been given a new lease on life and I want to say a special thank you to my wife for the love and care, to my fam & friends for their prayers and support, to my many brand partners and employers for their patience and understanding, and to the best surgeon ever, Dr Coker, and his entire medical team at Lagoon Hospital I say a big thank you.

Grateful to God for the road to divine recovery! ?? #manofpeaceandlove #jehovahrapha."