Signs You're Hypertensive, Simplest Ways To Delay, Tackle And Avoid Falling For Hypertension | Health Consultants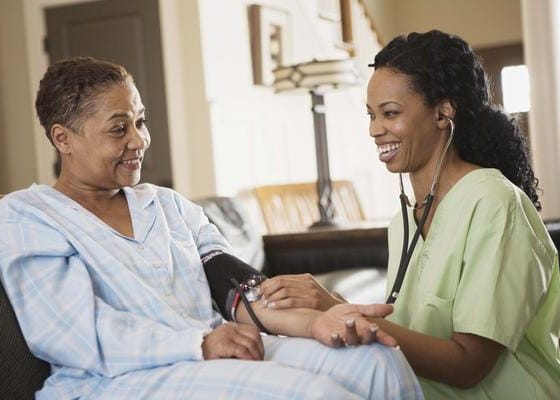 Hypertension has been reported to kill more people than any other condition. Approximately 10 million people die each year, more than from all infectious diseases combined.
For those who want to conquer hypertension, here is the panacea. Avoid eating four-legged animal meat, eat vegetables and then make at least five persons happy each day.
This is the candid advice of a veteran medical professional, Dr Martins Olusola Ogundeji, a public-primary health consultant. He says:
"Eat no four-legged animal meat. Eat plenty of vegetables. And then make sure you smile always; make at least five persons laugh every day. Take it as a business."
Dr Ogundeji was reacting to a steady spike in case of hypertension across the country, resulting in sudden deaths.
For instance, it emerged recently that a frightening number of Nigerians are hypertensive without knowing it.
The Executive Director, Nigerian Hearth Foundation (NHF) Dr Kignsley Kola Akinroye told The Guardian that "no fewer than 76.2 million Nigerians are hypertensive."
The consultant cardiologist disclosed that "the prevalence of hypertension is about 38.1 per cent (76.2m out of an average population of 200m," Nigerians.
This is an ugly figure as far as Dr Ogundeji is concerned. He lamented that indeed, Nigerians are in a season of the absurd, regretting that things are swiftly moving south each day for a lot of Nigerians.
Dr Ogundeji who is the Executive Director, Primary Health Management Centre, (PriHEMAC), Ibaban, Oyo State, is unhappy that a wide spectrum of people is hungry and angry.
He added that the unusual situation they find themselves triggers loads of emotional and psychological disorders among a large number of them. Many he said are simply bearing their own burden and going down with the load.
Describing hypertension as "a silent killer," Dr Ogundeji a medical professional for over 30 years, said the reasons the citizens' blood pressure is shooting through the roof are there for everyone to see, lamenting that millions – both the rich and the poor – are being taken down by the monster each day. He stated:
"There is unrest here and there. There is poverty, there is tension all over. Many people are hungry; many people are angry."
He emphasised that "many of these things are affecting people." Then he offered his solution, stating that if applied religiously, everyone is sure to keep hypertension at bay.
Listen to him: "Eat no four-legged animal…. Make sure you smile; ensure that you make at least five people laugh every day. Take it as a business."
How you will know you are hypertensive
Dr Ogundeji is unhappy that many don't know they are hypertensive. He lamented that such people might have death at the door. Here he offered very useful tips for knowing that hypertension is knocking. He said:
"It is important to pay attention to how blood pressure can first be dictated.

"The most common sign of high blood pressure is headache – frequent headache, dizziness, fainting spell and palpitation. By palpitation, I mean the beating of the individual's heart.

"The person involved might be hearing the pumping of their heart because when there is high blood pressure, there is the tendency for the heart to beat excessively to force blood through the blood vessels with very high pressure."
He noted that:
"One of the major causes of hypertension is when there is a hardening of the blood vessel. So the heart has to forcedly pump blood to pass the harden vessels. When the heart is doing do so, there will be palpitation; and one hears the beating of the heart. Normally, you don't hear the beating on the heart unless something is abnormal.

"If one is exercising, the blood pressure may normally rise up under that circumstance. The heart forcefully pumps blood through the tissues of the body, but after that you feel good.

"So palpitation is one of the signs of high blood pressure which does not follow normal exercise which after about 30 minutes, everything returns to normal. But if palpitation continues for a while, then, one needs to be concerned about it.

"It also has to do with headache and blurring of the tissues that affect the eyes. There are indicative of hypertension."
What then is hypertension?
Dr Ogundeji explained that "hypertension or high blood pressure, therefore, is the force that the blood exalts on the vessels through which blood passes.
"If the pressure is high – higher than what is normal, and the normal is 120/80, there is likely going to be a problem.

"Many factors can affect the reading. One of them especially is age or live style such as smoking or excessive alcohol etc.

"As for the blood pressure reading, the normal for the upper value (systolic) is between 100 – 120mm Hg; but for the individual, it can be up to 140 or 150 depending on age. Ordinarily, this could be regarded as abnormal. That is for the higher reading. The lower reading (diastolic) is normally 80. But if it is higher than 90, it is dangerous."
Explaining why hypertension is called a silent killer, he warned that "if attention is not paid to it, it can lead to disastrous outcomes."
Danger in not checking blood pressure status
He urged everyone to find out their blood pressure status regularly because "failure to measure it from time to time can easily cause a breakdown of the blood vessels. And if the blood vessel is broken down in very sensitive organs particularly the brain, it can lead to stroke.
"The blood being released to the tissues of the brain exalts pressure and once there is pressure on the brain, the functions that part of the brain carries out are obstructed and the area so affected might not be able to move."
Low blood pressure
Dr Ogundeji also drew attention to a sister condition called low blood pressure which he said is as dangerous as hypertension.
"Low blood pressure or hypotension is abnormally low blood pressure. This is dictated when the top value in the reading (systolic) is lower than 90 and the lower value (diastolic) is lower than 60 milimeters of mercury (mmHg).

"The symptoms are dizziness, fainting spell and blurred vision among others.

"Low blood pressure which can cause shock, from loss of blood, may be life threatening when the victim experiences lightheadedness, confusion, cold clammy pale skin etc. Here, the person will need immediate treatment."
How blood pressure is measured
He recalled that measuring the blood pressure can be done with an instrument called sphygmomanometer. There is no other way of dictating whether blood pressure is high or low without the use of sphygmomanometer. It measures the rate at which the heart beats.
SEE ALSO: Experts Raise Awareness On Low Blood Pressure, Causes, Consequences & Ways To Avoid Being Caught Unawares By The Alarming Upsurge
Why hypertension is rising
Dr Ogundeji said the high prevalence of hypertension nowadays could be attributed to a lot of factors. The expert said:
"There is unrest here and there. There is poverty, there is tension all over. Many people are hungry; many people are angry. There is ethnic tension here and there. Herdsmen are harassing people here and there. There is agitation going on from the left to the right.

Kidnapping is there too – many of these things are affecting people. People are just tensed up; people cannot relax. They cannot pay school fees for their children. Demand for many things is unusually exceeding the supply of the same things.

Things that make the mind to be at peace are disappearing. People are earning poorly; they work and their salaries are grossly insufficient to take care of their basic needs. Unemployment is very high. Many people are unemployed. Many people are highly qualified but unfortunately, they are not doing jobs that are commensurate to their training and academic attainment.

There is cheating and a lot of dishonesty in the community. People don't believe that they should work before they eat – there are Yahoo-Yahoo boys everywhere. They believe they should eat before they work – all sort of ridiculous mentality, irresponsible type of livelihood – people not living within their means. People are not contended with what they have."
How to avoid falling for hypertension
Here is Dr Ogundeji wise counsel for everyone who wants to stay safe. It is a recipe for the now. He said:
"People should note that there is a difference between asking God for what He can do for us and using what God has given them to operate within their limits."
First turning to the government said:
"They should help in every way possible to ensure that people enjoy their environment. Government should strive to provide the populace with basic utilities. There should be water supply; electricity should be available. Good roads should be available."
And to the people, he said:
"People need to be honest in their places of work. Where ever people are, let them do their best; people should not be trying to be like the people in Lagos when they are living in Ibadan or using themselves to compare to those who working in Port Harcourt or Abuja.

"People should be contended and work hard; if people do their best, God will provide for them and make a way as long as they lead a holy life."
Foods that keep hypertension at bay
Dr Ogundeji said good foods play a major role in starving off hypertension, and he was emphatic about it. Again listen to him:
"Simply, eat good food. Foods we eat are graded. Vegetable is just the best of foods. Anyone who can have enough fresh vegetable is sure to conquer hypertension.

"The average person should eat good meat – I mean meat which starts from the number of legs the animal has.

"Animals that have four legs provide us with the worst kind of food. Animals with two legs – chicken and birds – are good. Animals without legs – sea food are better.

"Now, we must try to embrace eating no animals at all – vegetables. They are the best everyone should think of eating."
And here he drops a shock:
"Longevity and peace of mind are often highest among people who are vegetarians.

"Places where they have longevity are where they eat vegetables only. That is where they have the longest lives and lower blood pressure. Next to them are those who eat fish. This is meat that has its source in animals that have no legs at all.

"Meat from chicken is better.

"It is only when you have no access to these foods that you can consider meat from four-legged animals. This is the principle that governs eating good food."

Exercise Regularly
Dr Ogundeji further noted that "the other attitude that gives good health and prevents hypertension is having a minimum of 30 minutes of exercise every day. Whether it is walking or anything, make sure it is up to 30 minutes every day."
He also added: "Don't drink too much of alcohol because it helps to spike up high blood pressure."
On the intake of salt he said "don't take much salt. Reduce salt intake considerably. Uncooked salt is bad for everyone. It is very important."
To kill hypertension, be happy, give happiness
"There is also this principle of live and living that is very important," Dr Ogundeji recalled.
"Try to be in harmony with people around you. Give love to people around you. Make sure that you smile; make sure that at least five people around you laugh every day.

Be conscious of it. Look for people to make happy every day. Make it a business. There is this unspeakable joy that comes to you by making people happy.

Be happy with people; create a laughing environment; create an atmosphere for happiness around you. Make sure that people around you are at peace; settle quarrels," adding "forgive people who have offended you."