Mercy Aigbe's Estranged Husband, Lanre Gentry, Blasts Her Over Father's Day Post | She Claps Back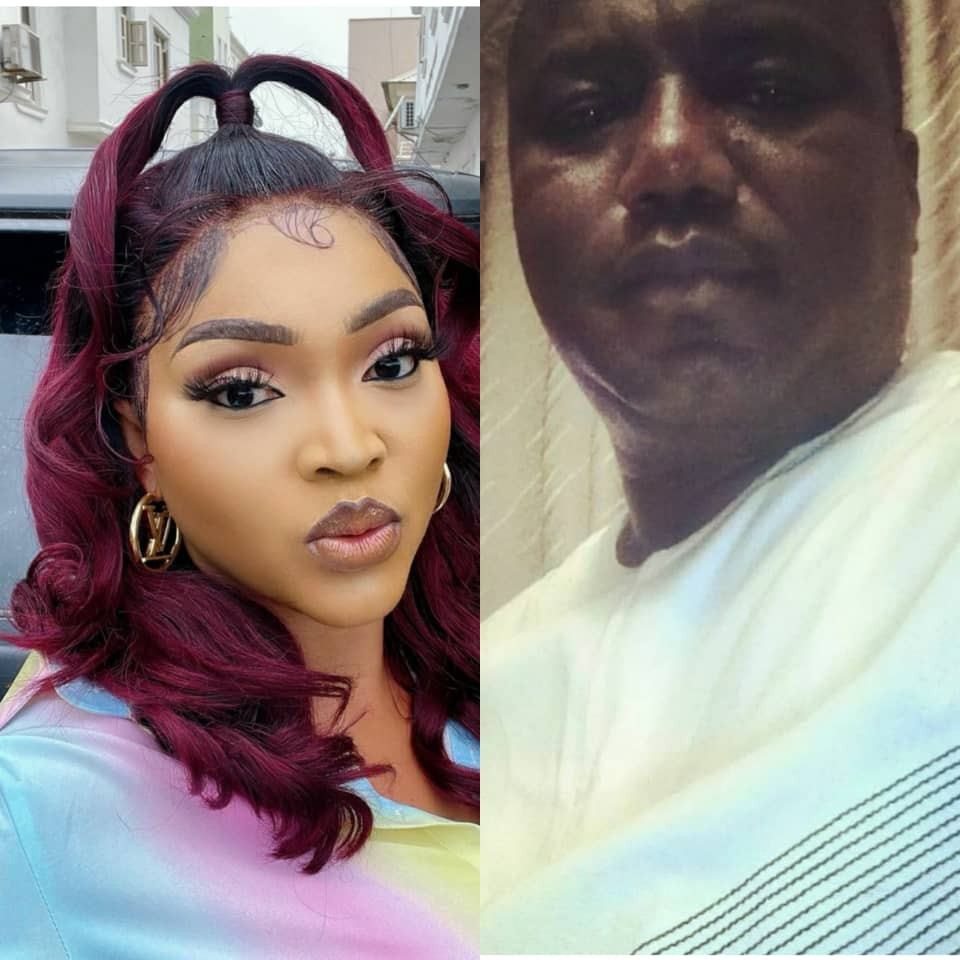 Lanre Gentry, the estranged husband to Nollywood actress Mercy Aigbe, has slammed the actress over her father's day message to herself.
Mercy, in her father's day post yesterday, 20th of June gave reasons why she deserves to be celebrated on father's day.
According to the mother-of-two, she plays the role of a father and mother in her children's lives, so she deserves to be celebrated because it has not been an easy task for her.
Speaking further, the 43-year-old fashionista said that she sponsors her children's education, adding that one is an international student and she pays her fees in dollars.
Taking to Instagram to day this, Mercy wrote;
"Happy Father's Day to me and all the responsible fathers out there! 2 Kids ( 1 international student) …. changing naira to dollars with this dollar rate! Abeg it's not easy! but God has been Gracious!

Please no one should come and tell me how I shouldn't take the shine off Fathers oh! Since I am playing the dual role in my children's lives, allow me celebrate myself every day! Cos it's not easy! May the Lord grant us long lives, in good health to enjoy the fruit of our labour."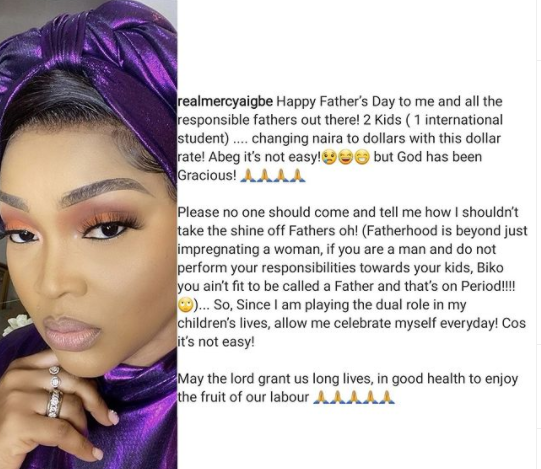 SEE ALSO: Celebrity Mum, Mercy Aigbe Reassures Her Newly Turned 18-Year-Old Daughter She Will Always Have Her Back
In response, Mr Gentry who shares a son with Mercy also shared a post on his Instagram page celebrating himself as a father while also throwing shade at her.
He said some women who celebrate themselves on father's day are not worthy of being called a housewife or mother by their children.
Pointing out some characteristics of a father, Gentry said fathers make their children happy. However, he cannot blame women who choose to assume the father's position in their children's lives, adding that such women are not from a good background.
According to Lanre, women who choose to celebrate themselves on father's day do not know what father's day is, but he's grateful to his parent for his upbringing.
He added that Mercy could pay school fees in dollars or yen, that it's nobody's business after all he had helped her in the past to pay the school fees of another man's daughter, that is, Mercy's first child.
He wrote:
"Happy father's day to all the father in the world may God be with you in the name of our Lord Jesus Christ amen.

Some women over they say happy father's day to themselves when they are not good to be mother or housewife to their children, but fathers always make them happy when there in the house, with there husband but you can't blame them they have no good background, they don't have there parents that is why they don't know what father day is.

I thank God for my parents, thank you my father and mother for staying together to make me what I am to happy father's day to ones again. I'm a father to all my children I pray for all fathers in the name of our lord Jesus Christ amen.

If you like take your children to moon it is nobody's business, If you like pay in yen or dollars it is nobody's palaba. I have helped you to pay another man daughter school fees before so I don't care about anything anyone will say to me. I have expressed my mind in my own way."
ALSO SEE: Celebrity Single Moms & Dads (Mercy Aigbe, Tonto Dikeh, Emeka Ike) Shade Their Partners as They Mark Father's Day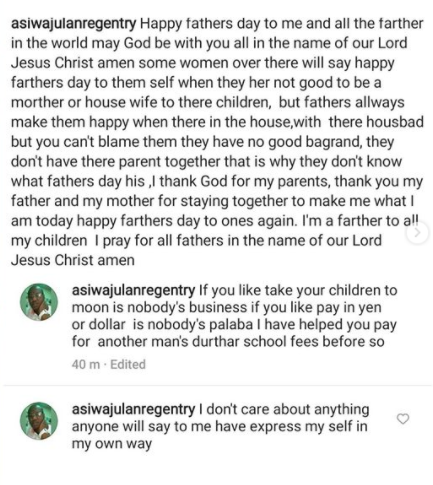 In reaction, Mercy called him out and tagging him a shameless and useless father. She wrote:
"Mr Lanre Gentry you better stop with the stupid lies! You better don't just infuriate me! Lara Gentry call your useless father to order oh!!!! Cos really I have had enough of his nonsense!!!!!

And the most irresponsible father award goes to my Ex! This shameless man who instead of him to cover his face in shame, will rather come online to post rubbish!

I normally ignore you when you respond to my Father's Day post! But you see this one! Bring it on!!!! I am ready! Alailojuti."
ALSO SEE: See What Mercy Aigbe's Ex Husband, Lanre Gentry Is Saying About Bad Wives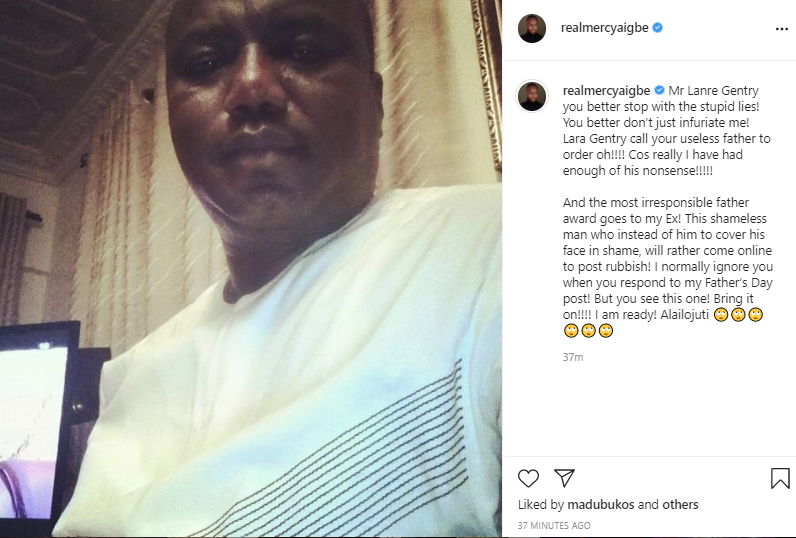 Mercy and Gentry have been at each other's throat since their messy separation in 2017. Sometimes ago, Mercy marked her divorce anniversary after the marriage crashed over alleged domestic violence and physical abuse.