Despite The Odds Her Dad Stacked Against Her As A Girl-child, Eucharia Anunobi Inspires With Her Incredible Success Story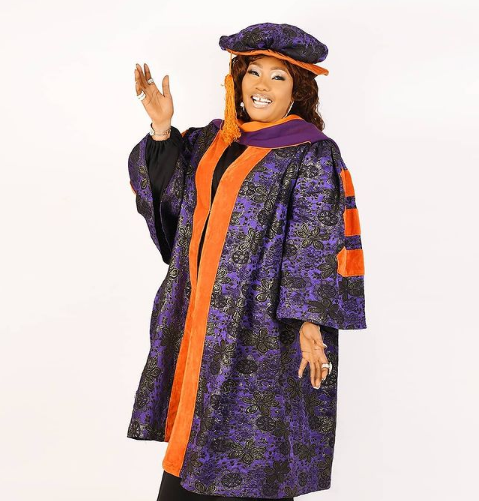 Veteran Nollywood actress, Eucharia Anunobi took a trip down memory lane as she recounted how her rich father refused to send her to school just because she was a girl child.
Using her life experience to encourage other dreamers, Eucharia who lost her only child, Raymond in 2017 said her rich father decided not to bother himself with training her anymore after she completed high school all because he felt having a girl child was useless.
According to Eucharia, her father was ready to train her brothers up to any level of education they want to attain but not her because he felt she was useless and won't carry his name anywhere hence he wasn't ready to spend on her.
But she struggled all by herself and became a model, famous beauty queen, a famous superstar actress, and now a preacher who recently bagged a Ph.D. in Christian Education and Ministerial Arts.
Eucharia says today she has become that child who has engraved her father's name all over the world. She then went further to encourage those who are still in doubt about God's grace to take her as an example and know that God can change one's destiny in a twinkle of an eye, as he's the rule breaker and doesn't need anyone's permission to bless someone.
"If you are still in doubt about God's grace , read the caption below ?

Am still in awe of God. He changes destinies in a twinkling of an eye ❗He is the rule breaker ‼️ He doesn't need any one's permission to bless someone ‼️❗Just look at the girl, whose rich father refused to train after high school, that he had no need for a girl child.

That the female gender is useless to him and can't carry his name any where. That he rather concentrate and train the male children to any level of education that they desire. And this girl child struggled all by herself, and is a model, a former beauty Queen, a famous super star actress, a preacher.

AND NOW THAT GIRL CHILD IS A PH.D HOLDER IN CHRISTIAN EDUCATION AND MINISTERIAL ARTS . AND SHE HAS ENGRAVED HER FATHER'S NAME ON THE MAP OF THE WORLD AND STILL CARVING IT AND WILL KEEP CARVING IT UNTIL THE RETURN OF JESUS CHRIST ‼️❗‼️❗❗

I AM THAT GIRL CHILD AND MY NAME IS APOSTLE DR EUCHARIA AKUWA ANUNOBI ‼️
Celebrate God on my behalf ?."
ALSO SEE: "If I could finish my exams while burying my son, you can"- Eucharia Anunobi Inspires as She Graduates from School
She wrote in another post:
"Emotions will make you wish ❗
But Emotions don't bring success.
The popular saying goes thus : " If wishes were horses , beggars will ride " .
IT'S ONLY A DISCIPLINED RESOLVE ROOTED IN OBEDIENCE THAT GETS SUCCESS ‼️
Joshua 1 : 7 .
Help me thank God Almighty for this feat He made possible all by Himself.
With all humility , l am officially the first full fledged Nollywood famous , super star actress , who is a model and also a preacher , former beauty Queen to have an academic doctorate degree : PH.D in CHRISTIAN EDUCATION AND MINISTERIAL ARTS .
I AM APOSTLE DR EUCHARIA AKUWA ANUNOBI ‼️‼️‼️"

The world criticises two categories of people ; the total failure ( they call them ' Good for nothing ' ) and prominently successful ( they gossip ,snigger and often say : I wonder what he or she did to get that . And If you are lost in the crowd , they ignore you …phew , and that is horrific ‼️
CHOOSE TO BE PROMINENTLY SUCCESSFUL ‼️
1 CORINTHIANS 12 : 31 .
Rejoice with me ‼️ Thank God for me on this feat of bagging my pH.D in Christian Education and Ministerial Arts from Kingdom Life Bible College, Lagos State , Nigeria.
Address me now as : Apostle Dr Eucharia Akuwa Anunobi."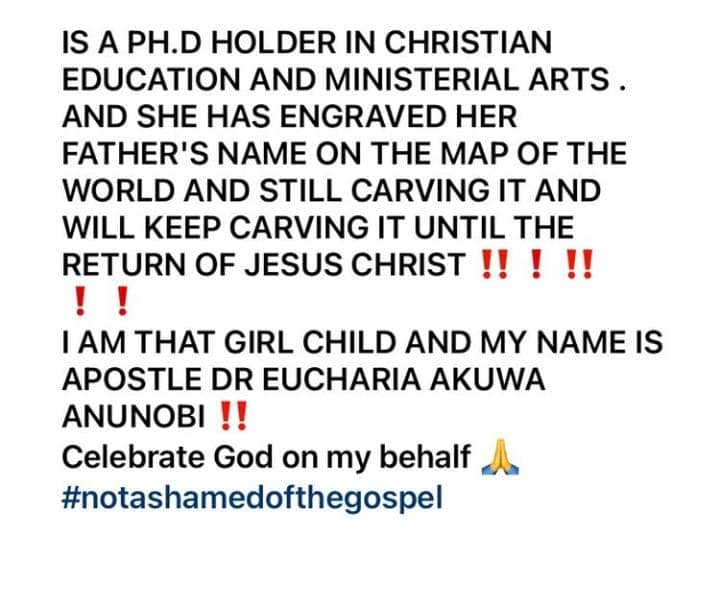 Congratulations Apostle Dr Eucharia Akuwa Anunobi!