'I Was Born Normal But…'- Osita Iheme 'Pawpaw' Tells His Touching Life Story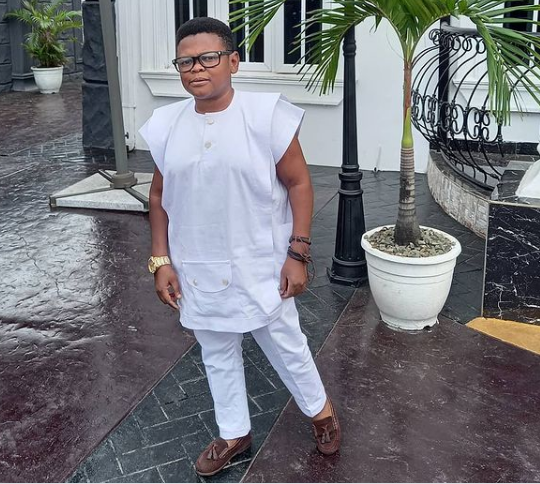 Nollywood star, Osita Iheme popularly known as 'Pawpaw' has hit social media to tell a story about his life.
The versatile Nigerian star stated as far as he knows, he was born as a normal child until he stopped growing. He said he was born in the early 1980s and celebrates his birthday every 20th of February.
In a long tweet on Twitter, Pawpaw continued that he can't really tell when he stopped growing but he just grew up to see himself as he is. According to Pawpaw who lost his father at an early age, under mysterious circumstances, he can't question God about his stature but assured himself that he will keep working hard to become somebody in life.
Read the full post below…
"I was born normal but then stopped growing. I was born in the early 80s. I mark my birth every 20th of February. I was a normal baby when I was born. I can't say that this was when I stopped growing but I just grew up to find myself like this.

I can't question God but I keep working hard to become somebody in life. I lost my father at an early age under mysterious circumstances. With my Daddy I know my academic ambitions would have been realised up to PhD level and so many other things I wanted to do if he were alive today. It really saddens my heart though.

Recalling the sad event leading to the untimely death of my dear father, I was very young then. I can't really say much about him because I was still a baby when he passed on.
READ ALSO: 'There is no Miss Right anywhere,' Single Nollywood Actor, Osita Iheme Says
From what I learnt, he was a trader who travels a lot and was into merchandising. He made sure that his children were well brought up. He raised us with a good moral upbringing and the fear of God. He was that kind of father. He was a tall man.

I just grew up to find myself like this. I just found myself like this and I can't question God but I keep working hard to become somebody in life. Definitely my mother must have been worried about my growth but what can she do? It has happened and she had to accept the situation the way it was.

We are five children in the family including a girl and four boys. I am the last born. Two of my siblings are based in Europe, while the other two are importers. The only lady is working with an oil company.

Raised in Aba: My mother was very hardworking and determined. When I lost my father, she raised us alone. She single-handedly took care of everybody like a man would. She did everything to make sure that I become something in life and I thank God today that she is not disappointed.

She is dedicated and hardworking. We were young when our father left us but she ensured that we didn't feel his absence so much. She was just a trader. My childhood was rough. Like I said earlier, I lost my dad at a young age.

The kind of environment where I grew up, kids were expected to be up and doing and become survivors. Being streetwise in Aba prepared me for a great life ahead. The kind of orientation I got from that phase of my life taught me that even when there is no job employment, there are a lot of things one can lay one's hand on and touch good money at the end of the day.

If I can survive in Aba, then I can survive anywhere else. I schooled in Aba at College Primary School and National High School. I am currently in year one studying Computer Science at the University of Lagos (UNILAG).
ALSO SEE: Gospel Singer, Frank Edwards Shares Inspiring Grass to Grace Life Story
I am in school now because if I had gotten the backing I wanted as a kid, I would have pursued my education up to the level of Ph.D. I was supposed to study Law; it is one course of study I love so much. Of course, I have played the role of a Lawyer in Criminal Law."