Actor, Sam Nnabuike Makes A Case For Single Igbo Women, As He Cautions Igbo Mothers Against This Selfish Act!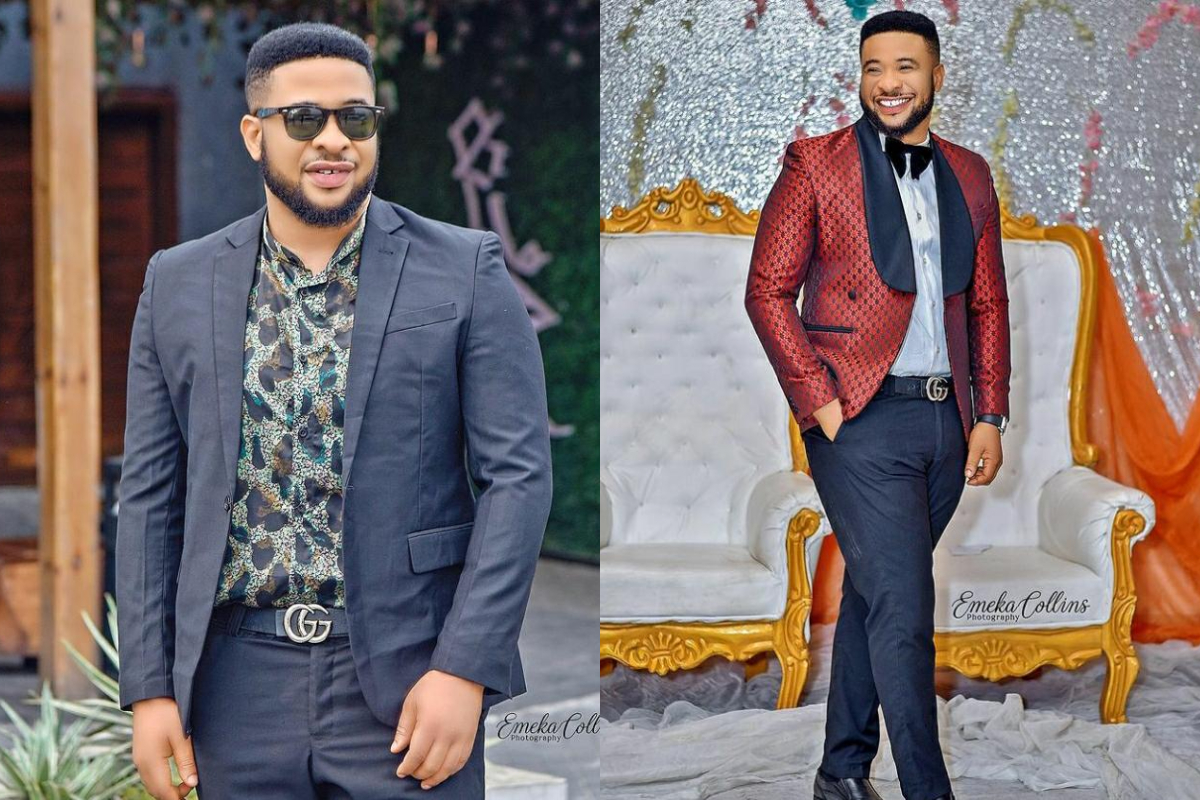 Nollywood actor, Sam Nnabuike has urged Nigerian parents especially those from the Igbo tribe to desist from telling their daughters to bring home wealthy suitors.
Sam pointed out on his Instagram story that in most Igbo homes, mothers sternly push the narratives and are too keen on the specification of who their daughters are allowed to date or bring home as suitors.
According to him, most Igbo mothers will daily echo in their daughter's ears to bring prospective husbands who are heavily loaded in the pocket but will not show concern in investigating the source of the man's wealth.
Sam went further to opine that a critical and holistic approach has to be taken to educate the Igbo girl child, however, his post is in no way an attempt to discredit the millions of many hard-working and illustrious Igbo women in Nigeria and other parts of the world.
READ ALSO: 'African parents sell their daughters as if they are prostitutes'- Man Slams the Bridal Price Traditional Practice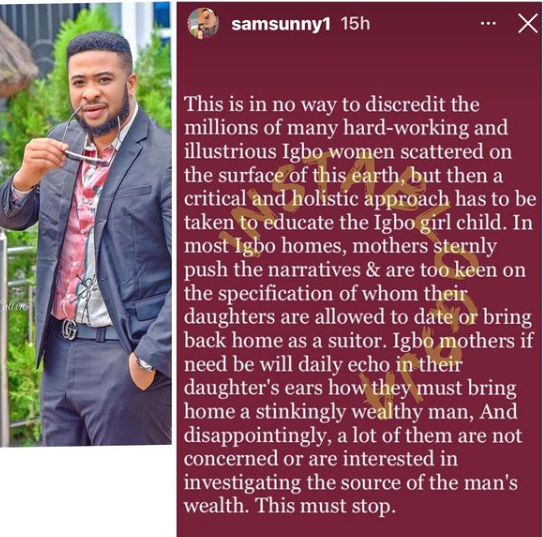 SEE ALSO: New Wife Calls Out Igbo Fathers Over Huge Cost of Bride Price
Reacting to his post,
@topman_tech wrote;
Exactly. Until this is being practiced then maybe we will have less failed marriages.
@iam_answer wrote;
Then they'll grow up shouting standards here and there, don't settle for less mantra! Go and make your own money werey.
@official_mfon wrote;
Before you get triggered and attack him. READ THIS AND DIGEST IT.
@joewhite4u wrote;
It's not only Igbo my broda. Parent Generally with poverty mindset, indulge in this act
@kemulch wrote;
@samsunny1 That this may be true about your mother does NOT make it true for the rest of Igbo mothers. Just talk about your mum and keep it shut!
@trojan_ho6 wrote;
In other words, stop using your daughters as poverty alleviation scheme