Chidinma Ojukwu Narrates How She Gruesomely Murdered Lover, Super TV CEO, Usifo Ataga | WATCH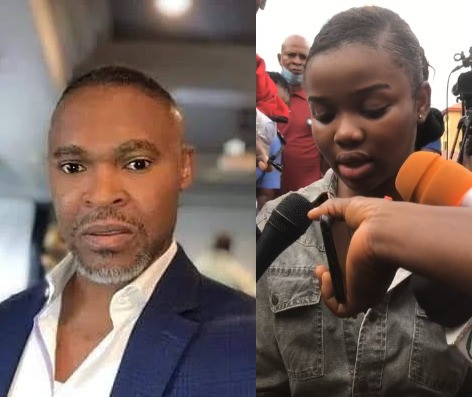 Chidinma Adaora Ojukwu, the 300L student of University of Lagos, UNILAG who was arrested for killing Super TV Chief Executive Officer, Michael Usifo Ataga, has narrated how she carried out the evil act.
In a very recent interview with an NTA News correspondent, Chidinma revealed that they met at a party through Usifo's friend who was dating her friend.
According to her, it was also the first time they slept together. Chidinma who disclosed that they were both high when they got into a fight at the shortlet apartment they lodged, said she tied his hands while he was sleeping and stabbed him repeatedly before stealing his money "which was what she wanted".
She also disclosed that she fled with some of his items. In fact, she stated that she took everything including his driver's license because she felt there will be a manhunt for her.
When asked why she never asked Usifo for money before stealing and also killing him, she said he had never agreed to give her money. Chidinma also said there was no agreement on the amount he will pay her after they had sex.
READ ALSO: 'She Started Smoking At 11' -Mother, Siblings Reveal More Facts About The True Identity Of Chidinma Ojukwu, Killer Of Super TV CEO
In her words:
"I tied his hands and at that time, he was sleeping. I tied his hands so that by the time he wakes up, he will be able to give want I want and I will go. When we were fighting, the knife was at the back and I was leaning at the cabinet and that was when I stabbed him."
Watch the video HERE…
Also according to a preliminary police report, the 21-year student booked the short-let apartment in Lekki where the incident happened using a fake name, Jewel.
The report also indicated that several calls placed to a phone number with which Chidinma booked didn't go through after Ataga's body was discovered in the room on Wednesday, June 16.
The incident was said to have been reported to the police by the operator of the facility, Mrs Nkechi Mogbo.
READ ALSO: 'This is her modus operandi' –More Troubles Looms For 21-Year-Old Killer Of Super TV CEO As More Alarming Revelations Emerge
The report in part reads:
"Mogbo reported that around 3pm of June 16, 2021, she received a call from her security guard on Adebowale Oshin Street, Lekki Phase I where she has one flat being used as a short let apartment.

She further stated that the security man informed her that one Jewel with a foreign phone number who rented the apartment invited one Usifo Ataga to the apartment yesterday (June 15) and that about  1pm of June 16 when the cleaner wanted to clean the room, he discovered that the door had been broken.

When she (the cleaner) peeped into the room, she discovered that the said Ataga was lying in a pool of blood. All calls put across to the said Jewel to come back to the apartment proved abortive."