'I Was Shocked Falling In Love With An Actress' -Actor And Dad, Ibrahim Suleiman On Life, Marriage, Fatherhood And More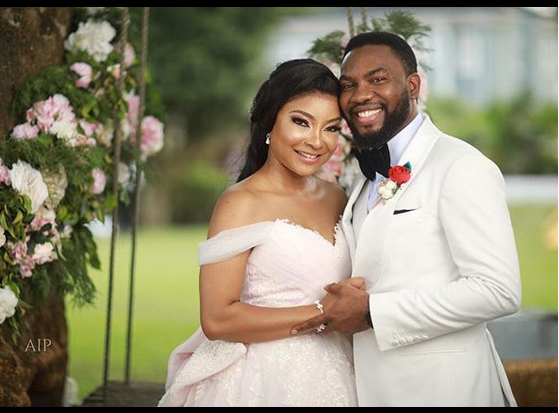 Popular Nigerian movie star, Ibrahim Suleiman, has shared about his background, marital life with actress wife, Linda Ejiofor, fatherhood, career and other issues.
In the chat with PUNCH, the dad-of-one talked about how shocked he was when he realised he had fallen in love with a fellow actor. According to him, he was fond of her but he never saw it coming.
In a post three years ago, Linda who recently marked their son's first birthday, acknowledged that they started out as friends, but the loss of Ibrahim's mom brought them closer with her being his 'knight in shining armour' at the time.
Shockingly, they got wedded 6-weeks after Ibrahim's marriage proposal.
What was growing up like for you?
I was born in Kaduna State. I am the oldest of three children and we were raised by our mum. We had a pretty decent life. She (mum) was a civil servant but kept two jobs (sometimes three) to make sure we had all we needed. Yes, we did but without some things we wanted nevertheless our needs were always met.
I studied Architecture at the Ahmadu Bello University Zaria, Kaduna State, but the most important education I got was from my mother, on how to be humane. She taught me empathy, dignity in labour, family values, honour, decency and faith in God.
What event in your formative years shaped your path in life?
That would be watching my mother raise three children on her own without sacrificing her values. Regardless of the consequences, she always strove to do what was right, and she put others first every time.
What is it like being married to a colleague in the entertainment industry?
(Laughs). We do have a lot of fun together. Because we are both in the industry, it is easier to motivate and support each other. We are each other's biggest fans. And, she is my acting coach. I can't wait for her to start directing. I believe she would make an excellent director.
What were the qualities that endeared you to your wife?
Her dedication to family, her unshakeable loyalty to the people she loves, her unrelenting trust in God, her lack of covetousness, her strong moral compass, and her sense of humour. And, have you looked at her? She is breathtaking!
You and your wife are in the limelight. What peculiar challenges does that pose to your marriage?
I think because of how down to earth we both are, being in the public view has not really affected our marriage. We are public figures in public, but as soon as we get home and wash our hands, we are simply two people who choose each other every day.
READ ALSO: Newly Wedded Linda Ejiofor Tells How It All Began | Photos
Did you ever think you would be married to an actress?
Never! It was such a shock to me when I realised I had fallen in love with her. I always was fond of her but I still did not see it coming.
Was there any cultural friction between your families when you decided to get married?
There was none whatsoever. I am from Auchi in Edo State and her family is from Abia. But, her parents grew up in northern Nigeria, so they speak even more fluent Hausa than I do. My first conversation with my father-in-law was in Hausa. From the beginning, we have been a big happy multicultural family.
Since the arrival of your baby, what has fatherhood been like for you?
It has been the best and most intense experience of my life. It is everything I hoped for, and then a lot more.
How has being a parent made you appreciate your parents more?
Becoming a parent makes me miss my mother more than usual. Now, there are things I want to hug her and thank her for teaching me.
Some people can give anything for fame. What are the things you would never do in the pursuit of fame?
That is a long list. But in a nutshell, if it does not feel right, it definitely isn't right and I'm avoiding it.
How much do you contribute to doing house chores?
When it was just me and my wife, we did everything together. We cooked, cleaned, did laundry and washed the cars. We bonded over everything. But now that we have domestic staff, there is a less housework to do, so I focus on playing with our son and watching him and his mum trying to 'out-cute' each other.
How do you unwind?
I paint (create art). I also watch a show with my wife. We used to spontaneously sneak out of the country for a few days before COVID-19 ruined things.
If you had all the ingredients you wanted, what meal would you cook without a fault?
I think it would be jollof rice, fried plantain and chicken. My yam and egg sauce also taste good.
What's the toughest role you have ever played?
That would be 'Anayo Dike' on AccelerateTV's web series, The Olive. I play a widowed man in his forties who has three teenage children and has lost his biggest client. To look and feel older, I had to gain six kilogrammes for the role and had to learn to walk and talk a little slower. It was tough but invigorating at the same time.
What are your most memorable moments in the industry so far?
That would be when I appeared in the movie, Up North, which was my first cinema feature. Also when I appeared on the television series, Tinsel, where I got to learn from my colleagues.
Have you had any regrets taking a particular role?
Of course, everybody has had at least one of those.
If you were not an actor, do you think being an architect or dancer would have got you the success you are enjoying now?
Yes, definitely. Success is measured in different ways. As an established architect, I would be earning more, per project. But would I be seen every weekday by millions of households in sub-Saharan Africa? No!
What are some of the things you have had to give up for your acting career?
A lot of sleep. People think we are just playing around but film-making is a lot of work. I cannot remember the last time I slept for up to six hours in a night.
Celebrities are looked at with 'magnifying lens' by the public. Are there times you wish for privacy or do you enjoy the attention?
My wife and I are very private people. We only share what we are comfortable sharing. But because we do not have much to hide anyway, we don't stress it.
Celebrities are sometimes held to a lofty standard. How do you manage the pressure and expectation that comes with the job?
I was raised to always do what is within my means. The only pressure I feel is from within. Whatever I cannot internalise, I do not bother with.
Peer pressure never got to me as a child, so it is not supposed to affect me in my thirties.
In your line of work, everyone has an opinion. How much criticism do you have to deal with over the roles you act?
A fair share and I understand it. Art is subjective. If people do not have an opinion on one's work, what is the point? One creates art so people who consume it feel something. If they don't feel enough to react, one has to rethink one's creative choices.
Where do these criticisms come from and how do you handle them?
They come from the people who consume the projects I am part of. And, I always try to understand that not every critical opinion is negative.
Whenever there are social or political issues going on, people believe entertainers should be vocal about them. What are your thoughts on that?
I am very vocal but one of my closest friends (a civil engineer) isn't. We are all affected by the same issues but not everybody is interested in social commentary.
They prefer to be active behind the scenes. People are on social media for different reasons, and we should respect their choices. Let's focus our energy on amplifying the voices of those who decide to speak up, instead of hunting down those who have not.
Do you think fans expect too much from celebrities?
Sometimes, yes. We forget that celebrities are regular people with hopes, dreams, fears, challenges and struggles. That their source of livelihood puts them in the public eye should not dehumanise them. They deserve empathy too. I have experienced some really uncomfortable incidents myself and I learnt one or two valuable lessons from them.
Some people have complained that Nigerian movies often have predictable storylines. What's your response to that?
Sometimes, the safe route is to make films that are similar to films that Nigerians have celebrated. And over the years, this formula has almost always worked. Nigerians love 'dramedy' (a fusion of drama and comedy) romcoms (fusion of romance and comedy).
Nigerians like to laugh a lot. But, we also like to complain a lot too. So, we will complain, but we will still watch those films over the crime thriller, a gritty indie film, or the one that addresses a social ill. If we support projects that are different, more filmmakers will see it as less risky.
What would you say is the single greatest investment you have made that has brought you this far in life?
I have invested a healthy amount of time in learning as much about as many different things as possible over the years. It has broadened my palette as a human being and given me more creative raw material to draw from.
In what ways have you been using your popularity to effect change in the lives of youths?
I try to be as approachable as possible. That way, I can share tips, experience and other things with the younger people I meet. I also volunteer at a couple of youth skill acquisition organisations as a mentor. It is fun and I learn a lot from the young people we work with.
Some celebrities rely on scandals to stay relevant in the industry, while some find themselves in it. How have you managed to stay off controversies?
I honestly don't know. I am not sure it is a conscious decision. Life happens and some people are lucky to be surrounded by people who have their backs, so their shortcomings are not made public. And if scandal keeps the numbers up for some people, more power to their elbows.
Source: Sunday PUNCH