'How Can You Cut Vegetables For A Woman You Married With Your Money?' -Nigerian Man Fumes | Married Men React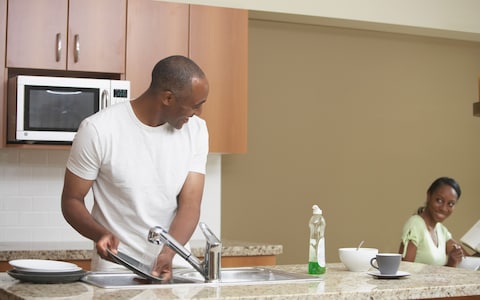 A Nigerian man has taken to social media to vent his spleen at married men who help their wives in the kitchen.
The man identified as Gentle Smile expressed anger over how some married men join their wives in the kitchen to cut vegetables and help them in cooking food after using their hard earned money to marry them.
According to the man in a post on his Facebook page, that move by men who do that is irritating and he described married men who do that as terrible.
See his post below;
"Some married men are terrible, how can you be cutting vegetables for a woman you married with your own money, please it is irritating."
READ ALSO: Activist, Aisha Yesufu Talks About How Her Husband's Support Helped Their Marriage Thrive Despite Her Dislike For Chores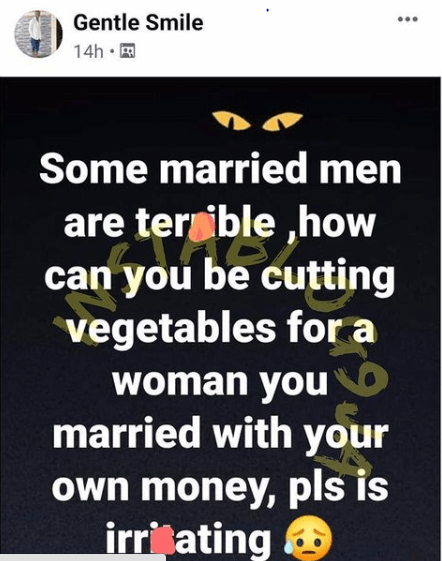 Social media uses slammed him as most alluded and insisted on helping their wives to cook, pointing to the fact that couples are supposed to support and help each other.
ALSO SEE: Expert: Why We Should Encourage Our Men To Help With Household Chores
@flipbit21 wrote;
I cook for my wife, wash, go to market, pay the bills. It is my marriage, my home. People should learn to treat their home special.
Actor, jnrpope wrote
I Have Never Seen A More STUPID statement……… Shame Shame shame ……….SHAME
@thriftshoes_by_yvonne wrote;
Ahhhhh sorry Oga no vex. Next time they'll put the vegetables like that inside the soup without cutting. Sorry sir
@ypd_sugarboy wrote;
I'm learning how to cook now, its for my future wife and kids with the money… They deserve everything
READ ALSO: Want To Get Your Spouse To Do Household Chores? Avoid These Two Words According To A Family Therapist 
@pearllieboy wrote;
Lmao. But a man is a god, why should he bring himself that low? He shouldn't also eat, gods don't eat. Werey.