"You Will Not Look Like Me At 57 Years" – Journalist, Kemi Olunloyo's Thoughtful Message To Young Women Is Laudable On All Fronts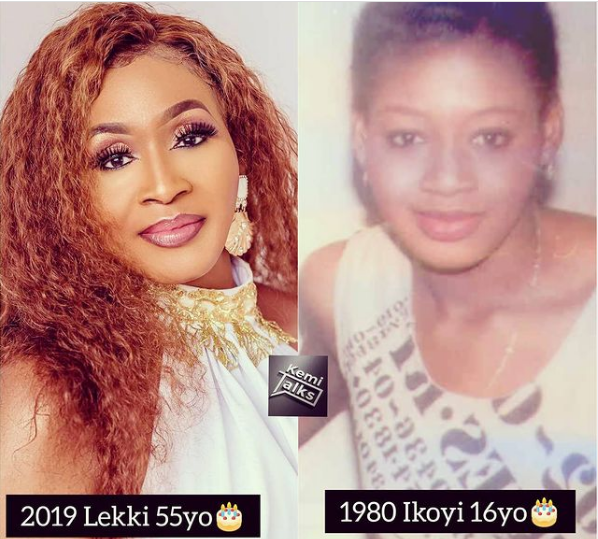 Being well aware of skin aging triggers is definitely getting you closer and closer to the perfect health, however, there exists a few unhealthy lifestyles that might be holding you back from achieving the epitome of youthful skin.
In a recent Instagram post, controversial media personality, Kemi Olunloyo went down memory lane to recall a time in her life as she shared a throwback photo that has now got many Nigerians gushing online.
The investigative journalist shared a lovely photo from 2019 and compared it with the one she took in 1980.
The one from the 80s showed a young and beautiful Kemi rocking a low-cut. According to her, she was able to maintain her beauty because she lived healthily.
Kemi warned young women, especially those living in Ikoyi and Lekki from wasting their lives with unhealthy habits. She noted that only healthy living can make them look like her at old age.
Th single mum-of-two asserted that ladies smoking weed, Shisha, sniffing cocaine, selling their private parts are not going to look the way she looks at her present age.
She bragged that she is looking healthy and young even at 56 but her fellow young girls are not going to have the same look when they are in her age.
READ ALSO: 10 Unhealthy Lifestyle Choices That Can Make You Age Faster | Daniel Oyelami's Story
Her post reads:
"Toyin….@tiannahsplacempire pardon me love. Can I just warn all the Slay queens in Ikoyi and Lekki smoking everything from Shisha to weed, drinking heavily, snorting cocaine and pussy trading #chidinmasyndrome : YOU WILL NOT LOOK LIKE ME AT 55YO‼️? I will be 57yo in 3 weeks‼️?
.
.
It's not about make up and wigs or a doctorate degree in Pharmacy. It's about living healthy throughout your lifetime. For those famous people who happened to be at my #sweetsixteenparty hope you remember that day August 6th 1980?
.
.
@ruthosime @nikeadeyemi @bukolasaraki

Say no to substance abuse in every form young ladies. @ndlea_nigeria I'm calling you soon. We gotta work‼️"
SEE ALSO: "Don't Get Pregnant On A Promise" -Journalist, Kemi Olunloyo Warns As She Recounts How She Got Pregnant At Age 23 

Sweet reactions from fans
honeybelle85: "You are such a beautiful woman."
drhenryofabuja: "Facts only. Health is wealth."
royalty_resalehub: "Wow!!! Ma, don't know what to say! You just look fantabulous! Your advice is coming right on time."
olori_tennys: "Were all the men in your time blind?? Excuse my French..but you are truly a queen ma.. you deserve much than you got from life.. o ye olorun.. but to be honest you are dangerously beautiful ma."