Single Mum By Choice: Why These Women Say There's Benefits To Having A Child Solo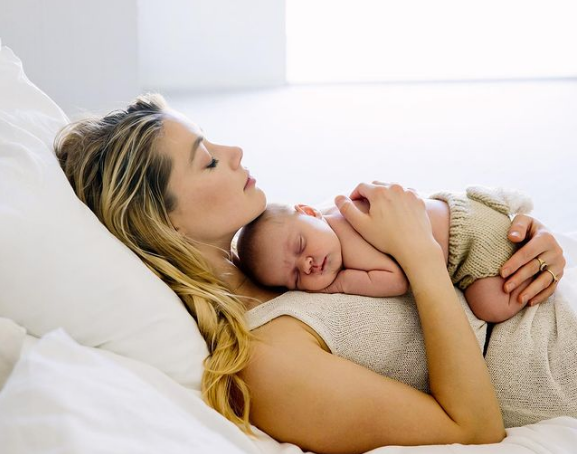 Two weeks ago, Hollywood star, Amber Heard surprised fans with an announcement: She had quietly welcomed her first child, a daughter named Oonagh, three months earlier.
More surprisingly was the fact that Heard, who was previously married to actor, Johnny Depp, declared that Oonagh was hers alone —meaning she had no partner, romantic or otherwise, in the parenthood process.
In the caption of an Instagram post featuring Heard holding her little one, the actress wrote,
"I'm so excited to share this news with you. Four years ago, I decided I wanted to have a child. I wanted to do it on my own terms.

I now appreciate how radical it is for us as women to think about one of the most fundamental parts of our destinies in this way. I hope we arrive at a point in which it's normalized to not want a ring in order to have a crib.

A part of me wants to uphold that my private life is none of anyone's business. I also get that the nature of my job compels me to take control of this. My daughter was born on April 8, 2021. Her name is Oonagh Paige Heard. She's the beginning of the rest of my life."
Heard is hardly the only person to make the choice to begin a motherhood journey solo. For a lot of women, the experience is ideal — and all about carving their own path to parenthood.
In 1981, New York City-based psychotherapist, Jane Mattes founded the group Single Mothers by Choice in order to support such parents. The group coined the term as a way to explain women who decide to become a mother, knowing that they will be the sole parent of their child, at least initially.
Mattes started the organization after she chose to become a parent at 36. While her son's biological father wished her luck and said she would make a "great mom," he didn't want to be a dad. Mattes, however, was excited by the prospect of raising a child. Mattes tells Yahoo Life:
"I was really enjoying being a mom, and I knew at my age, especially back then, if I hadn't had him when I had him, my chances of becoming a mom were limited. I had to meet the right person and try to get pregnant. I thought this was an amazing miracle and I was lucky to have this option."
When Mattes founded the group, there were only five or so members. Now, there are more than 30,000 women who have joined the organization, many of whom are already single mothers or are considering the option.
"Women are coming in at a younger age, like 29, 30, as opposed to 35, 36," Mattes explains.
"We're also seeing people coming in later, at 45, 48, thinking that maybe it's not too late. In some cases, it's now a little bit easier. People now know what 'single mother by choice' means. Back then, people didn't know what that was."
Mattes says the women were initially met with much pearl-clutching, with some people suggesting that sons raised by single mothers would end up on drugs or in prison. Others declared any daughters would grow up "promiscuous." And the mothers were met with skepticism as well.
SEE ALSO: Childless By Choice And By Circumstance: These Three Women Speak On Being A Woman Even Without Children
"I was always asked why we hate men, which we didn't," she says of the early days of the organization.
"We were asked how we could possibly raise a child without a father in the home. Well, I'm a psychotherapist, and I know that people with two parents aren't guaranteed great mental health."
While there are fewer stigmas surrounding single mothers today, becoming a solo mom by choice leaves plenty to consider.
Yet in 2021, it's also an example of how women have more options than the (still more common) path of coupling up with another person and having a child together.
Though there are many ways to form a family that don't involve men at all — including having a child within a same-sex relationship — the women Yahoo Lifestyle spoke to for this article made the choice between waiting to have a biological child with a male partner, or having a baby solo.
For Rachel Russo, a matchmaker based in New York City, becoming a single mom by choice — she is currently pregnant with her first child, through sperm donation and IVF — was about not rushing into the wrong relationship. She said:
"When I was 35, my relationship ended because my then-boyfriend 'changed his mind' about wanting to have [more] children.

After our breakup, I tried dating but realized my timeline for having babies was way different than that of most men I was meeting.

As a professional matchmaker and dating coach in the NYC area, I was painfully aware of the many attractive, successful, single women in their late 30s and 40s who wanted kids but couldn't find the right guy.

I decided I didn't want to become one of them, and that I was no longer willing to wait for a man to decide he wanted to marry me and have children."
Writer Alyssa Shelasky says she had no interest in weeding through the dating pool in order to find a "stable" and suitable partner. Dating someone who didn't excite her solely so he could become a father to the child she wanted to felt like the wrong move.
"I did for a minute think I could fall for a nice, responsible man who wanted to start a family, but I just couldn't date for the sake of finding a 'baby daddy,'" she explains.
"I went on a date with two guys who would be perfect father material, but I was like, 'This sucks. This is not who I am.' So I put dating on hold in order to focus entirely on becoming a mom [alone.]"
She used intrauterine insemination (IUIS) and sperm donation to become pregnant with her daughter Hazel, now five. She says:
"I was so empowered by it all. I felt so, so grateful that I could get pregnant, and stay pregnant rather easily. It was a glorious time in my life."
There is a unique benefit of single parenthood: There is only one person to make decisions about what's best for their child, which also means there is no potential for conflict between two parents, whether romantically involved or not. As Mattes puts it,
"You don't have to deal with someone else who may not have the same point of view. Sometimes couples don't realize until they are parents that they have different ideas about parenting, and that's a big stress on marriages."
Adds Shelasky,
"I loved doing it my way. I breastfed her for seven months, I didn't have to clear that with anyone — I quit when I wanted to quit. She slept in my own bed. I really felt like 'I am her mother.' I am a competent woman, and I enjoyed taking it on myself. I didn't want to share those decisions with someone else."
Yet single motherhood by choice comes with challenges. For Russo, who attempted three rounds of IUIS without IVF treatments that failed, it was a struggle to decide how she wanted to become pregnant.
Having autonomy over the situation (a perk of the whole process) didn't always match up with the financial realities. Russo says:
"Co-parenting with a guy who wanted to have a baby, but not a romantic relationship, was one option I considered.

I knew the founder of a company called Modamily who matches platonic co-parents, and I started to explore that option.

I considered a couple guys I knew who actually offered to be a sperm donor, but, unfortunately, they just wanted to sleep with me and have no involvement with the child. What was the point? And what if they changed their mind? I didn't want to be in court fighting for custody of my child."
Russo chose to get pregnant via IVF. She spent $50,000 to conceive. Though becoming a single mother by choice is about carving out one's own path to parenthood, the women I spoke to credited their support network with allowing the situation to become a reality.
"Since I went public on social media, the support and encouragement has been so positive and beautiful," says Russo.
"I have high school friends that I haven't seen in almost two decades reaching out to congratulate me and tell me they are so proud of me and acquaintances asking if they could buy something on my registry.

I have random women direct messaging me on Instagram telling me that I am an inspiration and asking for advice about solo motherhood. I feel supported and like my baby is already so loved."
SEE ALSO: Journey To Motherhood: Why One Woman, Deirdre Diener Decided To Be A Single Mom By Choice
For many, a network provides more than just emotional support, but also options for childcare — a serious expense for many working moms.
"I have the most supportive family in the world," Shelasky explains.
"They're very modern, they're very liberal, and we're very close both emotionally and physically — my parents literally live in my apartment building.

So I didn't have that anxiety of being alone with a capital A that a lot of women have to come to terms with. I had a big, beautiful, all hands on deck village from the minute I said 'I'm having a baby on my own.' I had more than 100 husbands at the end of the day."
While single motherhood is hardly as novel as it was when Mattes founded Single Mothers by Choice, many women still question how to tell their children about their origin story.
After having Hazel on her own, Shelasky welcomed her second child, a boy named River, with her partner Sam — and now, they're a family.
"Sam is both Hazel and River's father, but Hazel will have questions about her biological father at some point," she says.
"That's the only part of the story that gives me a little bit of heartache. No matter how we handle it, she will struggle with her creation story.

Hopefully, it won't be too painful, and I think we are going to handle it with honesty and full support. If she wants to find her biological father, we will find him. I'm just going to follow her lead."
Still, many single mothers by choice don't find partners in parenting — and that, Shelasky stresses, is more than OK.
"I don't like the message that my life worked out perfectly because I met a man. My life worked out perfectly when Hazel was born. I love my partner, and our love story, but it's not the only way to have a happy ending,"
she adds.